INTERVIEW WITH A PUPPET: Blueberry's Clubhouse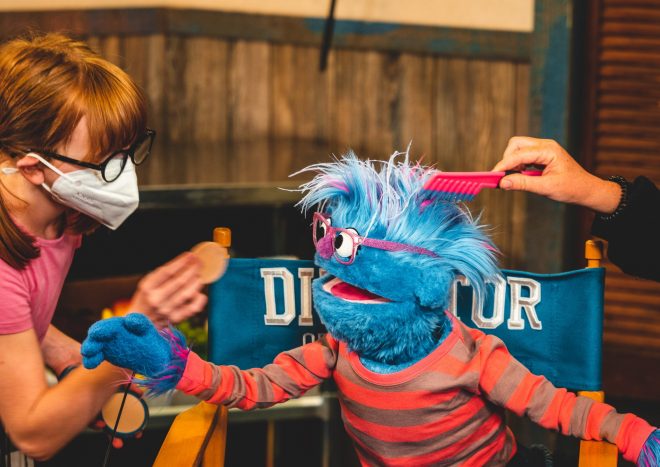 We hung out with the star of "Blueberry's Clubhouse" this summer to find out what she's up to over at Arkansas PBS and the Arkansas Museum of Fine Arts (AMFA).
INTERVIEW / JULIA M. TRUPP
PHOTOS COURTESY / ARKANSAS PBS 
A spunky blue puppet with an affinity for pink glasses and candy gives a whole new meaning to "happy camper." Meet Blueberry, the fun-loving star of Arkansas PBS's original series "Blueberry's Clubhouse." Born out of a virtual puppetry workshop during the 2020 summer quarantine, the show takes viewers on themed adventures across the Natural State with Blueberry (voiced by Rivka Kuperman) and her summer camp friends. With "Blueberry's Clubhouse," you can head to summer camp and go on field trips around the state, all from the comfort of your own home. "Blueberry's Clubhouse" is a partnership between Arkansas PBS and Arkansas Museum of Fine Arts.
Hi, Blueberry! Can you tell us a bit about your clubhouse and what types of fun you, Max and your friends have had the past couple summers?
Max and I stay in the best clubhouse at camp.  It's in a tall, tall tree that looks out over the lake. We have all kinds of fun gadgets that help us talk with our friends all over the state—like my periscope or my tin can phone.  And this summer my dad helped get the howdy helmet working! The best thing about the clubhouse though is that I get to share with my friend Max, and all my friends come and visit me there—Camp Counselor Carol, Beauty the Butterfly, even Max's little brother Miles!
Your show is funny, educational, creative, empathetic—now that you have finished your second season, what have you learned and taken away from this experience so far? Had you done any acting or guest appearances before landing your own TV show?
We learn so much each summer.  Last year we learned all about always having fun, even when things don't go our way.  And this year we've learned it's a lot better to be empathetic with our friends rather than argue with them. I have done some acting before—plays at my school and things.  But never TV.  I feel like a star!
Your show features some fun segments! We've got food with Chef Shawn, we've got virtual field trips with amazing people around the state, silly jokes with Earl the Squirrel—there's so much that goes into it! How did you and the production team decide on those segments?
Well, first and foremost we think about what lesson we want to learn this summer, like learning about empathy. Then we plan our adventures around that. Knowing that lesson also helps us find and work with our community partners on what segments they'll present. Critters and friends like Earl just sorta fill in the gaps with their personalities along the way.
How long does it take to film each episode? What all goes into filming each one?
For me, it's lots and lots and LOTS of memorizing lines and what not, but I'm a natural at memorizing things. All the people at the AMFA build all these wonderful sets, and then they decorate them with all these wonderful toys, and then the folks at Arkansas PBS film all the scenes with their fancy cameras. We film for about a week per episode but it takes months and MONTHS to cram all the fun in.
I loved making the Friendship Tree with Delisa and the Arkansas Craft Center on the first episode of this season! As the official happy camper in the Natural State, what's been your favorite activity on the show so far? 
Hmmm. That's a toughie. There's just so much we've gotten to do.  We've gone hiking with Chuck Dovish, and we put on a Jamboree with kids from all over the state. But I think my favorite was the Summertime Friendship Feast. There was just SO MUCH GOOD FOOD.
Another thing we love about your show is that grown-ups can learn from it too. Why is a show like this one important for not only kids, but the entire creative community in Arkansas, especially during relatively uncertain times like we're in now?
Hmmm, I think what is the most fun about our time at camp is that we're always learning that no matter how scary or unsure the world around us is—you always have the power to make sure that you feel OK about it.  Maybe it's through friendship or empathy or imagination, but the best way to face the world is always up to you.
Is there anything else you'd like to share about yourself or Arkansas PBS?
Well I just know that my friends at Arkansas PBS and The Arkansas Museum of Fine Arts are so thankful for all the boys and girls and parents out there who tune in each week and watch our adventures!  And also don't forget our full episodes are available through myarkansaspbs.org and on YouTube!  And also-also don't forget: Take what you learn in the clubhouse and go have an Arkansas adventure all your own!  Maybe I'll see you at camp!
"Blueberry's Clubhouse" airs on AR PBS-1, livestream at myarpbs.org/watchlive and is available on demand on the Arkansas PBS website, YouTube, the Engage Arkansas PBS app and PBS Video app.
// MYARPBS.ORG/BLUEBERRY
// YOUTUBE.COM/ARKANSASPBS