211 South launches and announces new art exhibition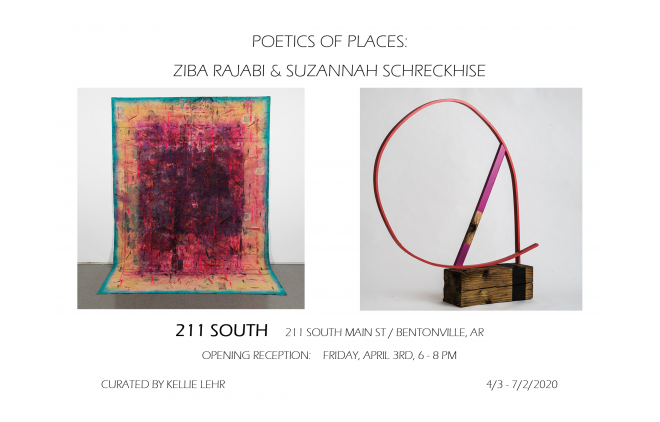 211 SOUTH, formerly known as The Gallery at Midtown Associates, will open its doors for its first show after remodeling with Poetics of Places: Ziba Rajabi and Suzannah Schreckhise. This women-led painting, fiber art, and sculpture exhibition will feature a selection of recent work from Rajabi and Schreckhise and is curated by Kellie Lehr. The gallery will host a public opening reception on Friday, April 3 from 6 to 8 p.m. Work is available to purchase and will remain on display until July 3.
Both artists have utilized the language of abstraction. Materiality, texture, color, and shape all play essential roles. Gestures and forms within their work evoke specificity in time and place and question historical narratives, according to a press release. Salvaged pieces of wood from a dying tree in Schreckhise's front yard have been bent by hand into new sculptural forms. Rajabi's drawings from memories of a now-far-away home evoke familiar feelings of both reconciliation and longing. Viewer interpretation and participation are encouraged, according to a press release. Inspired by the show, Schreckhise is making a fiber artwork in response to one of Rajabi's memory drawings, which will be revealed at the exhibition opening.
ABOUT 211 SOUTH
211 SOUTH is a contemporary art gallery focused on showing exceptional art from local and regional
artists. The gallery, a newly made-over, dedicated gallery space inside Engel & Völkers NWA (formerly
Midtown Associates), works to foster connections between the artists and the community. Midtown
Associates partnered with the global real estate company, Engel & Völkers in January 2020.