​​Bottle Rocket North hosting two-day installation and show by artist Ben Edwards with play by Ashley Edwards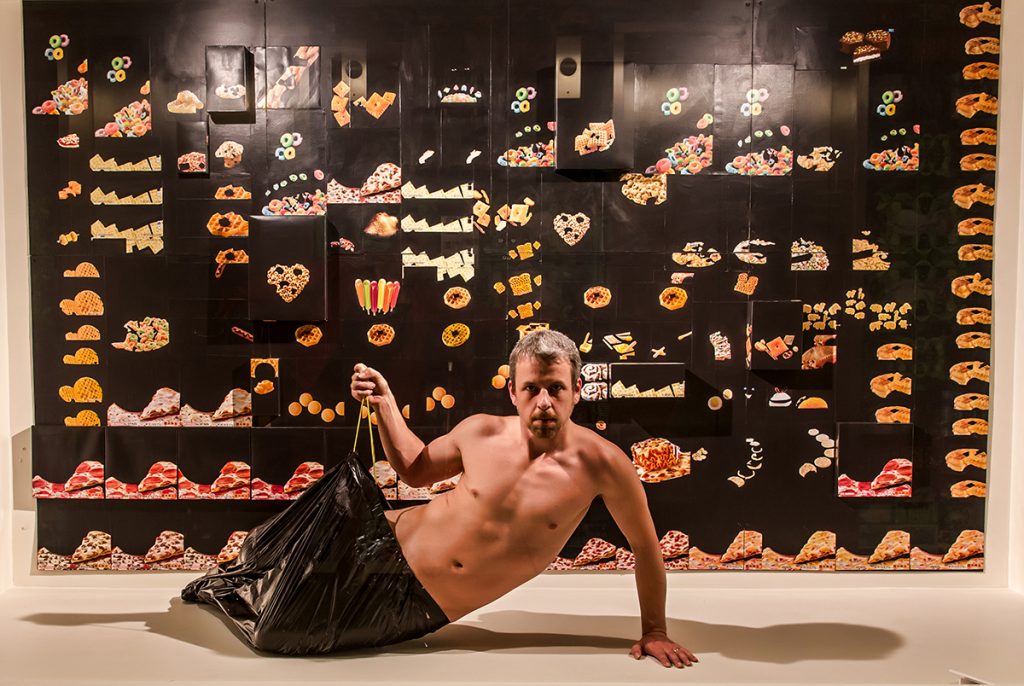 On June 3 & 4 from 8 a.m. – 8 p.m., Bottle Rocket North Gallery at 209 NE 2nd St. in Bentonville will host Redacted Marketplace, the second installation to date of Ben Edwards' series #Redacted, with a reception at 6 p.m. that Friday the 3rd in conjunction with First Friday Bentonville.
The installation will open at 8 a.m. Friday and feature a temporary market staffed by the artist in which viewers may purchase his paintings, which are done on found and scavenged post-consumer materials, as he also works on new pieces as part of the installation. The viewer must decide upon entering the space what to view and what to purchase, if anything, in the midst of the artist's process of creation and in conjunction with the artist's expectations and salesmanship.
Using color and the layering of imagery or pattern, merchandise packaging becomes paintings that frame an examination of the consumer environment.  By un-branding the packaging, the series exists as an anti-corporate Pop Art, one that establishes a different consumer reality through subtraction of advertising strategies.
During open hours each day, live performers will present a 10-minute play by Ashley Edwards adapted from an interview with the artist. This live theatre piece uncovers additional information about the process of making the #Redacted series using performance to give this artist and interviewer voices to be juxtaposed with the installation. It is the story of the struggle and the joy that comes from creating a piece of art to be put into the world.
Ben Edwards is a visual artist, art educator, and advocate for the arts in Northwest Arkansas. He is the founding member of the city of Bella Vista's Art Advisory Council and previously served on the inaugural staff of Crystal Bridges Museum of American Art as its exhibition programs coordinator. An instructor of ceramics and drawing at Northwest Arkansas Community College, he has facilitated numerous workshops throughout the region on ceramic and painting techniques.
His work is contained in the Kesher Collection at the State University of New York, Genesee; the Gann Museum collection of Arkansas Potter; and the University of Arkansas; as well as numerous private collections throughout the United States and Europe. Examples from his series of paintings titled #Redacted are on view at 21C Museum Hotel in Bentonville, Arkansas through August 2016. He received his BFA in Studio Art from Louisiana Tech University and his MFA from the University of Arkansas. He has been married since 2000 to playwright Ashley Edwards. They have four children and live in Bella Vista, AR. https://bedwards.carbonmade.com/projects/5368745
Ashley Edwards is a professor of theatre and subject coordinator at Northwest Arkansas Community College. She is also the Region VI Chair for the National Playwriting Program through the Kennedy Center American College Theatre Festival. Her plays have been produced at Dad's Garage Theatre in Atlanta, the Theatre Squared Arkansas New Play Festival, the University of Arkansas, and other regional theatres. She received her BA in English from Louisiana Tech University and her MFA in Playwriting from the University of Arkansas. She has been married since 2000 to artist Ben Edwards. They have four children and live in Bella Vista, AR.
This event is sponsored by Lost 40 Brewery, Lemonades and Mexican Chile Lime Sodas by Pink House Alchemy, Food provided by Chef Emily Lawson and the Foxhole Public House Crew,  Yoga by Yoga Bell, Pinhole Photography Party hosted by Kris Johnson and Kat Wilson.
For more information, visit:  https://www.facebook.com/bottlerocketartgallery/