Murder for Two Delivers a Deadly Performance
Following the weighty production of Rapture, Blister, Burn, TheatreSquared returns with lighter-hearted subject matter, giving audiences something to laugh about in the hilarious and perfectly executed musical comedy Murder for Two by Joe Kinosian and Kellen Blair. After my astringent experience with Rapture, Murder for Two feels like a complimentary head rub: simple and innocent, full of sensation and just what I needed. Brian Walters (Marcus Moscowicz) and James Taylor Odom (The Suspects) deliver one of the most cohesive performances I've seen to date, and if my word alone doesn't convince then the audience's howls and twice-standing ovation might.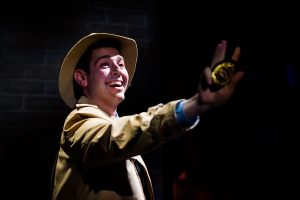 TheatreSquared's co-founder Morgan Hicks hits home with her casting of both Brian Walters and James Taylor Odom as the only characters in Murder for Two. Performing as police officer and aspiring detective Marcus Moscowicz, Brian Walters makes his TheatreSquared debut not only as actor but as vocalist and musician as well, joining his partner-in-crime James Taylor Odom in a lively musical score duet on piano.
Walters' performance and focused personality sets the rhythm for the whirlwind changes by Odom. Odom returns to TheatreSquared as not only one, but nine different suspects in the murder of famous novelist Arthur Whitney. It's a comical and innovative twist on the classic Whodunit as he switches from suspect to suspect with incredible dexterity, assuming his characters' identities with just one prop and defining personality each. Who killed Arthur, then? Was it Dahlia Whitney, Arthur's flamboyant and resentful wife? She never goes anywhere without her purple silk handkerchief and set of Southern-accented vocals.
Or was it Steph, the overly sensitive, overly eager and overly whiny student who just happens to be writing her thesis on "How to Solve a Small Town Murder"? Or perhaps it was Barb or Murray, the quibbling couple distinguished by the turn of a hat marked half-pink, half-grey. Odom breathes life into them all, but I won't be the one to divulge whodunit.
Walters and Odom work seamlessly together to color each other's spotlights, taking turns at the piano when the other takes center stage. With relatively few resources, Murder for Two turns a black box theatre into an interactive game of Clue, and nobody is overlooked as suspect. Even the members of the audience aren't safe from questioning – but I won't to spoil the fun.
Eventually, Murder for Two feels like it hits its 90-minute runtime, but I am not one to complain. Just as one of Odom's suspects repeats throughout the musical, "I've seen a lot woise!"
VISIT:  THEATRE2.ORG