The Writers' Colony at Dairy Hollow awards "Illuminating Black Lives" fellowship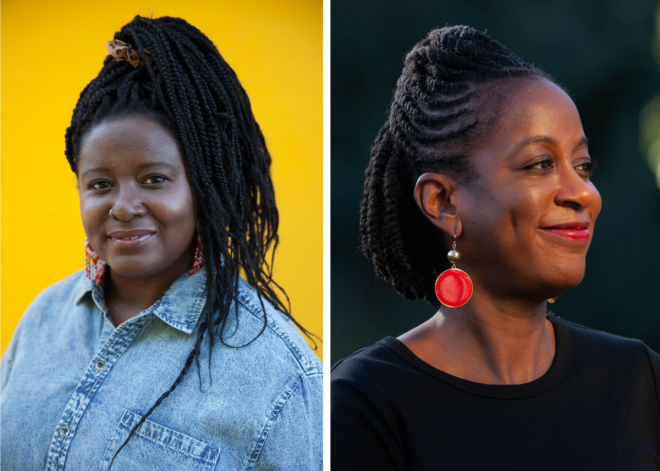 The Writers' Colony at Dairy Hollow announced the winners of the 2020 "Illuminating Black Lives" fellowship, which invited writers to explore the African-American experience in any literary genre. There weren't specific types of experience requested in the application process; rather, the winning applicants demonstrated insight, honesty, literary merit, and the likelihood of publication. After receiving 51 applications from across the U.S. and abroad, WCDH selected Zenique Gardner-Perry and Janel George as the recipients of the "Illuminating Black Lives" fellowship. They will each receive a fully funded two-week residency at the Writers' Colony at Dairy Hollow in 2021, and it will be the first stay at a writers' colony for both women.
ABOUT THE AWARDEES
Zenique Gardner-Perry hails from St. Louis, MO. She is currently working on her master of fine arts in Creative Writing as an MFA Fellow at Washington University. Additionally, Gardner-Perry is a co-founder and consultant at Undo Bias Consulting which guides organizations as they work to eradicate racism, classism, sexism, and their intersections. She is also a former yoga instructor for WEDO (Women Empowered to End Disparities in Obesity), a program designed to provide support in the form of fitness classes, cooking classes, and self-care sessions for area mothers and female caregivers.
Gardner-Perry is planning her residency at WCDH in summer 2021 when she will work on a new creative nonfiction piece that will illuminate the challenges of family members of incarcerated loved ones. She writes about coming home to be with her mom who is dealing with the arrest of her grandson, Gardner-Perry's nephew, currently in prison serving an eighteen-year sentence. "My goal is to bring to the fore narratives about the silent suffering of families doing the time with those who are incarcerated," she says. "It isn't glamourous storytelling. It is raw and dark and laden with our harsh realities. But I want to cast light on how love works in the hardest moments, how in the midst of hurting ourselves and each other, we are still reaching."
Janel George is a Senior Policy Advisor from Arlington, VA. She works on issues related to educational equity and access. George has over a decade of experience working on legislative and policy advocacy and analysis, including as Legislative Counsel in both the House of Representatives and the Senate. She also worked as an attorney with the NAACP Legal Defense and Educational Fund, including work on reforming discriminatory school discipline practices. She also taught self-designed courses, including a course focused on racial justice in k-12 public education law and policy, with Georgetown University's McCourt School of Public Policy. George received a B.A. in English from Spelman College, where she was inspired by the work of Black women writers and was a member of the Toni Cade Bambara Writers. She received a J.D. from the University of Wisconsin Law School.
George is planning a July 2021 residency. She will be working on a collection of essays exploring issues of race and American life from her point of view as a civil rights lawyer, educator, and writer. The collection will include essays about teaching Critical Race Theory (CRT), advocating for Black lives, and working to maintain wellness in the face of systematic racism.
"We pride ourselves on supporting writers of all genres, backgrounds, and levels of experience," says WCDH Executive Director Michelle Hannon. "It makes us especially grateful when an organization or individual decides to sponsor a fellowship to amplify marginalized voices."
The "Illuminating Black Lives" fellowship was developed and sponsored by author and Writers' Colony alumna, Linda Leavell, and her husband, Brooks Garner. "The sponsorship of this fellowship is just one way that Brooks and Linda have supported us this year," Hannon says. "We are beyond thankful. In fact, another fellowship they funded, 'Humor Me,' is currently accepting applications."
For more information about funding a fellowship supporting the genre or area of interest you are passionate about, visit www.writerscolony.org/sponsor-a-fellowship.
ABOUT THE WRITERS' COLONY AT DAIRY HOLLOW
The Writers' Colony at Dairy Hollow is a 501(c)3 nonprofit that provides uninterrupted residency time for writers of all genres, including culinary, composers, and artists without discrimination. We foster an environment that allows writers to work, interact with the wider community, stimulate new thinking, and energize creative expression. Since opening its doors to writers in 2000, the Writers' Colony at Dairy Hollow has made a lasting impact on the arts and literary communities, hosting over 1,600 writers from 48 states and 13 countries. For more information, please visit www.writerscolony.org or call Michelle Hannon or Chad Gurley at (479)253-7444.