Playing It By Ear: Central AR's underground musicians boldly weather the pandemic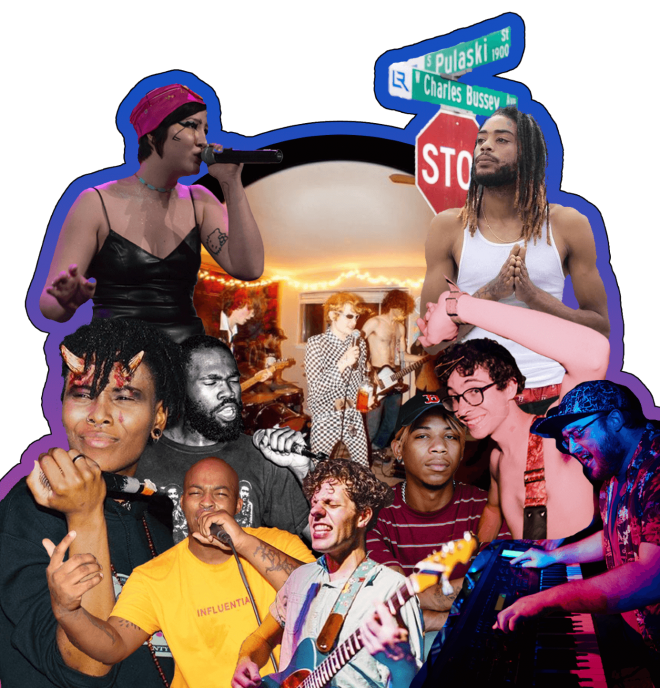 (left to right, from top) Princeaus, Benadriil, Xlue, Sista Smoke, Traptavian, Alexander C.Wil, Tobias Peoples from The Streakers, Mvk Lxvi$, Travis Kish from Adventureland, Taylor Drain from Bera Bera
On the eve of the COVID-19 pandemic, Central Arkansas's underground music scene was buzzing with the potential of best-laid plans. The Streakers were booking shows for what would have been their first out-of-state tour in the Northeast, with stops in Brooklyn and Chicago. Bera Bera had welcomed a new drummer, Brandon Short, and were finetuning their chemistry in preparation for their own out-of-state tour in May. Little Rock punk quartet Benadriil had just signed to California's Lavasocks Records and were fresh off of playing shows in Tennessee, Missouri, and Oklahoma in support of Sarchasm, an East Bay pop punk band Benadriil's Tanner McDaniel had been obsessed with since high school.
Things got real, though, and quick. On March 13, Adventureland threw a release party for their debut album, Hopes of Closure, at White Water Tavern. Adventureland's profile was rising; in 2019, the band had made it to the finals of The Arkansas Times's Musicians Showcase, and the album consisted of fan-favorite songs, at long last recorded and pressed on CDs. However, that night, half the expected turnout showed up, and understandably so. At the time, Arkansans found themselves in an odd liminal space. It was dawning on state officials that COVID-19 had made its way to American shores, but they had yet to issue mask mandates or close schools. True to form, the trio, who swap instruments and vocal leads from song to song, gave a riotous performance, but a looming uncertainty simmered in the air. Whether or not the band and the crowd were aware of it, the concert would be their last in a long, long time.
"At that point it didn't feel like people were putting their lives at jeopardy by attending a public event in the same way that it does now," says Adventureland's Daniel Grear. "And it's disappointing that we haven't played any shows since people have heard the album. I was really looking forward to seeing people sing along after getting to listen to songs they'd seen live before and becoming intimately familiar with them."
This time last year, during a weekend out and about in Central Arkansas, you could reconnoiter a genre-spanning range of live music, courtesy of the region's small but mighty DIY scene. You might stumble on a set by Princeaus, an electronic artist known for their interpretative dance, colorful eye makeup, and candid lyrics on mental illness. Or perhaps you'd join the mosh pit at a show by rap crew Klubhouse and friends, whose rabble-rousing could get so explosive they were banned from playing Vino's at one point. If you were particularly lucky, you might have witnessed Sam Williamson of The Streakers leap off a Russellville frat house roof. But more often than not, you were probably part of the sweaty, sometimes shirtless crowd at The Streakers' Conway house shows.
"By the end of a Streakers show, we're all half-naked and the line between band and audience dissolves," says Tobias Peoples, the bassist of The Streakers. In our current era of social distance, that memory seems plucked from an alternate timeline.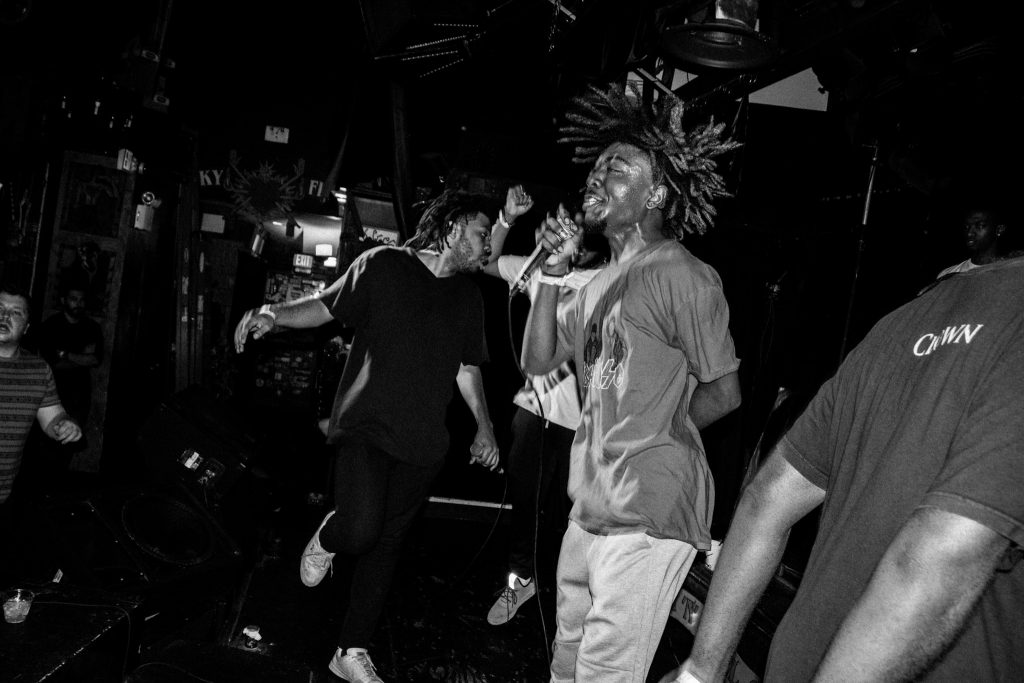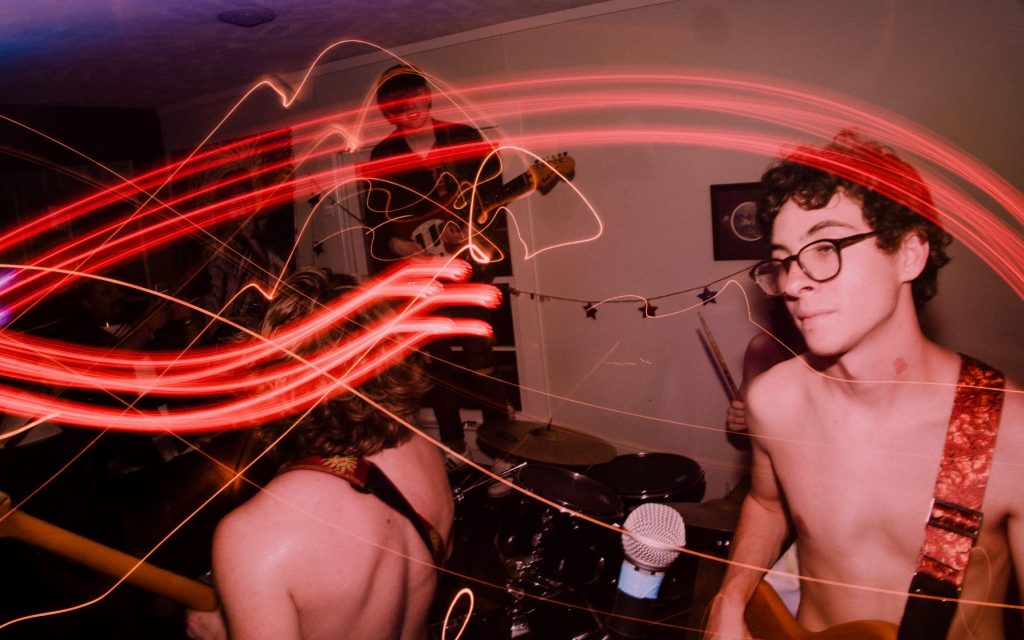 Over the past eight months, the pandemic has transformed live music into a relic of the past and caused artists to shift their efforts to songwriting, live-streamed concerts, and album rollouts. While COVID-19 boredom is said to have boosted streaming numbers, only 1 percent of artists account for a whopping 90 percent of streams. The pandemic puts underground musicians at a disadvantage, exacerbating the precarious faultlines of DIY music.
The lifeblood of the Central Arkansas scene has always revolved around live music. Recording music isn't typically number one on an underground artist's list of priorities, since it entails purchasing expensive equipment or booking studio sessions on a limited budget. The driving force behind growth as a solo artist or band has always been gigging and establishing relationships with other acts. Now, the absence of live music is painfully felt, and the resulting adverse outcomes are manifold.
"Coming together and seeing everybody do what they love is definitely important. Everybody gets that energy. You can't really feel the energy if you're just dropping music and texting other artists," says eclectic trap artist Mvk Lxvi$ (pronounced "Mac Louis"). "It's not as authentic as being around each other, talking to each other, and seeing people do their thing. I miss being on stage so much."
In addition to reaching new audiences, live shows encouraged collaboration between like-minded artists. During the pandemic, collabing has become more complicated. The distance of social media hampers communication between artists, and music is simply less of a priority for many creatives, what with pandemic-caused lay-offs, loved ones contracting COVID, and the country's continued reckoning with racial injustice.
"The networking you would usually get done in the city is kaput because a lot of people aren't going to DM you back or take the time out of their day to talk to someone they don't know," says rapper Alexander C-Wil. "It's easier to dodge people without shows. A lot of potential collaborations are dead unless you're living the studio life and chilling there all day."
Mentoring is a fulcrum of underground music. Up-and-coming hardcore trap artist Sista Smoke thanks Coffey for his encouragement and moral support and Yuni Wa for helping her learn how to produce. Pine Bluff's Goon Des Garcons, who's since signed to Def Jam and moved out to California, took Alexander C-Wil under his wing during his early days, and after moving into the Vile Pack house, C-Wil started learning how to book shows at local venues. For an artist coming up during the pandemic's live music drought, forming these bonds suddenly becomes more of a challenge.
"It's really easy to feel disconnected from the music scene right now," says Princeaus. "The main way that I've met people in the scene is by sitting on the front porch at some show house and just striking up a conversation with someone. So a lot of new artists just aren't able to network whatsoever."
The lack of live shows has even changed the creative process within bands. Indie rock outfits Bera Bera and Adventureland cite the improvisation offered by live performances as an opportunity to tinker with melody and song structure and gauge audience reaction, turning concerts into songcraft.
"In the past, our arrangements would get ironed out over the course of months. Every time we would play a show, we'd do something slightly different until it kind of settled or solidified," says Daniel Grear of Adventureland.
By nature, Central Arkansas's underground music scene ebbs and flows in activity. Musicians are young twenty-somethings, oftentimes college students, who work full-time day jobs and move apartments and cities at a fast clip. For generations, beloved Little Rock venues like Whitewater Tavern and Vino's have been cradles for local talent, but house shows glue the scene together by providing platforms for fledgling musicians and allowing for uninhibited, freer-form performances. At a house show, there is no stage, no barricade between audience and artist, which means that for a budding musician, it's natural to make the leap between audience member and artist.
"Our scene is always going in waves. It's always coming up or down," observes Alex Cash, lead singer of Little Rock punk staple, SHOE!!! "Sometimes it's really big and popping and there's like three or four different show houses, and everybody's going to shows like every other day … And then sometimes there's like one show house that does a show, maybe every couple of weeks, and you kind of have to wait it out and just go to Vino's in the meantime."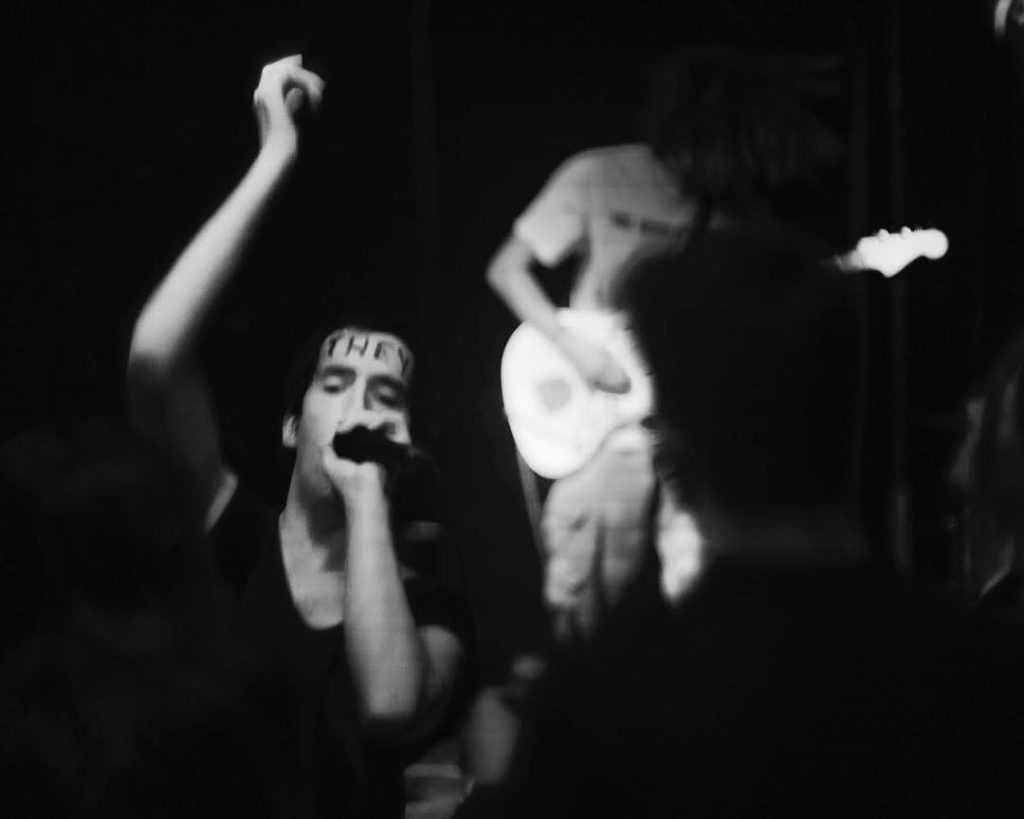 Over the years, show houses have come and gone, reflecting people's migration and beholden to angry neighbors, rising rent prices, and encroaching gentrification. Cherished houses like the Starlight House, Hawt Box, Hot Glory House, and Conway's Snap Shack have shuttered, alive only in hazily remembered memories or grainy Instagram footage. Cash was honored to inherit and move into the storied Hollow House, which has a decade of hardcore punk history to its name, but in 2018, after one too many noise complaints from neighbors, they was evicted. This artifact of Arkansas punk music now lies boarded up and vacant on 3rd Street.
Though the reign of individual show houses may be ephemeral, the legacy of the music created within their walls invigorates and unifies the Central Arkansas underground community. While established venues now rely heavily on revenue from food and bar service to stay open, show houses have decidedly closed during the pandemic. After all, the house show circuit has never been in the business of making money, but of breathing life into the scene, existing for and because of creatives.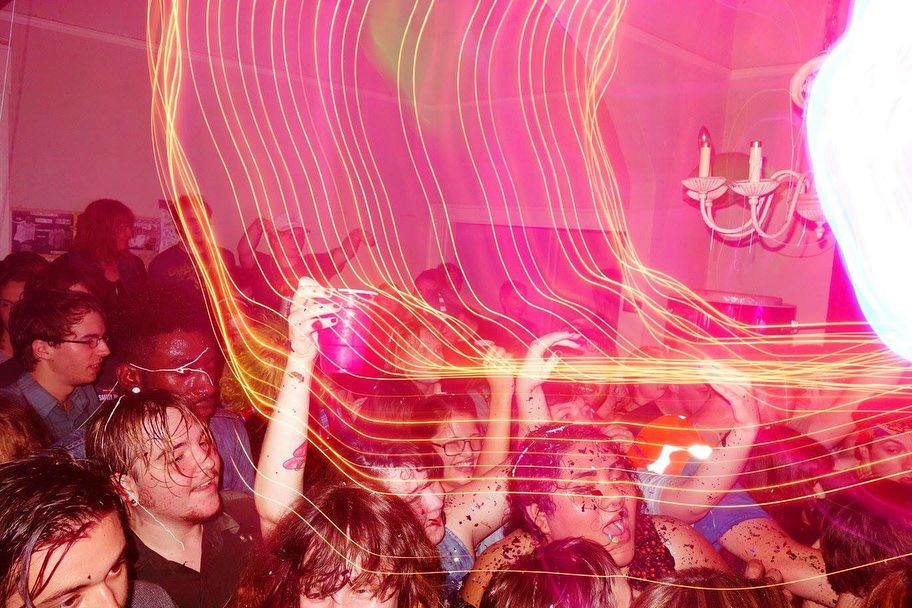 As a reaction to concert bills with mostly white, heterosexual, and male lineups, DIY show bookers had been putting forth concerted efforts to spotlight marginalized artists. In 2018, Cash put on Fuss Fest, a multiple-day lineup of local and out-of-state punk bands comprised of queer and/or BIPOC musicians. In January 2020, Princeaus booked a multi-genre night of queer and/or BIPOC talent, intended to be the first installment of an ongoing live music series called Repertoire. 
Increasingly, DIY shows in Central Arkansas became wellsprings of solidarity—that is, until the pandemic came knocking on everyone's doorsteps. "It's not hard to book a diverse cast of people who are also extremely good at what they do," says Princeaus. "I feel like what disheartens me is that we had a really good thing going."
In place of the frenzied mosh pits of Vino's back room and the cramped living rooms of house shows, social media has come to be the go-to forum for sharing new music. Though it may be impersonal, keeping up with local artists' latest projects on Instagram is the only way to stay plugged into the scene, impersonal though it may be at times.
"I kind of don't feel motivated when it's like I'm not seeing everybody else playing shows," says Tobias Peoples of The Streakers. "It's the small moments when I catch a glimpse of the community that used to be that I start feeling motivated."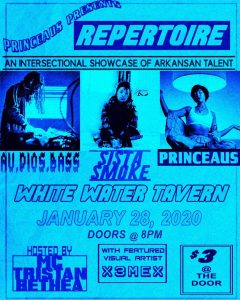 Lockdown elicited twin reactions from an apprehensive, cooped-up populus. On the one hand, some of us embraced optimism and tried to make the most of the time freed up from not going out. In hopes of raising morale, we shared news of swans apparently returning to the newly undisturbed Venice canals, and the especially productive among us aimed to complete passion projects or pursue bucket-list hobbies. Still, for many, if not most of us, the lockdown brought on bouts of loneliness, doubt, and stagnation. It's taxing to exist, let alone create music under this kind of strain.
"The pandemic definitely bogged down my music making because I get a lot of energy from external forces, playing live, and going to the studio," says Klubhouse member Latavian Johnson, who started releasing music in 2016 under the moniker, Traptavian. "Instead, I took the pandemic as an opportunity to embark on new quests with my writing and features."
Sista Smoke is no stranger to working under strain. When she first started learning how to produce, she would split her time between working three jobs and late-night beat-making sessions in her bedroom. On April 17, in the midst of lockdown, she dropped her debut self-produced EP, Blink IF YOU Need Help, a dark trap collection that pivots from extraterrestrial synths to brash guitar in the blink of an eye. A relative newcomer to the scene—she had only played five shows pre-COVID—she's disappointed she can't perform with the EP out, but is thriving in isolation.
"Use this time to create as much as possible. It doesn't matter if you put it out or not, just try every day," she advises. "I'm super introverted. I love people, but I can't stand them either…It's not like I get depressed and don't want to comb my hair. My sh*t long. My skin is clearing up. I'm meditating, and I can make music."
For various artists, the pandemic is an invitation to record new music after long spells of nonstop gigging. Having only released one single in 2019, the jangly "Speak," The Streakers have recorded two EP's worth of overdue music, which explores more winding, experimental terrain than the band's usual high-spirited garage rock. 
Mvk Lxvi$ has been hitting Little Rock's BraceFace studios on the regular to complete Big Mvk, a rowdy nine-song album punctuated by Mvk's unmistakable growls and high-pitched adlibs. Alexander C-Wil finished outfitting his in-home studio during the pandemic and records prolifically, for other artists and himself. Since the premiere of his debut album, I Paid the Fisher Price, in September, he has demoed 27 songs. Both Mvk and C-Wil craft high-energy, outrageous trap music that makes audiences go wild and demands to be performed live, which is why C-Wil made do by teasing Fisher Price with a bedroom performance of "Driptest!" last May.
"Not being able to play [the album] live is almost like getting a new toy as a kid and wanting to show it to your best friend, but your best friend moved away and you never get to see him again," reflects Mvc Lxvi$.  "I'll put headphones in and just listen to it myself, give myself a show."
Central Arkansas bands have turned to online performances as the next best alternative to live music. In August, Adventureland played new music at an online benefit concert put on by Planned Parenthood Great Plains. That same month legendary East Bay punk venue, 924 Gilman Street, invited Benadriil to perform on their Facebook Live. Since Bera Bera's forte lies in the organic spontaneity of their jamming, the band has been at work perfecting their livestream setup to share the synergy of their new band roster with listeners.
One artist who has proven particularly adept at using technology to his advantage is Little Rock rapper Xlue (pronounced "Blue"). After witnessing the death of his close friend, Luccy, last year, Xlue vowed to pursue music seriously in 2020 to keep Luccy's memory alive. The setbacks of the pandemic didn't deter the 20-year-old wordsmith from releasing music, and in September, he began delivering episodes of his #OutTheXlue IGTV series, which consists of passionate pre-recorded performances filmed in the heart of Southeast Little Rock and backed by producer Mouton and bass player Space.
video by Keito Alexander and 501PlusCori
Though Xlue has yet to perform live in his career and only just released his debut single, "One Take," November 13, his online strategy has turned heads, generating thousands of views for his timeless, G-funk-inflected hip-hop and profound storytelling. The #OutTheXlue series replicates the intimate feeling of a concert and serves as an introduction to Xlue's earnest poetics on street life, the death of loved ones, and preserving resilience in the face of adversity. 
"The tongue is a powerful thing, the most powerful part of the body," Xlue says of his resolve to keep the faith. "When you think negative, negative things come, real talk. When they say, speak things into existence—that's real."
Even as COVID-19 cases soar during fall and winter's third wave, small and large venues across the country have begun to host limited-capacity, socially-distanced concerts, complete with temperature checks, designated restrooms, and, of course, mandatory masks. Still, the rabid mosh pits of underground punk, indie, and rap concerts seem antithetical to social distancing. And consuming music that is so volatile and spirited while standing stock-still at a distance of six feet from the bodies around you seems comically absurd, if not impossible to execute adequately.
Alex Cash moderates the Facebook group, Arkansas DIY, which is used to book artists and spread the word about upcoming shows. Upon coming out of lockdown, they decided to take down posts advertising concerts out of fear that if artists were to begin playing even small house shows, it would be tantamount to a chain reaction. One show, however limited in its capacity or socially distanced, could far too easily lead to a larger super spreaders of the virus.
"It would be a dangerous, dangerous slippery slope," Cash says. "It just seems selfish to want your art to be heard bad enough to put people's lives at risk. And so as an admin of that group, I made the executive decision to not accept those posts. If you want to, you can promote your show on your own Facebook, on your own time. But I'm not gonna let my community be exposed to that risk."
As the third wave shows no sign of cresting, it can feel like there is no end in sight. Thankfully, the gradual vaccine distribution across the country shines a light at the end of the tunnel, but it remains uncertain as to when exactly it'll be safe enough to raise the dormant live music scene from the dead. Whenever it does happen, though, Central Arkansas won't be taking live music for granted.
"After the pandemic, I hope we realize how precious it is being with people, especially strangers," Benadriil guitarist Tanner McDaniel says. "It's a very magical thing when there's a f*ck-ton of people in a room, moshing together and getting sweaty and listening to their friends play music."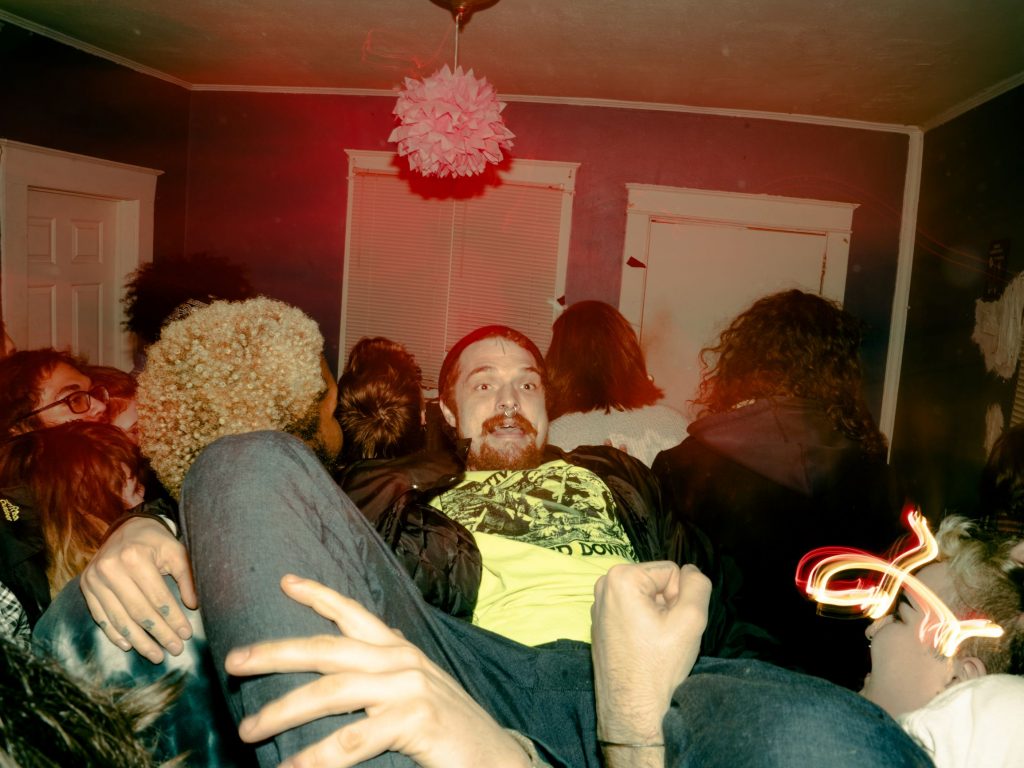 As we head into 2021, I urge you to listen to the work that our state's musicians have put out. From the stylings of trap jazz saxophonist Philli Moo and A1 Nino's account of the Black Lives Matter movement to the graceful R&B of Pine Bluff's Alexis Ray Parker and the hard-as-nails punk of Fayetteville's The Phlegms, this playlist is but a small sample of all that Arkansas has to offer.
photo credit for title collage image: Brian Chilson, Thomas Beck, Lexi Adams, Daniel Nansel