A Welcoming Establishment of Whimsy: Ester's Pub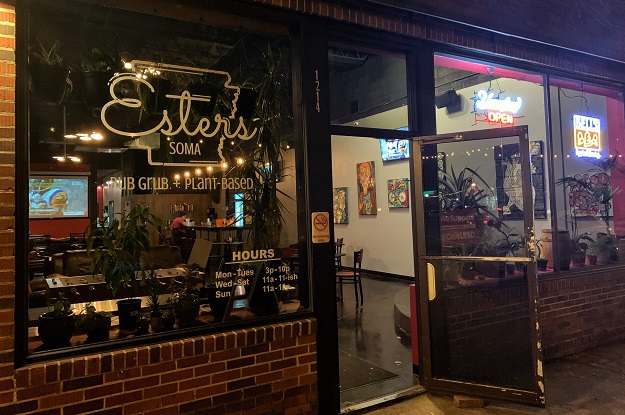 WORDS + PHOTOS / CHRISTOPHER BEAUMONT
What happens when Panama City and Tulsa natives Evan and Lindsey Mathis settle in Little Rock? They open Ester's Pub, a singularly anomalous dining establishment in SOMA. Evan and Lindsey met in Denver, moved to Portland, Oregon, then Panama City before bringing their brilliance to Little Rock. Rather than settle in cities already offering diverse options, Evan and Lindsey are among the growing group of Gen X-ers transforming Little Rock neighborhoods into places they want to live in lieu of staying or relocating elsewhere. 
T.S. Elliot wrote "good writers borrow, great writers steal," and when Evan and Lindsey travel, they are food tourists, forever on the lookout for inspiration to bring back to Ester's. Among these include the restaurants and pubs Ground Control and Hungry Tiger Two in Portland, One Up in Denver, and Up Down in Kansas City. 
Like Gremlins fed after midnight (a solid Gen X reference), interest in plant-based diets multiplies in multitudes. In January they began experimenting with recipes and provided free samples to customers of then lessee Core Brewing & Distilling Company. Evan says, "I was nervous, sweating taking these first samples around." By March the kitchen opened and Ester's Pub took over the lease from Core in June.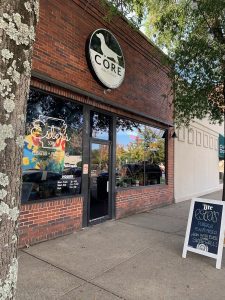 "It's an opportunity for vegans and vegetarians to get the comfort food they can't get other places while simultaneously accommodating meat eaters as well," Lindsey says. To simplify the ordering process one side of the menu is vegan and vegetarian and the opposite side for omnivores. 
Lindsey Green is a two-decade-plus vegetarian and Community Outreach Dietician for Baptist Hospital, "It's so nice to look at a menu and actually have multiple delicious options. Love how welcoming the owner was on my first visit. He entertained every question and made great suggestions for me, a vegetarian, and my non-vegetarian husband," she says. 
If the food options overwhelm you, know the owners' favorite dishes are the vegan Dej Au'Jus (Evan) and the We Be Clubbin' (Lindsey).
Lindsey says Ester's "provides a welcoming establishment full of whimsy." It not only fills a niche in vegan and vegetarian food, but it also serves local beers while simultaneously being a family-friendly joint. Evan and Lindsey provide a place so comfortable you feel you are in the warmth of a family home. A patron recently said "he had more fun here than anywhere in a long time. It reminded him of playing at his dad's house as a child." Along these same lines, Evan says, "While ester [the inspiration for the restaurant's name] is a flavor component produced by yeast in the distilling and brewing process, the name also sounds like someone's grandmother."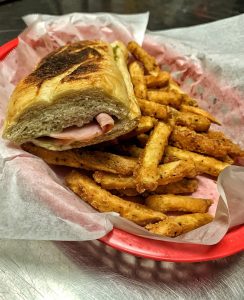 But the food is only one aspect of Ester's appeal. It is home to Little Rock's best selection of local beer on tap representing each main style of brew. As curator of beer offerings, Evan has a genius palette when choosing local brew. 
 "Esters is the shit! It is one of the only places that has food my entire family loves," says Nicki Smith, Ester's regular and instructor of philosophy and gender studies at The University of Arkansas Pulaski Tech. "We are so stoked to finally have a sit in restaurant in Little Rock with a bomb-ass vegan menu. My husband loves the Appaloosa burger and I love the Philly. Their craft beer selection is lit and my kids really enjoy the arcade and skee-ball games. As a Little Rock native I've been wondering where this has been all my life. We frequent Ester's at least twice a month and all my friends enjoy it too."
Ester's enormous space allows infinite possibilities. Will Hogg is the art broker for Ester's and the current local artist displayed is Jean De Silva. Evan and Lindsey take no commission from the work sold. In 2020 they'll switch the current artist for a new one to keep it fresh. Being local-art advocates, Ester's recently hosted a large meet-up of local artists that displayed and sold work to each other.
In the spirit of supporting local artists, they pay musicians to play most Fridays. Evan says, "At first they knew a few [musicians] and now the musicians find them looking for the intimate ambiance this place provides." 
If all of the above is not enough to entice, Ester's also offers multiple televisions, a large projection screen, video games, skee-ball, darts, and ping-pong to name a few extras. Recently they hosted a well-attended skee-ball tournament and a Christmas party on Dec. 13 filled with merriment and shenanigans.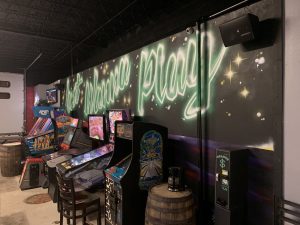 Their hopes for the future are simple: Evolve and avoid stagnancy. They plan to add a retail component soon selling food, sauces, etc. Some time in the New Year, they plan to serve brunch. Ester's has other tricks in their pockets and things up their sleeves, so stay tuned. 
Ester's Pub, 1214 South Main Street, Little Rock, AR 72202
Website, Instagram @esters.soma, 501.353.2489, Email
Hours: Mon-Tues 3-10 p.m., Weds-Sat 11 a.m-11 p.m, Sun 11 a.m.-10 p.m.
Happy Hour: Monday-Friday 3-6 p.m. with $3.50 well drinks, pints, and house wines
Live Music: Fridays 6-9 p.m.