WHEN THE FIRE STARTS TO BURN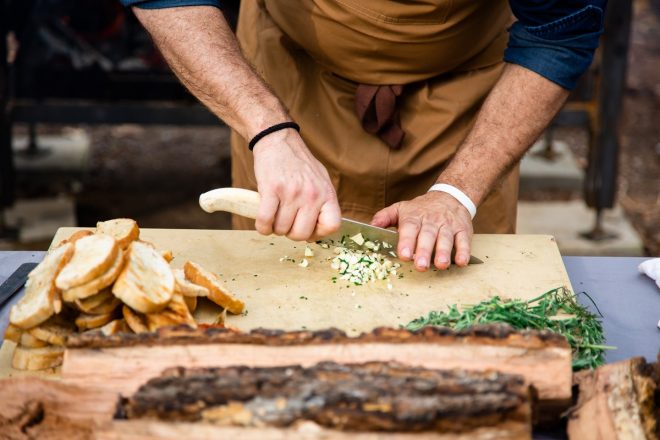 WORDS / JULIA M. TRUPP
PHOTOS COURTESY / CRYSTAL BRIDGES MUSEUM OF AMERICAN ART
Coal-roasted sweet potatoes. Charred cauliflower. Oak-smoked oysters. Skewered chicken hearts (not to be confused with the oak-smoked oysters). Smoky custard. These were just a few hot bits on the menu at October's F.I.R.E. (Food Inspires Real Emotion), all prepared on customized grills by chefs William McCormick of Eleven and Case Dighero of Edible Culture.
"All the food is fire-friendly," McCormick said in his opening remarks. "There are large cuts, which all harness the power of simple fall flavors." McCormick and Dighero locally sourced meat selections for the beautiful night in the Ozarks, and the red oak used for smoking came from the forest surrounding the museum, which gave selections such as the Baharat-spiced tri-tip most of its smoky flavor. "It comes straight from the wood," McCormick said. 
Long, farmhouse-style tables are set up in the North Forest to fully immerse guests in one experience that combines nature, fire and culinary arts. McCormick designed steel and cast-iron grills to encourage the viewing of cooking over an open flame, and the Crystal Bridges mechanical department made it happen, Dighero said. This allows guests to interact with their chefs and anticipate the meal through an open performance.
The next Dighero/Crystal Bridges collaboration is DISH, set for 6:30 p.m. Dec. 19. The specialty event hosts a lively evening with drinks and light fare to pair with trendsetting women. This DISH will celebrate acclaimed photographer Kat Wilson, whose work has been featured at the museum. January's DISH is set to feature Cobblestone Farm Manager Laura Brewer and her passion for regional conservation and sustainability at 6 p.m. Jan. 30.