Home Grown: Kim Swink brings her dream film to the screen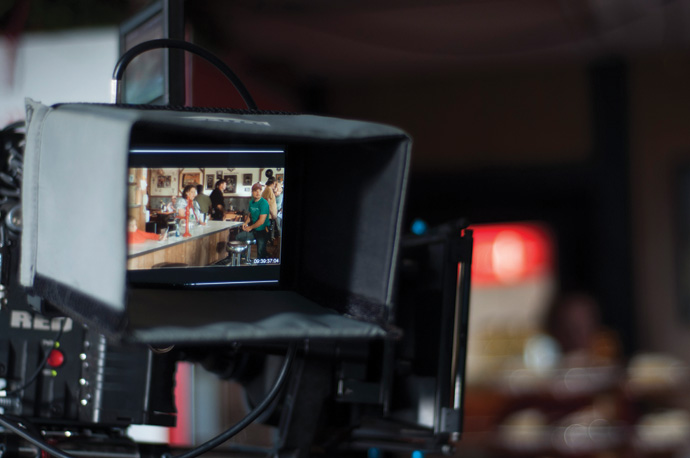 WORDS / KODY FORD
PHOTOS / JESSICA WILLIAMS
For writer/director Kim Swink, coming home to Arkansas had been in the works for a long time. Ever since leaving Little Rock for New York City 25 years ago, she longed for the opportunity to return to the Natural State to work.
Shortly after relocating to NYC, she returned to Arkansas and spent a summer as an assistant to Mary Steenburgen on the set of a movie called End of the Line, which was written and directed by Arkansan Jay Russell. "That was a great experience and I've wanted an excuse to come back home to work ever since," Kim says. "I've been plotting my return for years and [Valley Inn] was the perfect reason to spend another hot, steamy, fun summer in Arkansas doing what I love."
Valley Inn, a Southern romantic comedy that shot in northwest Arkansas last summer, has been Kim's passion project for a long time. She wrote the film specifically to shoot in Arkansas.
"Part of the story developed over many visits I made to see my sister [Executive Producer Kerri Elder] in Springdale, when she and I would indulge my addiction to biscuits and gravy at our favorite little country cafe, the Valley Inn, in Hindsville," she says. "To me, Hindsville, which is a very very small town east of Springdale and Fayetteville, just seemed like a movie set and, after years in the manic hustle of NYC, it always felt like I was in a scene from a Horton Foote play or movie whenever I was there."
Valley Inn tells the story of Emily Mason (Jordan Scott), a young woman from the Northeast who comes to Hindsville to sell inspirational books door-to-door. The film chronicles her misadventures in the area, from her run-ins with former rodeo queens to her burgeoning love with a local good ol' boy named Lee (Colley Bailey). The story captures the hope, heartbreak and awkwardness that a Jersey girl encounters when she heads to the South.
Kim wrote and co-directed the film with her husband Chris Spencer, an executive at HBO. But making the film a reality was not an easy task. Independent filmmaking has become harder over the last few years as studios shift their focus towards franchise films that rack up ticket sales domestically and overseas. A small romantic comedy that's devoid of superheroes, monsters and a potential apocalypse just doesn't quite pique the interest of your average movie studio executive. So Kim decided to seize control of the situation and do it on her own. Of course, she knew she couldn't do it alone, so she put together a team of people whom she trusted.
Although she has written, produced and directed short  films and worked in the industry for years, Valley Inn is Kim's feature film debut. When Kim knew she wanted to write it, she and Chris formed Kindred Films with her sister and brother-in-law, Chris Elder, and their son, Blake, who served as the Director of Photography for the film. After developing the story and characters, she asked her friend, screenwriter and novelist Nelsie Spencer, to co-write the script. Nelsie came to Arkansas for the first time ever and they researched locations and events that ended up in the script like the Rodeo of the Ozarks in Springdale, the Little O' Opry (a local country music jamboree) in West Fork, and a wagon train that every year travels 100 miles over five days from Harrison to Springdale for the opening day of the rodeo.
Once the first draft was finished, Kim passed it on to her friend, producer Samara Yeshaiek, who loved the script and couldn't wait to come to Arkansas herself after reading it. Samara came to Arkansas that year in time to help shoot some scouting footage at the Rodeo of the Ozarks and she enjoyed it so much she bought her first pair of cowboy boots that week.
Early pre-production ran smoothly for the newly formed Kindred Films; however, the financial crisis slowed pre-production greatly. "It's crazy how things changed after 2009," Blake says. "We started to hit roadblock after roadblock and couldn't get it made. The recession really took its toll."
Despite the reduced pace of production, Kim and her team soldiered on. The combination of Kerri's business acumen, complemented by Kim's creative vision and drive, helped them push through the lull.
"I learned that it is a very challenging and intense period of time and requires a lot of endurance mentally and physically," Kerri says. "I learned a lot about the creative side of filmmaking.  I am a businesswoman and it was very fun for me to watch the creatives at work."
Funding a film is the most difficult process. Kerri and Kim utilized a multi-pronged strategy that included an IndieGoGo campaign, enlisting sponsors and soliciting investors. Their work soon paid off. Their IndieGoGo campaign alone raised $26,000. By promising a premium to investors and utilizing Arkansas tax incentives for filmmakers, they soon met their budget of $200,000.
"We started moving forward and people joined in," Kim says. "People who had had the script for three years finally read it and loved it."
Next they began to enlist the Northwest Arkansas community. They met with A.T. Smith, a community leader in Hindsville, to receive his blessing for filming in the area. Considering the small size of the community, they wanted to make sure they didn't step on any toes. Sharon and Mike Evans, who had recently reopened the Valley Inn, agreed to let the crew shoot on location for a week.
Kim had lined up much of her cast well in advance of filming. They anticipated filming to begin in late spring of 2013, but then their plans changed abruptly, throwing a wrench into things.
"We had a cast that was out of New York," Kim says. "Then we had to push back filming by three weeks and the bottom fell out. No one could do it because of scheduling. We freaked out momentarily. Then the door opened for us to get [actors] Natalie Canerday, Joey Lauren Adams and David Lansbury on board."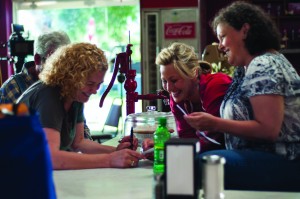 Natalie is known for her roles in films like Sling Blade and October Sky while Joey cut her teeth on '90s classics like Dazed & Confused and Chasing Amy. David had starred in TV shows like Sex and the City, Law and Order: Criminal Intent and Oz. Joey hadn't worked in Arkansas in a few years and felt like the project was a great chance to come home again.
"When I got the script for Valley Inn, I wanted to shoot a film in Arkansas," Joey says. "I'd been blown away by the talent I'd seen a few years ago at the Little Rock Film Festival. There's such camaraderie in the Arkansas film community. It's not cut-throat like in Los Angeles. So when I met Kerri and everyone involved, we had this connection. Valley Inn seemed like a reason to come back."
Despite having high profile names for an independent film, Kim sought out unknowns for her stars. As she searched for the right actress to portray Emily, newly cast actor Hugh Kincaid recommended that Kim and her production team  attend Crystal Bridges' "Art Night Out" event in the spring of 2013. Jordan Scott, a former University of Arkansas Theatre student, was performing in a series of short plays inspired by pieces of artwork at the museum. She had no idea that she was being scouted that night.
"I did not know any of this, thank goodness," Jordan says. "I would have been so nervous had I known. But the day of the show I lost my voice and could barely speak – that kind of thing always happens at the worst possible timing, doesn't it? But as they say in the theatre, 'the show must go on.' So I went ahead and did the show and it was after the show that Kenn [Woodard] approached me and asked if I would be interested in auditioning for Valley Inn. So really, I owe this whole experience to Hugh. I'm very thankful for him."
The next day, while surrounded by a mess of tissues, tea bags, cough drops and dirty dishes, Jordan received a call from Woodard,Valley Inn co-producer, asking if she could come in for an audition that afternoon. She showered and tried to hide her cold before rushing off to the office.


Weeks passed by and Jordan never received the final call so she assumed that she hadn't gotten the part. She typed an email to Kim and Kenn thanking them for the opportunity to audition. Within minutes after hitting send, a call came. She began jumping and squealing, sending a mild panic through her office at work before telling her co-workers that she'd gotten the part.
With her cast complete, Kim moved into full production on the film. Most of her crew was local. This move accomplished three goals – supporting the local economy, developing a native film industry and qualifying for much-needed tax breaks. The other aspect of production that worked well for Kim was the natural chemistry between herself, her co-director/husband, Chris, and her Director of Photography/nephew, Blake, who shot his first short film with his aunt's guidance at age 10.
"Blake and I have styles that are very symbiotic so it's a great working relationship," Kim says. "And no, I'm not saying that because I'm his aunt. I've actually flown Blake up to NYC to shoot short films of mine when I could have used any number of talented NY DPs."
Chris served as a mentor for Kim during the process while letting her handle the majority of directing duties.  He helmed the climactic  scene at the Rodeo of the Ozarks though. Kim said that people had warned her that collaborating with her husband, a seasoned director, might cause some creative friction since this was her first time out of the gate.
"It seemed like a disaster waiting to happen," she said. "But I really couldn't have done it without him. Besides, if he hadn't come [to the set], I'd have been calling him all the time."
Together, she feels they captured the tone she was looking for, one that can be seen in quirky, character-driven films like Little Miss Sunshine, Juno and Wes Anderson pictures. The soundtrack will feature local musicians and original songs by Mary Steenburgen and Kris Allen. Kim and her team recently completed editing Valley Inn and have begun submitting it to festivals including the Sundance Film Festival in Utah. As of press time, they haven't yet heard back.
While much of her family has been involved in film, Kerri has only recently been bitten by the movie bug. She is currently working as an executive producer on Joey's upcoming film and second directorial turn Bylines, which they hope will film in 2013 around Little Rock. Kerri believes that Valley Inn is only the beginning for the Arkansas film industry.
"I believe the future of filmmaking in Arkansas is incredible," she says. "With the passage of an increase on the Tax Incentive Rebate, the state is now competitive with all other states that are offering film production incentives. Also, the crew and cast base is really good. Arkansas has an incredible pool of talented and skilled crew and talent that is growing like crazy thanks to the universities' growth in their film departments."
Kim hopes to continue making films, particularly in her home state, in the future. For now though, she's content with her first experience back home since assisting Mary so many years ago.
"I feel so fortunate to have this opportunity to not only direct my first feature film but to do it in my home state and with such deeply talented people," Kim says. "I feel like I won the lottery. We couldn't do this movie without the local support we've received. From the residents of Hindsville, Springdale and Fayetteville to members of the Arkansas film community and other local artists to our friends and family in Little Rock, the enthusiasm and support from the community is humbling and inspiring. It's just a great place in every aspect to do a film project. This may sound like gushing but it's true nonetheless."
VISIT: VALLEYINNFILM.COM