Pro Se Press leads the way in the New Pulp revival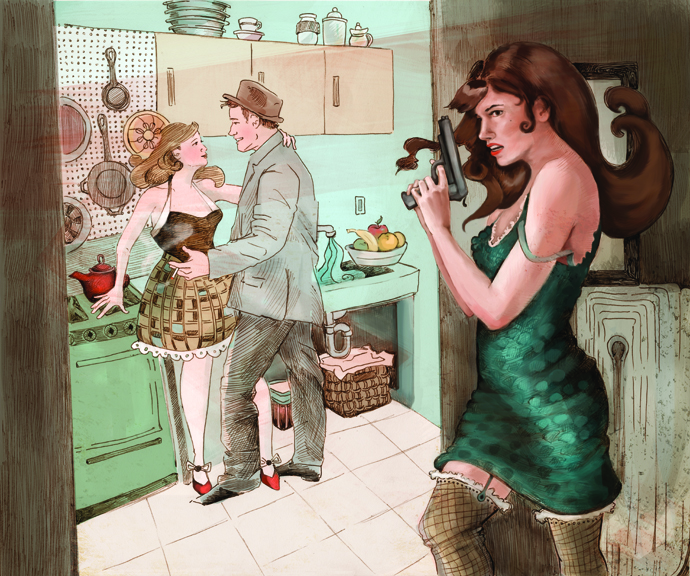 WORDS / KODY FORD
ILLUSTRATION / BETH POST
"If these yarns were trash – and millions of parents must have regarded them as such – then they were the best of all kinds of trash. They were trash for connoisseurs of trash. Trash for people who understood just how good trash could really be."
–      Don Hutchison, The Great Pulp Heroes
They were superheroes, cowboys, crimefighters, men of mystery. Names like Doc Savage, The Shadow and Tarzan occupied the minds of those passionate for escapism within the confines of a paperback. These characters lived the fantasies of their readers–the need for action, the thirst for adventure, good versus evil in a fight to the death. Pulp fiction was escapism at its finest.  One didn't just read it; they lived it.
And then, it was gone.
For the uninitiated, Pulp fiction is a term that refers to stories originally written and published in cheap magazines printed on coarse pulp paper.  Pulp is immediate, visceral and demands your attention. Tommy Hancock, of Pro Se Press, defines the pulp style as "fast-paced, plot-oriented fiction with over the top protagonists and antagonists where clever phrases and descriptions are used within the writing." It's a fairly apropos definition that covers genres ranging from sci-fi to fantasy to crime.
Although the first Pulps were printed in the late 1890s, Pulp's Golden Age is considered to be in the 1930s and 1940s when there were hundreds of Pulp titles, covering every genre from Romance to Western to Hero Pulps and beyond. Often dismissed as smut or literary trash, these stories captured the imaginations of millions of people worldwide. Tommy says, "Good genre fiction takes us to places we've never been and may never get to.  Not only that, Pulp gives us interesting characters to go to these places with, both figures that are larger than life, but also that we usually can see a bit of ourselves in."
The Eisenhower era wasn't particularly kind to the pulp novelist. Sure, a few names made it through like Louis Lamour, Robert Heinlein and, yes even, L. Ron Hubbard (although more for the whole religion thing than Battlefield Earth). Some of the writers began to work in television or comics, and they carried the pulp sensibility and style with them.
While some people might say that pulp fiction vanished long ago, Tommy insists that pulp never really went away. Whether or not it really disappeared, he insists that a renaissance is occurring for "New Pulp."
One company aiming to be at the forefront of his resurgence is Pro Se Press. Based out of Batesville, the company was founded by Fuller Bumpers, a writer and actor who moved back to Arkansas from Los Angeles. In 2010 after bonding over their similar creative backgrounds and interests, he enlisted Tommy and they began to move on to audio dramas like the fictional radio serials of the 1930s. This led to audio books and down the rabbit hole of print publishing—anthologies, magazines and novels.
They currently publish three to six books a month, with print and electronic copies, as well as a quarterly magazine. Additionally, they are working on audiobooks and do a podcast weekly. Their titles are sold exclusively online for two months before being released in bookstores. Pro Se currently has a roster of 70 writers involved in various projects.
Tommy looks for commitment, talent and respect in prospective writers. He says, "They can write what we want well.  That they have a handle on the genre they choose to work in.  And that they work well with our staff and expect us to work well with them."
One of their most notable publications has been BLACK PULP, an anthology featuring African American characters and stories by notable writers like Walter Mosley, Joe R. Lansdale and Gary Phillips. Traditionally ethnic minorities were maligned to racial stereotypes in pulp fiction. They served as plot devices or comic relief. Pro Se decided to flip the script.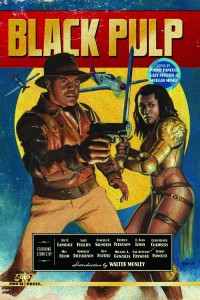 "The purpose of BLACK PULP was to have black characters as leads in the sort of stories that were written in the heyday of Pulp that only featured white characters," Tommy says. "It was a different time then, we all understand that, but we have a chance now to correct some of the societal trespasses then and BLACK PULP is the way we can do it. Although there is a bit of a social statement being made here, the point of these anthologies is really just as much about telling great stories and exploring Pulp from angles that just didn't exist as possibility [before]."
Even before the collection left the press, buzz had spread and Pro Se was receiving emails from people wanting other such collections. Early next year, they plan to release BLACK PULP II and ASIAN PULP with at least two other ethnically themed collections in development.
Pro Se Press has also started a YoungPulp line, an imprint to bring in young readers, to show them what Pulp is and how it really is a part of the things they already love. Other future plans include working with licensed properties to resurrect well-known characters from independent comics in the past for prose adaptations and new stories.
As a small publishing company, marketing has proven to be a challenge. However, Tommy feels that they are making headway on getting the word out maintaining a strong presence on social media and at conventions such as Shadowcon, Mid South Con and Memphis Comic and Fantasy Con.
"[The conventions] are like a second home to Pro Se," Tommy says. "We get a chance at conventions to not only talk about Pulp and sell our books, but the biggest opportunity is to expose our work to new readers of all types.  And what we've learned is that comic fans, anime fans, old time radio fans, movie fans – fans of all types – can find something they'll love and read from our catalog."
The results are beginning to show as they have seen a steady increase in sales. While traditional publishers have chosen major coastal metropolises for their headquarters, Pro Se Press feels at home in Arkansas. Their smaller size and the changing nature of publishing have allowed Tommy and Fuller to pursue their passion from the Natural State.
"The traditional models are collapsing," Tommy says. "More and more people want a different experience as writers and as readers.  That experience on both sides of the page will be found and is being found in smaller independent presses.
Technology has made it possible for there to be New Pulp.  Just like there were magazines that were cheap to produce and sell in the early 20th Century, we have ebooks now that many people call the new pulp magazines.  Almost anyone can format an ebook, put it up for sale, and, unless you're a large publisher who hasn't figured out yet that no one wants to pay the same for a digital book as they do a hardback book, sell it cheaply."
While the price may be low, publishers like Pro Se Press ensure that the quality isn't. These books delight, inspire and tantalize. Pulp fiction is back and it's anything but trash.
VISIT: ProSe-Press.com