The Urban Land Institute of Northwest Arkansas presents the Better Cities Film Festival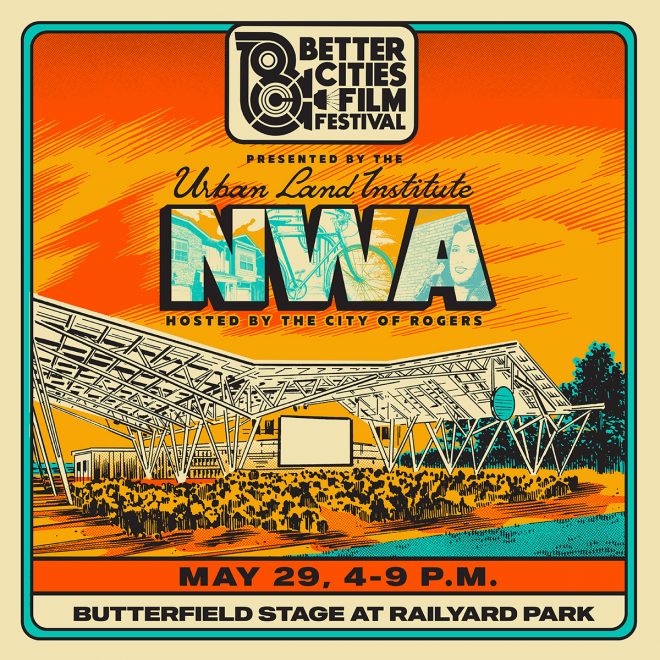 The City of Rogers and the Urban Land Institute of Northwest Arkansas (ULI NWA) will present the Better Cities Film Festival, a world-premiere film festival about how citizens can enhance their cities, towns and neighborhoods.
Discussions and decisions about urban planning and design are too often limited to the university classroom or city council chambers. The festival was launched with a vision to move that conversation onto the silver screen and into the streets, engaging the broader community in the vital work of placemaking and neighborhood revitalization, according to an event press release.
"ULI NWA recognizes film as a powerful artistic medium. When great content is about creating great places, we walk away inspired for what we all can do to connect with and improve our own cities and neighborhoods," said Wes Craiglow, ULI NWA coordinator.
The free festival will feature films, local food and drink vendors on-site. Better Cities will be hosted from 4 p.m. to 9 p.m. May 29 by the City of Rogers at Butterfield State at Railyard Park, 101 E. Cherry St.
To stay the most up-to-date on all things Better Films Festival, follow us on (Facebook, LinkedIn, Instagram) and to sign up for the newsletter here. 
For more information and to register for attendance, visit arkansas.uli.org/events.  
ABOUT ULI NWA
The Urban Land Institute is a nonprofit education and research institute supported by its members. Its mission is to provide leadership in the responsible use of land and in creating and sustaining thriving communities worldwide. Established in 1936, the institute has more than 45,000 members worldwide representing all aspects of land use and development disciplines. 
Event artwork by Big Bot Design