UK Artist Craig Davison to Make US Debut at Zark's Gallery in Eureka Springs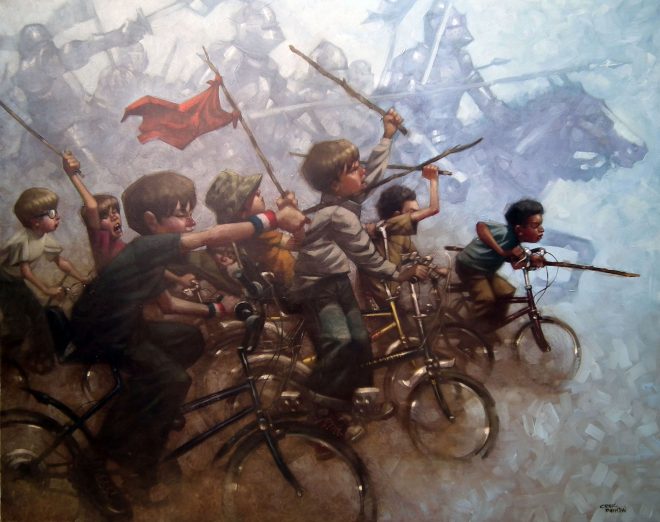 INTERVIEW / KODY FORD
Innocence and imagination merge in the artwork of Craig Davison. His paintings often feature children playing with a pop culture backdrop, whether it is two children stick fighting as the ghosts of Obi Won Kenobi and Darth Vader duel with lightsabers in the background or the A-Team looking down on a group of young toughs. The UK-based artist is set to make his US debut on October 26, 2019, at Zarks Gallery in Eureka Springs.
Davison, a former cartoonist, animator and games designer, cites artistic influences such as Hellboy creator Mike Mignola, the simplistic still characters of Yoshitomo Nara, the energy of Goya and the superb illustrations of N.C. Wyeth. He began his painting career in earnest in 2007. His relentless work ethic often sees the artist working on five or six paintings at once. As he said in his artist biography, "Ideas come from everything and anything – everywhere you look images and ideas are lining up to be used, stockpiled inside my head fighting to be used. Once I start a painting I'm already planning the next."
The Idle Class chatted with Davison via email ahead of the show about his work and coming to America.
A good deal of your work references American pop culture. Were you an avid fan of this when you were younger or did that come more as an adult?
It was just pop culture and it's not until you get a little older you realise its "American" so it's always been a part of me, like most British kids. I was brought up on US films and TV and as a child films such as Jason and the Argonauts and The Great Escape were a big influence along with the Banana Splits on TV.
What are your favorite movies and films from the 80s?
I was a teenager at the beginning of the 80's, so All of Me and The Man with Two Brains were comedy favourites and horror films like Evil Dead and Poltergeist always stick in my mind.
Why are children the main subject of your works?
It all stems from the very first picture I painted I suppose which was influenced just from watching our youngest child playing outside. [H]e would have been around nine years old at the time so it got me thinking about my own childhood and what I used to get up to.
When I was small I was obsessed with Indigenous Americans and would run around the school playground with a feather in my hair, so this became my first painting. It was of small boy on his bike with a feather in his hair and his shadow was a Native American warrior on his horse.
This opened up lots of other ideas to represent children and their imaginations with the shadow of their alter ego behind them and it quickly snowballed from there.
Given your 3D modeling and animation background, how did the shift to a 2D medium like painting go? Were you continuing to draw cartoons during the animation/modelling period as well?
I was a cartoonist before working in the computer games industry so I've always drawn. I was always sketching concepts and characters but I then became a freelance sculptor making action figures and giftware figurines.
Once it became harder to get work in that field I thought I'd try oil paints for the first time.  I was 42 when I started painting and I still consider myself a beginner! I suppose the short answer to your question is that I don't really see the difference between drawing, painting and sculpting it all feels the same to me.
Is this your first show in the U.S.?
It's my first appearance outside of the UK let alone my first in the US…
How do you feel about coming over here?
I'm genuinely excited about it and very grateful that people can connect to my images regardless of nationality.  I'm really looking forward to talking to people and getting their perspective on what I do. These events are great for listening to peoples own experiences with many inspiring new paintings.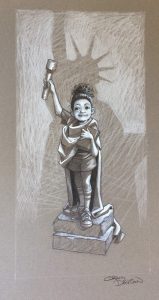 How do you feel about working with Zarks Gallery?
Timm [Hilty] at Zarks has been supporting my work from the very beginning and I really appreciate working alongside him. The gallery has put a lot of effort into the event and it's been a pleasure creating paintings and prints which are exclusive to Zarks. This opportunity to visit the gallery is fantastic and I'm really looking forward to my visit to Zarks and Eureka Springs.
How often does politics come up in your pieces? Do you see parallels b/t the UK and US that you can draw from if so?
Politics rarely appears in my work, if anything my images are an escape from reality all together, a little breathing space away from life. "With Liberty and Justice for All" (which is exclusive to Zarks) is probably the only image that comes close to politics. Zarks Gallery gave me the commission to do it and I was more than happy to run with.
I see the painting as a tribute to the American dream, it's the very foundations of US society, to be welcomed and given the chance to succeed and contribute. As for parallels between US and UK politics…yes without question both countries are very divided at the moment.  Personally, I have lost all faith in politicians from all parties in the UK; they seem to be following personal and party ambitions rather than what is best for our country and its future. It feels like we are about to take a huge step backwards that will take decades to resolve…
Will it take influence in what I paint? Who knows…
To see more of Craig's work, visit his website or follow him on Instagram at @craigdavison_art.