Thick Syrup Records holds showcase at White Water Tavern: 9/14/12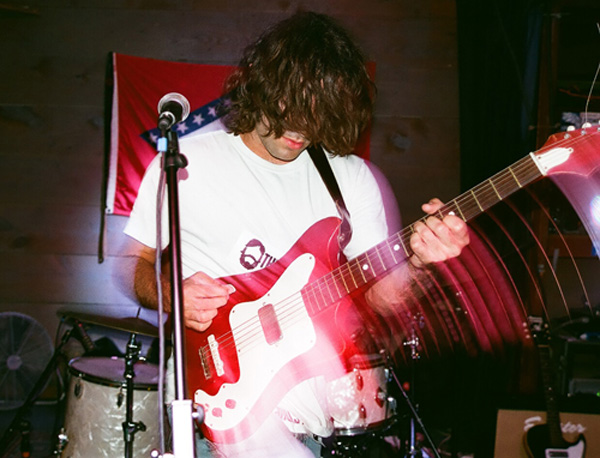 By Andrew McClain
Contributing Editor 
White Water Tavern played host to the most recent in a series of Thick Syrup showcases Friday night, with an acoustic set from ("Brother") Andy Warr, SPERO, Pecan Sandy and Ezra Lbs.
Travis McElroy's Thick Syrup has been hard at work lately, growing their roster and putting out two excellent label compilations this summer – 86 songs between the two of them, including contributions by Daniel Johnston and Half Japanese. To celebrate the release of these comps, there have been at least two separate release parties: one at Stickyz on August 31, with Frontier Circus, Ginsu Wives and The See, and then this one, at White Water.
Two shows was probably the minimum necessary to reflect the creative stride that the label is hitting, but they each serve as an exciting expo of what the label is coming to represent for Arkansas bands.
Andy Warr of Brother Andy and His Big Damn Mouth played a solo acoustic set to kick the evening off. The band billed as "SPERO" is Correne Spero's (of Northern State) current project, which seems to have only recently started to take shape – the band jokingly changed its name between every song, as members drifted on and off the stage, playing dreamy indie pop/rock.
Pecan Sandy, a Russellville, AR, act, and another group of relative newcomers to the Thick Syrup family, played next. Like Ezra Lbs. they are a three-piece with alternating frontmen. They play a jangly brand of Midwestern, balladeering indie rock, with the occasional Southwestern gothic touch. Thick Syrup owner Travis McElroy shot video of their song "Selma Blair" and posted it here and I've been listening to it every day since.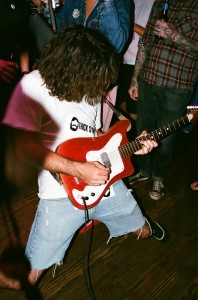 The much-hyped headliners Ezra Lbs. delivered on expectation. The three-piece is made up of Daniel Olah (also of Ginsu Wives) on drums, and Daniel Craig and Nate Houser switching off guitar/singing and bass duties. These guys put a lot of work into putting on a good show, for what you might call "slacker rock," making for a great contradiction. Craig took advantage of White Water's six-inch elevated stage by pretending it just didn't exist, getting out in the crowd several times.
Thick Syrup is an independent record label founded in 2006 by Travis McElroy and based in Little Rock, AR. The label has released a variety of work in different genres, making it difficult to pigeonhole as having any one artistic mission. The label has consistently shown a commitment towards underground rock, experimental, punk, and indie bands. Notable releases by TSR include: Albums by bands and artist such as The Chrome Cranks, To Live and Shave in L.A., Bob Bert's Bewitched (Sonic Youth, Pussy Galore), Jad & David Fair of the legendary Half Japanese, and Don Fleming's band (Producer of Andrew W.K., Joan Jett, Sonic Youth and more) The Velvet Monkeys.
To purchase the new Thick Syrup Records compilation, visit their website.
Photographs by by Andrew McClain.  Additional pictures courtesy of Travis McElroy and Thick Syrup Records.
[AFG_gallery id='9′]