Surf de Soleil make waves in Arkansas music scene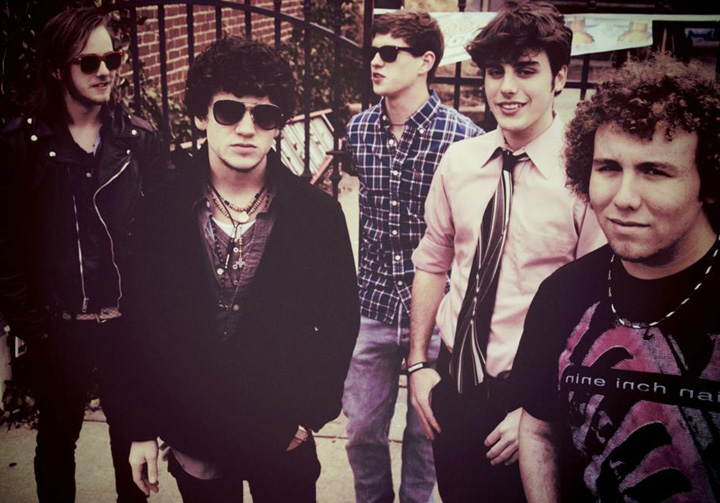 By Kody Ford
Editor
Surf de Soleil, the Fayetteville-based rocker band, have been cultivating a following around northwest Arkansas.  The band consists of Philip Shepherd (vocals), Scott Love and Nate Korth (guitar), Jared Thompson (Bass) and Cody Nielsen (drums). Caught in the age gap between the military draft and legal alcohol purchases, they have turned many skeptics into fans with their Brit rock influenced sound that has hints of Arctic Monkeys and Cage the Elephant. Their self-titled debut album is definitely worth a listen. Songs like "Saints" and "The Blizzard" show a band that has a mature sound and well-honed songwriting chops.  The Idle Class recently caught up with Surf de Soleil.  Here's what they had to say:
How'd each of you get into music and what were some of the first artists who really stood out to you and inspired?
Philip: I began playing music when I was about 11 or 12 years old. I became interested in playing piano after seeing a close childhood friend of mine play. When I'd see him play, I'd think to myself, 'I want to do that.' So I did. At that point in time, my musical taste was…well, tasteless. But further on, I began listening to artists like Ben Folds and Crash Kings; artists that had piano-driven rock music.
Cody: My first introduction into music came from my parents when I was little. It was mostly a lot of 80's rock. I remember being very into the power and catchiness of hair metal bands like Motley Crue and Ratt. Now I draw my music influences from a large variety sources. Bands like Coheed and Cambria, The Strokes, Randall Shreve and the Sideshow, and Foo Fighters are huge influences on my drumming style.
Scott: My grandfather got me into old records like Link Wray's 'Rumble', everything by Chuck Berry, Johnny Cash… My older brother Eddie [Love], who sings in A Good Fight made a big impression on me as well. I saw their first show on my birthday as a sixth grader. I had started playing guitar that same year, and after seeing their show I knew I wanted to put more effort into music. Eddie got me into bands like The Strokes and The White Stripes earlier on. The emotion, the raw energy and excellent musical arrangement of those bands' songs got me into that style of music. As a guitar player, some of my biggest influences are The Strokes, Kings of Leon, Coldplay, Arcade Fire, The Shins, Apartment 5, Sublime, and U2 (you'll hear it). Oh and Zeppelin, but isn't that kind of implied?
Tell me about how the band formed. 
Cody: We formed our freshman year of high school to play the big school talent show with a different vocalist and bassist. Once we moved on from that and realized we had more potential, we started growing in popularity, and grew into the line-up everyone knows today.
Scott: Another part of the band forming was when our former singer and I saw the movie 'It Might Get Loud.' After we got out of the movie we decided we wanted to be in a band, and we went home and played music all night. A month or two later came the talent show stuff and the actual forming of the group.
What's the story behind the name? 
Cody: Scott came into practice one day with the idea. We really liked the clever play on words and the uniqueness, so we decided to use it.
Scott: I typed three or four pages of band names on my phone, showed the guys at practice, and I guess all the other names sucked.
What are some of the themes you've written about on this record?
Philip: I'd like to think there are multiple themes throughout the album, but a lot of what I write about seems to lean a bit toward teenage angst and being able to find yourself through your actions and beliefs.
Scott: Definitely teen angst, just being young and wanting to get away from your comfort zone in the town you grew up in, figuring yourself out- all that angry teenager jazz. We were all 14 and 15 years old when most of those songs were written, and a lot of the lyrics were changed after Philip started singing with us, so some of the themes changed within the songs.
Where did you get some of your first gigs?
Cody: The first couple of shows we played were at an all-ages venue in Fayetteville called The Warehouse. I remember at our first show we pulled in around 100 people just for us. I guess they liked what they heard because we pulled in just as much for the second…by the time we played our 3rd show at the Warehouse we were already headlining.
Scott: The Warehouse gave us a good place to start playing and figure our music out. It's really the only place that consistently gave us opportunities to play. We played other shows at The Showcase and one at Smoke n' Barrel as well.
Tell me about the last album and the recording process.
Cody: It was long. All of the recording took place in the house of one of our good friends Joel Paul, of Swimming and Memphis Pencils fame. About 2 years ago we realized we had a full album's worth of material written, so we went to him and got a very generous deal to record our first album.
Scott: This album is the first wave of songs we wrote. The recording process began when we were still with our first singer. After he left we scraped the sessions we had done and started over.
Cody:  After the recording process we took the raw tracks over to East Hall Recording Studio where it was mixed and mastered by Chris Moore.
Scott: Overall it took us longer than we would have liked, but it was a good experience for us and I think it'll help us a lot when the second record is in full swing.
How would you describe your music?
Scott: If Pink Floyd covered U2 underwater, and you take the noise that came from that, put that noise into a blender and fed that to Kings of Leon, you would have us five kids.
Philip: I like what Scotty said a lot.
Do any of you have a philosophy or artistic mantra that you live by?
Scott: The only way to keep getting better as a musician is to never decide that you're the best. I try to learn different playing styles and test different effects. I want to learn as much about playing music as possible so I can give every song we put out a chance to be as good as it can be. There's never going to be a point where you can say that you know all there is to know about music, so why stop getting better?
You have been embraced by some of the vets of the music scene like Randall Shreve.  How did that come about and how does it feel?
Philip: Ever since Randall moved back down from New York 4 or 5 years ago, I REALLY started getting into his music. At this point in time I was only about 15 or 16 so my dreams of getting to see him and his band perform live had to wait a couple of years. Nevertheless, I was able to see and hear his shows from afar and even had several short-lived conversations with him. I like to think that me meeting him early on helped us out a lot as well.
Scott: We played Georges for a Joplin benefit, and Randall caught our set. After the show Nate and I talked with Randall and he told us he was impressed and that when he was younger, he didn't get much attention from older musicians. He said he didn't want to see that happen to us. Since then he's had us play a lot of shows with him, which is a great experience. Bands like A Good Fight, Bejamin Del Shreve and Apartment 5 have also helped us out a lot with shows and recording our first record. Its an honor to have such good bands recognize us and want us to play with them.
What are your plans for the future?
Cody: The second album is already in the works, and we play a lot of the material that is going to be on said album live at most shows. We have high hopes for the second for sure. As far as touring and what not goes, we're willing to take this thing for as much as we can. We all have nothing in the world we'd rather do than write and play music.
Scott: For the near future we'll be working on our second record. We're all really excited for everyone to hear what we've been working on. After that we're looking at a summer tour before the rest of us start college.
(Surf de Soleil will perform at Rogue Lounge, located at 402 W. Dickson St., on Friday, Aug. 10 at 9 p.m. for Alissa's Big, Huge, Gigantic Birthday Bash. Other bands include Randall Shreve & the Side Show and Motortrain.  See more of Surf de Soleil's videos here.)