64.6 Downtown Founder Steve Clark Among Governor's Arts Award Winners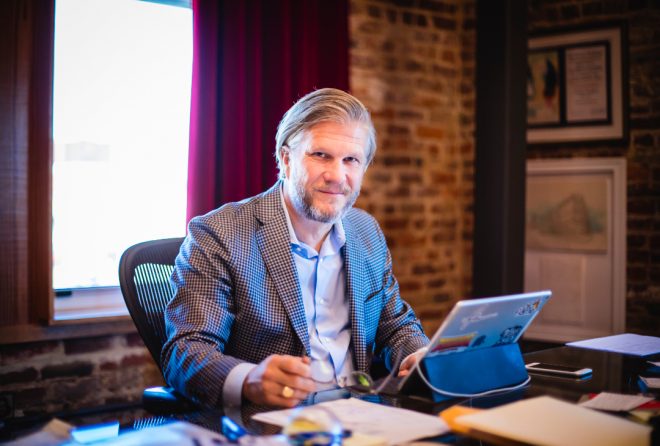 Steve Clark, Arkansas entrepreneur and founder of the nonprofit 64.6 Downtown has been selected as a recipient of the 2019 Governor's Arts Awards. The annual awards program recognizes individuals and corporations for their outstanding contributions to the arts in Arkansas. Recipients are nominated by the public, then selected by an independent panel of arts professionals.
Clark will be awarded the Arts Community Development award for his work in Fort Smith, specifically through The Unexpected, bringing urban and contemporary art to Arkansas. The event brings renowned artists from across the globe to create public art, and the event has led to a resurgence in development and interest in downtown Fort Smith, as well as an increase in music and performing arts events throughout the year.
Other award recipients include:
Arts in Education Award – The Center for Children and Youth
Corporate Sponsorship of the Arts Award – Murphy USA
Folklife Award – Oxford American
Individual Artist Award – Marjorie Williams-Smith
Judges Recognition Award – Anthony Tidwell
Patron Award – James H Faulkner and Joyce Faulkner
Lifetime Achievement Award – Billie Jo Starr
Clark and all the awardees will be recognized at an event Spring 2019 in Little Rock at the Governor's Mansion.
This is not the first time the efforts of Clark and his team have been recognized for their work. In 2017 The Unexpected received the Henry Award for Community Tourism Development revealed at the 43rd annual Governor's Conference on Tourism.
About 64.6 Downtown
64.6 Downtown is a non-profit founded in 2015 by Arkansas entrepreneur Steve Clark. 64.6 Downtown produces events that further economic impact utilizing creative placemaking through events like The Unexpected, spaces such as Garrison Commons pocket park and the Propelling Downtown Forward Master Plan.  Stay up to date on Instagram and Facebook @646downtown or visit  www.646downtown.com.