Stage Eighteen to host "Can't Have One  Without the Other" with Sabine Schmidt, Dale Heath, and Adrienne Callander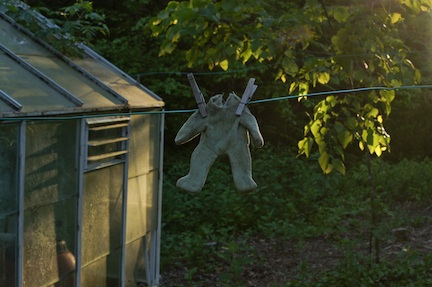 Stage 18 will host "Can't Have One Without the Other," an exhibit featuring works by artists Sabine Schmidt, Dale Heath, and Adrienne Callander, at 18 E. Center St. in Fayetteville. The opening reception will be held on First Thursday, September 6, from 5 to 9pm. Exhibited works will be available for purchase and will remain on display through September (September 4-30). Admission is free; a cash bar will be available for guests during the reception. Stage 18 Gallery is open the First Thursday of the month and one hour prior to Stage 18 events.
In her paintings, Dale Heath's marks only just contain archetypes on the brink of dissolution. The ground is not stable; the familiar is always slipping. In that instability, trauma accentuates compassion. Or is it the other way around? About her work, Heath writes, "I appreciate the tender and the terrifying." What is it to balance these elements in one's work and—as is increasingly necessary these days—in our everyday moments? How does each influence the other? Can they coexist, or is loss itself the endgame?
Sabine Schmidt references an engagement with "wandering and rootedness" in her work. The objects and settings shown in her photographs present a simultaneous desire to remain in and to escape the realms that define us. As a German immigrant living in the American South, Schmidt is cognizant of dualities. She articulates a tension in her balance of the formal and the narrative. Schmidt's dispassionate geometry does not undermine volatility; rather, it isolates disruption and enables our acceptance that to be fully in this world is to be marked by it.
Adrienne Callander speaks to "living as an act of departure from a time and a place when we once knew ourselves," and her works underscore the bewilderment tied to comparisons between what we are and what we were, between who we imagined we would be and where our choices took us. The photocopy format—the facsimile— reinforces a sense of remove and disjuncture. The intermittent presence of the child's hand suggests this is an inherently human experience.
There is no knowledge without experience, no choice without loss, no living without traces. Can't Have One Without the Other dismantles any wishful thinking that admission is free. To pay the price is to live. Best to step into whatever will be.
Dale Heath – Artist
Dale Heath studied art at Pratt Institute in New York City in the 1960s and with William Christenberry at the Corcoran School of the Arts & Design in Washington, DC, in the 1990s. She lives in Fayetteville with her daughter, her son-in-law, and her twelve-year-old grandson. daleheath.art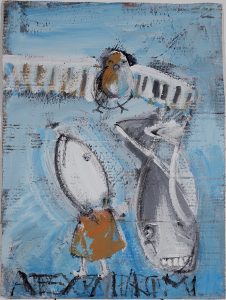 Sabine Schmidt – Artist
Sabine Schmidt is an award-winning visual artist, writer, and translator. Originally from Wiesbaden, Germany, she lived in Hamburg, London, Memphis, and New York before moving to Fayetteville. She has translated books by Wynton Marsalis and Henry Chancellor and works for the German editions of National Geographic and National Geographic Traveler. Her writing and photography have appeared in American and German publications, including Whitefish Review, L.A. Times Online, Audi Magazine, and Rolling Stone Germany. Schmidt received Artist Registry Awards from the Arkansas State Committee of the National Museum of Women in the Arts for 2015-16 and 2017-18. The Northwest Arkansas Democrat-Gazette named her one of Ten Artistic People to Watch in 2016. Her installation (In)Visible House is part of the Winthrop Rockefeller Institute 2018-19 Art in Its Natural State program. She is a founding member of the artist cooperative Fenix Fayetteville. schmidtphotography.org
Adrienne Callander – Artist
Adrienne Callander is a professor of Art and Arts Entrepreneurship at the University of Arkansas and is cross-appointed in the School of Art and the College of Business. Callander's research focus is Arts Entrepreneurship, Visual Art, and Interdisciplinary Studies. She teaches entrepreneurship along aesthetic, social, and commercial trajectories, facilitates creative collaboration, and partners with on-and off-campus entities to grow opportunities and engagement through entrepreneurship and the arts. In addition to teaching, she curates, writes, and exhibits. Callander received her MFA from the Mason Gross School of Art at Rutgers University, her Post-Baccalaureate in Visual Art from the Maryland Institute College of Art, and her BA in History from Reed College. adriennecallander.com
Suzannah Schreckhise – Gallery Director
Suzannah Schreckhise is an award-winning 2D and sculpture artist, and serves as the Gallery Director of Stage 18 in Fayetteville. She holds a B.A. in Art from University of the Ozarks, and was a 2018 Artist INC Fellow. In the last year, her art has appeared in over 40 galleries, including shows at the Woman Made Gallery in Chicago, and the Topanga Gallery in Los Angeles. She has exhibited at the feminist Ceres Gallery in New York City. She has shown her work in several other national and state exhibition venues, and she received the Best Sculpture Award for her piece "Falling to Pieces" in the 2018 Artists of Northwest Arkansas Exhibition. Her work is also featured in the forthcoming issue of the international juried art magazine, Studio Visit. Suzannah is currently authoring profiles of art collectors for the statewide art magazine, The Idle Class.  http://www.suzannahschreckhise.art
Stage 18 Art Gallery
Mission Statement: Encourage economic growth for creative visual artist in our community by providing a diverse gallery space for emerging artist to show and sell art and engage a non-traditional performing arts audience encouraging art appreciation.
Stage 18 Gallery is located at 18 E. Center St. in downtown Fayetteville and is open the First Thursday of the month and one hour prior to Stage 18 events. Admission is free during gallery hours but tickets or cover charge may apply to events. You can find additional event information and times at https://www.stage18live.com/calendar.  Cash bar is available for guests. (479)-310-0153