Stage 18 to host "She's Coming Out of The Dark: Exploring Issues of Women's Empowerment" exhibition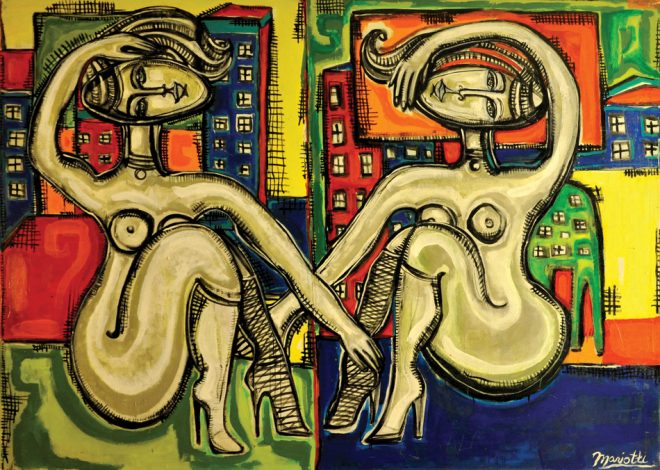 Featuring Artists Christina Mariotti & Marsha Lane Foster with remarks by UA Associate Professor Dr. Angie Maxwell
Stage Eighteen will host a curated gallery reception and pop-up art exhibition entitled "She's Coming Out of The Dark" featuring works by artists Christina Mariotti and Marsha Lane Foster,  located at 18 E. Center St. in Fayetteville. The opening reception will be held Friday, June 29, from 6 p.m. to 9 p.m. Exhibited works will be available for purchase and will remain on display through the weekend (June 28-30). Admission is free; a cash bar will be available for guests during the reception.
This pop-up exhibition will feature a range of small and large format works. To be featured: Mariotti's "Twins" — a large-scale abstract figural painting on canvas — serves as the bridge between her and Foster's photographic works. Curated images from Foster's "Hostage Project" and her new "Fetal to Free" series juxtapose with Mariotti's curious, animalistic, organic, almost otherworldly female portraits.
Dr. Angie Maxwell, Associate Professor & Director of the Diane D. Blair Center for Southern Politics and Society at the J. William Fulbright College of Arts & Sciences, University of Arkansas, will deliver remarks surrounding women's empowerment at the opening reception.
"She's Coming Out of The Dark" is the first show curated by Suzannah Schreckhise, the new gallery director at Stage Eighteen.
Schreckhise said, "Light cannot exist without darkness. Darkness cannot exist without light. 'She's Coming Out of The Dark' is about women who have pulled themselves out of their dark pasts. The exhibition is a portal to healing. Foster takes on the dark while Mariotti bridges the gap and escorts us into the light. Contrasting mediums take on similar directives by two female artists who have overcome, survived and learned to prosper."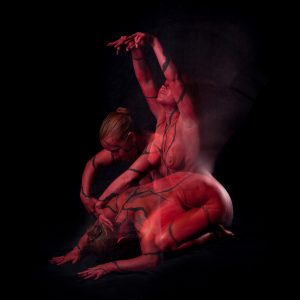 Mariotti grew up exposed to great works of fine art and timeless design. Often traveling back and forth between her two hometowns of Rome, Italy, and Kansas City, Missouri, she acquired artistic influences from both cultures — from modern architecture to vintage fashions and interiors — influences which can be clearly seen in her art today, whether in her landscapes, abstracts or signature figural works. Her art explores scale and form: intersections of humanity and the built environment. A longtime resident of Fayetteville, Mariotti holds a B.F.A. from the University of Arkansas and has studied and taught art abroad in Rome. She often works with figures of strong females coupled with architecture and interiors. Christina was featured in 2016 at Crystal Bridges Museum of American Art as the highlighted visual artist for the museum's first "Dish" distinguished artist series. She has been recognized as a top artist in the annual CitiScapes Magazine "Best of the Best" readers' poll for nine consecutive years, her work has been featured in numerous gallery exhibitions an in both regional and national press, and her art is owned by collectors nationwide and overseas. 
Foster is a self-taught professional and fine art photographer specializing in intimate imaging for women and socially engaged art. Her work focuses on emotional healing through conceptual photography. Her break out "Hostage Project" (2015) set her on a course of facilitating her models/subjects in working through personal strongholds with art combined with personal coaching. She is a 2017 Artist INC Fellow and a former board member of the Arts Center of the Ozarks. She curates galleries for established and emerging artists in pop-up art galleries in her studio Lane Foster Fine Art in Rogers, Arkansas. 
Maxwell is the Director of the Diane Blair Center of Southern Politics and Society and is the Diane D. Blair Associate Professor of Southern Studies in the Political Science Department at the University of Arkansas, Fayetteville. She received her Ph.D. in American Studies from the University of Texas, Austin, and is the co-chair of the Politics and Policy Caucus of the American Studies Association. She is the author and editor of multiple political books and articles. 
Schreckhise, a 2D and sculpture artist, also serves as the Gallery Director of Stage Eighteen. She holds a B.A. in Art from the University of the Ozarks and was a 2018 Artist INC Fellow. In the last year, her art has appeared in over 40 galleries, including shows at the Woman Made Gallery in Chicago and the Topanga Gallery in Los Angeles. She has a forthcoming exhibition at the feminist Ceres Gallery in New York City. She has shown her work in several other national and state exhibition venues, and she received the Best Sculpture Award for her piece "Falling to Pieces" in the 2018 Artists of Northwest Arkansas Exhibition. Her work is also featured in the upcoming Summer edition of the international juried art magazine, Studio Visit. Suzannah is currently authoring profiles of art collectors for The Idle Class online and upcoming fall print edition.
Featured image:  Twins by Christina Mariotti