SPOKEN WORDS: Ozark Poets & Writers Collective marks 25 years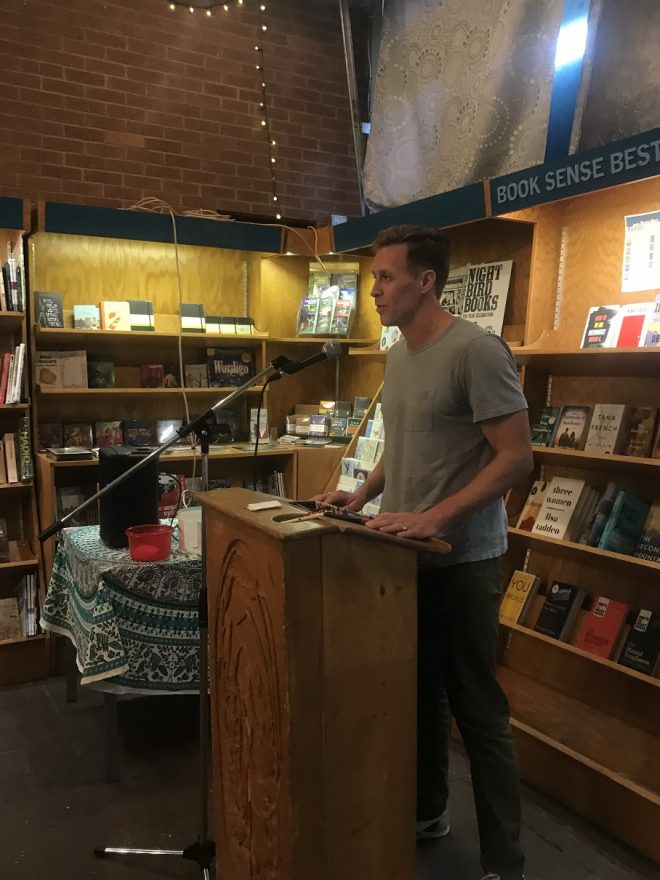 WORDS + PHOTO / KODY FORD
For the last 25 years, the Ozark Poets and Writers Collective (OPWC) has held a monthly reading series in Fayetteville. The group meets the last Tuesday of each month, typically at Nightbird Books off Dickson Street, and hosts an open mic and featured reader. The readings are open to poetry, fiction, creative non-fiction and more. Many readers bring their own work, while some showcase their favorite pieces by other writers.
OPWC began in the early '90s when a group of poets decided to share their love of the written word, says OPWC board member Burnetta Hinterthuer. They formed a slam poetry team, and co-founder Brenda Moossey went to the National Slam competition with other members at least twice. They have since come to include almost every genre of writing at their events.
As OPWC marks its silver anniversary, board member Ginny Masullo cites one of the group's major accomplishments as "keeping an uncensored open mic going for over 25 years [and] sticking to our goal of featuring local, regional and national poets."Some of their notable features include Arkansas Poet Laureate Jo McDougall, Davis McCombs, Geoffrey Brock, Geffrey Davis, Clayton Scott, Michael Heffernan, Davis McCombs and Arkansas Poet Laureate Jo McDougall. They have also featured novelists like Padma Viswanathan, Mohja Kahf and Elle Nash along with creative non-fiction from Argenta Reading Series co-founder Guy Choate.
In fall 2018, OPWC won a Black Apple Award for Best Reading Series and hosted a collaborative reading with The Idle Class shortly thereafter.
The reading series is a great place for beginning writers to find community and test their mettle. "In this day and age, we often just use digital communication forms, yet it is known that there is a need for personal interaction," Hinterthuer said. "OPWC is a wonderful place to learn to read for an audience (as we are very forgiving), find advice and encouragement."
To mark 25 years, OPWC is hosting a party on Oct. 11 at the Graduate in Fayetteville. Lisa Martinovic, one of the '90s star OPWC performers, plans to return for the event from San Francisco and Mendy Knott Wryter is planning to come from North Carolina. 
FB / OZARKWRITERS