The Triple Threat: Robert Ford's talents range from writing to acting to music. But one of his greatest challenges has been making sure that TheatreSquared, the company he co-founded, makes its mark.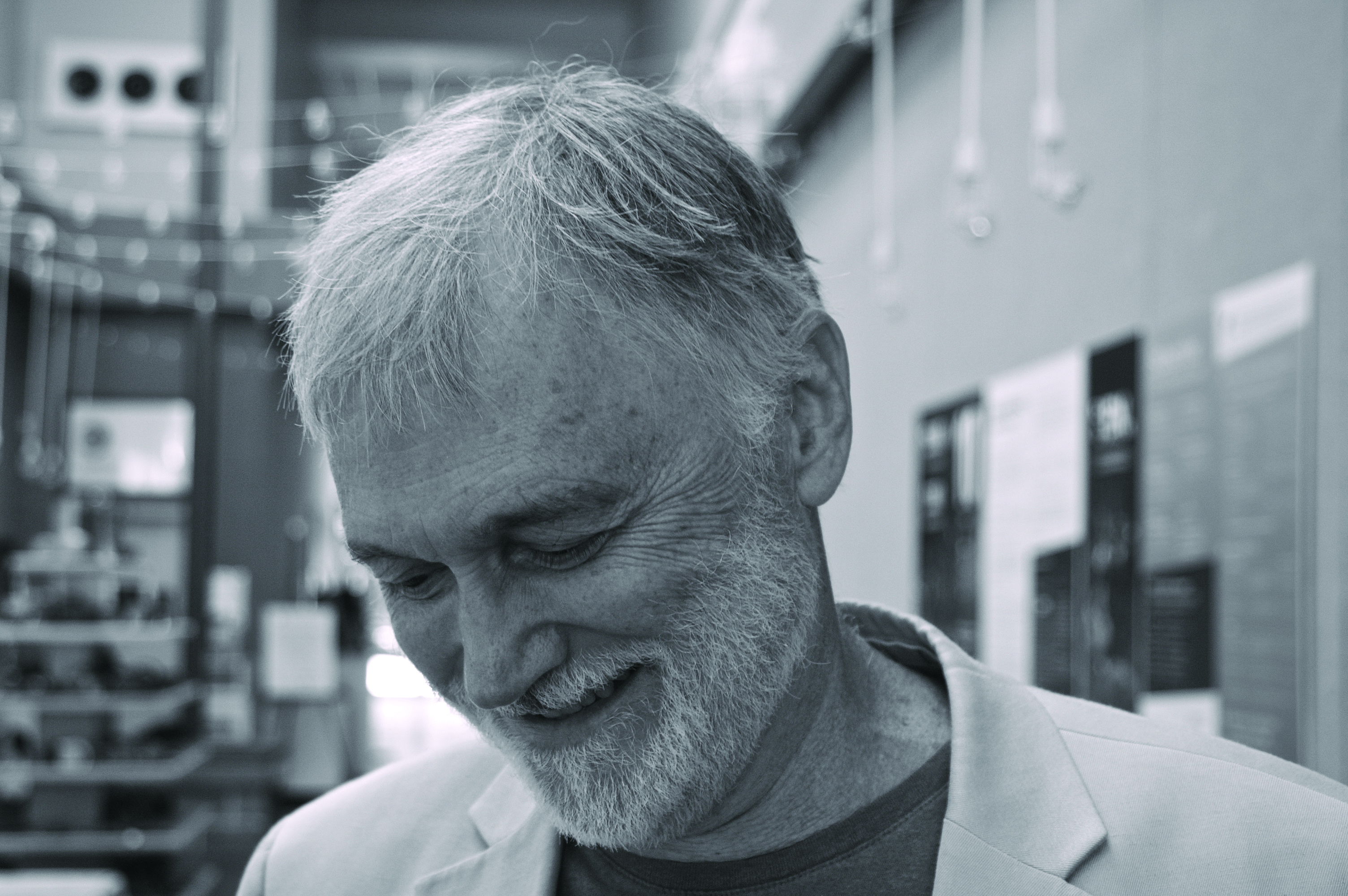 INTERVIEW / KODY FORD
PHOTO / MARTY SHUTTER
Robert Ford is a man of many talents. The page. The stage. Even the flute. Born in Scotland but raised in the Northeast, he immersed himself in music as a child, eventually pursuing flute and composition at Yale University. He received an MFA in acting from Rutgers and an MFA in Writing from the Michener Center for Writers at University of Texas-Austin.
His life changed when he came to the Mount Sequoyah New Play Retreat and met his future wife Amy Herzberg, an actress and director. Ford moved to Northwest Arkansas in 1998 where he worked at the Fayetteville Public Library while writing his debut novel The Student Conductor. He thought he might spend the rest of his life writing fiction, but a play he had written fell into hands of Alabama Shakespeare Festival, who wanted to work on it and produce it. This reignited his love of playwriting, which had been his primary emphasis at UT-Austin.
By 2004, he and Herzberg developed the idea to start a theatre company. They were encouraged by their friends, Bob Kohler and Laura Goodwin, who offered to help them find a space. Originally, with friend David Pickens, they looked at the location of what is now Matt Miller Studio and The pAth Outfitters just off the downtown square in Fayetteville, before deciding to hold out for a larger spot. Around this time Ford and Herzberg met Kassie Misiewicz and Daniel Hintz, who had recently moved to the area and wanted to open a professional children's theatre. Shortly thereafter, they established TheatreSquared, picked up another collaborator, Morgan HIcks, and launched their inaugural season in 2006. Misiewicz left a few years later to establish Trike Theatre for children in Bentonville. Ford took her place as the artistic director, a job that occupies his time when he is not writing plays. Over the last nine years, TheatreSquared has performed five of Ford's plays including My Father's War, The Spiritualist and Look Away with the premiere of his latest, Fault, scheduled for this season.
The Idle Class recently caught up with Ford to discuss his craft and TheatreSquared.
How did you get into theatre and writing?
I was drawn to the theatre from an early age, plus all that stuff kids do that's actually theatre – playing army, cowboys and Indians, chase, playing house  – but music took the front seat for a long time. There was some acting in college, but really where I felt most expressive was in performing music and improvising and composing. The theatrical die was cast while I was attending Yale School of Music, where I got my Masters in flute. I bought a subscription to the Yale Rep across campus – unbelievably cheap – and I saw a play called Master Harold and the Boys by South African playwright Athol Fugard, about a young white boy who betrays the older black man who'd looked out for him, really had his back, from the time he was an infant. Emotional doesn't even come close to describing the experience. I read an interview with Fugard: turns out he loved "Beethoven's Seventh," one of my all-time favorite pieces of music – again, a ridiculously emotional piece. Something cracked open – the revelation that those divisions between theatre, music, and, I later discovered, dance, those were all artificial. And I began to understand my own connection to them: it was emotional. I knew then that I wanted to write plays, to actually conjure that kind of feeling.
What are your thoughts on failure and the role it plays in growing as an artist?
Failure is dangerous because we're so often overly impressed by it. I certainly was. Still am. I'm talking about failure as measured by external judges. Your story gets rejected. You don't win the contest. You don't get into that one grad school. No one laughs. I didn't get past the first round of the Paris International Flute Competition when I was 23, something I'd practiced hundreds of hours for. I was devastated. That experience might have knocked me out of pursuing a performing career, and it shouldn't have. It took me forever to learn that you've got to be your own judge, and that there really is no such thing as failure – there's just the gap between where you are and where you want to be. The other trap that I fell into early on was underestimating the sheer amount of work – work over time – that it takes to succeed. We meet these great artists – these writers and musicians – at the peaks of their careers. And we compare ourselves to them at their peak. Sustained work leads to success way more than mere talent. I wish I'd understood that in my teens and 20s.
Tell me about your writing process.
I love this image that I'm going to attribute to Henry James – though I haven't been able to track it down – of an idea or impulse being a tender flame that you slowly, slowly tease into a roaring fire. Again there's that word tender. Ideally I get to work that way, just teasing an idea onto the page. That said, I do like external structures – the social kind, where you've created a situation in which other people are waiting for your work. Writing groups. Workshops. Deadlines. I also like having a formal structure to write within. The rigorous form of the screenplay. Or a true story that I've been handed – like the real-life story of these two young African American guys who were caught with a couple of white girls in 1930s Wilson, Arkansas, which became my play Look Away. Or the steady stream of war stories my father-in-law told my wife Amy, which became My Father's War. I had one magical period – a post-graduate year at the University of Texas – where I had absolutely no distractions, and I wrote the bulk of the first draft of The Student Conductor. Those days are long gone.
How do themes develop in your work?
I suspect that, in my work, theme takes care of itself. I'm more concerned with need. Discovering what a character needs, what drives her. Ultimately, for me, a story stands or falls on how successful I've been at specifying need. Theme emerges later. Often it's pointed out to me by someone else.
Do any of your plays ever surprise you (thematically or otherwise)?
All the time. The Spiritualist was full of surprises for me, for example. It was only late in the game that I discovered the play was about finding real connection, with oneself and with others. I also didn't notice how autobiographical it was until several drafts in, how it parallels the dissolution of faith that happened to me in my 20s and the concurrent discovery that what makes life meaningful is being able to connect to and become intimate with other people. My sense is that if there are no surprises – no discoveries – for me in the process of writing a play, there won't be any for the audience.
Tell me more about The Spiritualist.
It's the real life story of this woman in London in the 70s, who claimed to channel the music of dead composers. It immediately struck me as great theatre, not just thematically, but I was also intrigued with the question of why Rosemary Brown couldn't write music that she claimed as her own. Because she was actually very gifted. I wanted to know psychologically why she wouldn't claim it was hers. Also I was drawn to the story's inherent theatricality. You have this simple plain woman in her parlor and in walk these iconic composers, Liszt, Beethoven. I knew that would automatically be exciting on stage. Also, it had great subject matter: questions of authorship, the interaction of art with commerce, deeply personal questions about where the music comes from, voice and what that means to an artist.
You've written a novel and many plays. Does the key to writing a good story differ by the medium or are the some universal "truths" for storytelling?
Audiences and readers respond when you tell the truth, whatever the medium. A good joke has hit upon some acutely uncomfortable truth. The satisfying redemption of a hard situation requires some believable action that's psychologically true. The traps are legion that lead writers to lie.    
The last time we spoke you were reworking your new play Fault, which then had a reading at the New Play Festival. It sounded very interesting. Tell me more about the play.
Fault is set in Arkansas in the aftermath of a fictional catastrophic event. It might be about shared-risk and shared-responsibility, the sometimes costly trade-offs we make in order to live the lives we've chosen. And that's all I'd like to say for now because I'm in the thick of rewrites.   
Why do you think that we are so obsessed with apocalyptic events in entertainment?
There's obviously been much scholarship around this question, and anything I say is going to be a gross oversimplification. But it seems intuitively obvious that we're living under the threat of any number of potentially devastating events — either from international terrorism or, much more seriously it seems to me, global climate change, and as a collective whole we haven't yet conjured up the political will to do anything about it. I wouldn't be surprised if, again collectively on some level, we're not drawn to these movies as a means of venting our anxiety about the whole thing. Also, when Hollywood blew up its first train on screen, it was love at first sight; producers and audiences never looked back.   
Many of your plays have taken place in Arkansas. Do you feel our state's culture lends itself to telling unique stories or is it just writing what you know?
I'm not a big believer in writing what you know. Write what intrigues you. What grabs your gut. And Arkansas — well it's just plain ridiculous how story-rich Arkansas is. Our accursed history. The horror stories around race. The brilliant progressives who've tried and failed and tried again to save us. The comedians, the musical geniuses. The stark contrast between rich and poor, instance after instance of the most bizarre possible human behavior, irony at every turn. For an Arkansas writer, it's Christmas everywhere you look.   
It's been 10 years since you helped found TheatreSquared. What's the greatest thing you learned in that time?
I've learned that building a great theatre is really about building a great audience for theatre — for the kind of meaningful plays and musicals we love most. And it's about building trust with that audience.
Tell me what to expect for Season 10?
Expect a lot. A lot of swash, a lot of buckle (that's a direct quote from Peter and the Starcatcher). A lot of humor. A lot of broad, theatrically dashing moments. And then some exquisitely redemptive moments, where what is maybe most difficult about being human turns on a dime into what is most uplifting. This season features two of the biggest shows we've ever produced, Peter and the Starcatcher and Amadeus (which has 15+ actors). An exquisitely-written gem in Water by the Spoonful. A smart and welcome look at contemporary womanhood in Rapture, Blister, Burn. Also a lot of firsts: our first season with six shows (including the add-on, the musical Murder for Two); our first co-production (of Starcatcher, with the Arkansas Rep); our first Wednesday-night performances. And finally you can expect brilliant and brave performances from our actors — some new, some our audiences will recognize from past seasons.
How hard is it being a working writer and an artistic director for a theatre company?
It's actually a great combination because the incentive to write is built into the job. (So are the excuses not to, and that's sometimes a struggle — writers often crave distraction.) Most artistic directors are primarily stage directors. It's a rare privilege to be a playwright in my position — able to facilitate the incubation and the production of new work, both my own and others'. And to be part of the amazing team we have at TheatreSquared.
What's next for you?
I want to keep learning how to do better on both fronts. I saw a play last May that knocked my socks off, an adaptation of the Cornish myth, Tristan and Yseult, by the British company called Kneehigh. Extraordinary stuff. Big and bold and theatrical, but at its core intensely human and truthful. Like TheatreSquared, Kneehigh does its work at some remove from the main theatrical hubs over there. My aim is to do work like that.       
VISIT: THEATRE2.ORG