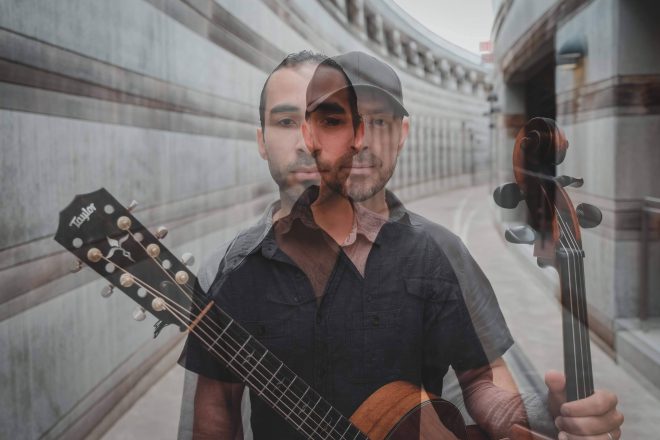 INTERVIEW / ANDREW MCCLAIN
PHOTO / SCOTT C. WOOD
Rozenbridge is a musical duo from Northwest Arkansas consisting of guitarist Tim Warden and cellist Christian Davis Serrano-Torres. The two make due just fine without a drummer by taking full advantage of the percussive power of their instruments, fusing a wide array of influences into a rousing mixture of folk and prog rock that doesn't require an amplifier. The two write and record original music together, but their live shows have been known to include covers of everything from Black Sabbath to Merle Haggard, to Ramin Djawadi's theme from "Game of Thrones."
The Idle Class caught up with the duo via email:
What's your musical background? Where did you start playing?

Tim's musical background lies in the rebel world of rock and roll. He moved into Arkansas as a young boy from California. Shortly after, he taught himself how to play the guitar left-handed just like Jimi Hendrix, Paul McCartney, and Kurt Cobain. Some of his influences include Rage Against the Machine, Pantera, Chris Cornell, Pink Floyd, and Sublime.
Christian's background lies in the world of classical music. He started playing cello at age 12 through the Georgia public school system, and began private lessons later on. He did not start heavily experimenting with bands until he moved into NWA but he always had a love for using the cello in non-traditional ways. One of his all time favorite bands and role models is the Finnish metal band named Apocalyptica.
How did the two of you meet? Where did the name come from?

[We] both met through a mutual friend at one of Tim's show with his former band, Dead Strangs. [Our] encounter seemed to be touched by fate since Tim had been looking to collaborate with a cellist for several years and unable to find one. Meanwhile, Christian was looking for an opportunity to grow and experiment musically in NWA and thus The Jinns was born; the earlier, 3-piece version of Rozenbridge with vocalist Jennifer Baker.
Our band name came out of Einstein and Nathan Rosen's "Rosen Theory". The theory is about wormholes or the bridge between two different points in space-time. We thought this was a fitting name because of our ability to play a wide range of genres due to our diverse musical background.
You guys straddle several genres very well – did you quickly bond over a lot of shared tastes, or do you kind of pull each other in different directions?

We seem to just pull on each other as we jam out in rehearsals and live shows. There is a mutual understanding and confidence in our individual capacity, so we are always pushing on each other to try new genres or styles as we play. Our sound just happened authentically and organically as we got to know each other more on a musical level.
From what I can tell, y'all are pretty active in the NWA scene – where's your favorite place to play?

We have been very fortunate to win over the interest of some big influencers in NWA, such as the Walton Arts Center and Crystal Bridges Museum. Their interest resulted in several neat opportunities like getting to open for famous comedian Jay Leno in March 2019. Despite this, our absolute favorite spot to play was Two 25 Gallery and Wine Bar [owned and operated] by David and Pam Tipton. Sadly the place closed down last year but there was an irresistible sense of artistic community from the owners and customers that kept us coming back. And it is also because of that community that we were able to fund our first self-titled EP back in 2018.
The scope of the music you play seems pretty wide, and from what I can tell, y'all have been gigging pretty hard and your load-in must be relatively easy, so I bet you've played a lot of random places – any particularly odd ones?

We are definitely able to fit just about anywhere with our current band setup. I would say the oddest spot we have performed in was a hole in the wall bar in Canton, Illinois. We took a special road trip to play for a friend who happened to book us at a bar that was accustomed to either heavy metal or punk – not 100% sure which one – but we felt out of place once we entered due to all the weird looks we were getting. However, by the end of our set, we were able to win over the audience which made us feel great!
Do you have an album out? If not, any plans for one?

We only have a 4-track EP available at the moment. We have been talking about an album, but no deadline has been set in sight for that yet. You can listen to our music for free on our Soundcloud page.