PHOTOS: Hurray for the Riff Raff and Shovels & Rope – George's Majestic Lounge (2.23.14)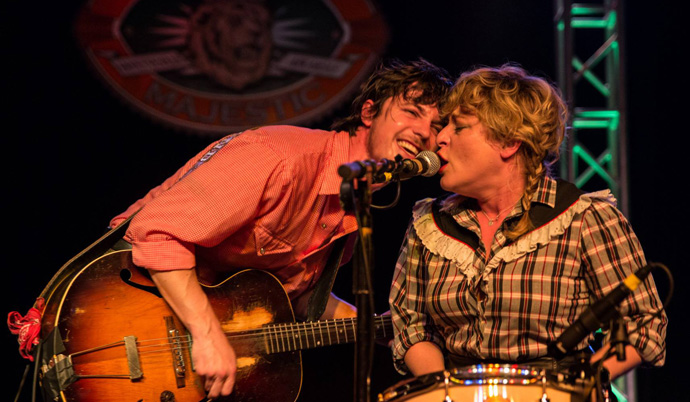 WORDS & PHOTOS / MELISSA BRAWNER
There were two great bands on the bill for a Sunday night show at George's.  Hurray for the Riff Raff is a group out of New Orleans fronted by the hauntingly beautiful voice of Alynda Lee Segarra.  Their blend of country and roots music with other influences sprinkled in was more mellow than the headliner, but they kept the full attention of the large crowd for their entire set.  HFTRR will be coming back through in August to perform at the Fayetteville Roots Festival.  So if you didn't make the show on Sunday, you'll have a second chance.
The married South Carolina duo, Shovels and Rope put on a sweaty, energy filled performance.  Cary Ann Hearst and Michael Trent delivered their amazing mix of country and folk music to the close to sell out crowd. As if the music wasn't entertaining enough, it seemed like with each song, the two of them would alternate between drums, guitars, vocals, keyboards.  Even though the show ended around midnight on Sunday, they left the crowd wanting more.
VISIT: MELISSABRAWNER.COM
Click a photo to enlarge.
[AFG_gallery id='37']