Pageant of Chaos heads up Idle Class Fayetteville release party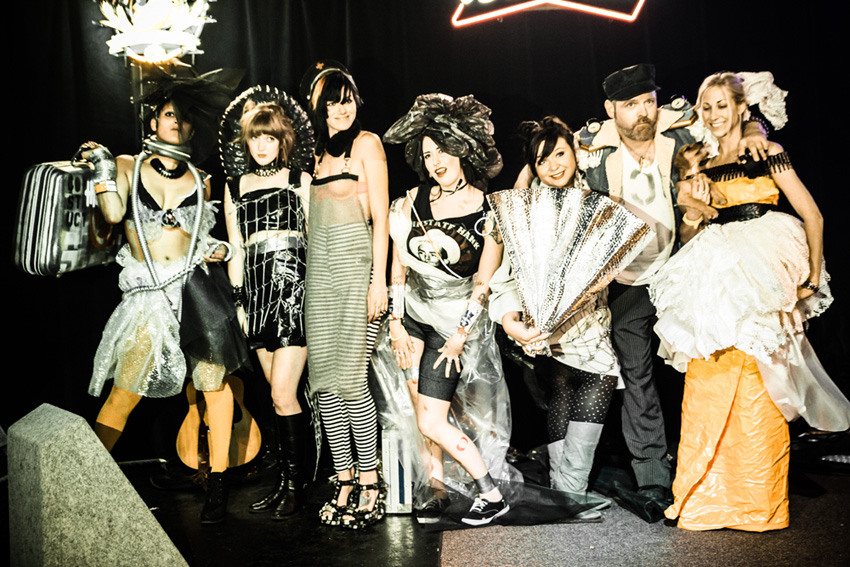 WORDS / MELISSA ARENS
PHOTOS / MELISSA BRAWNER
For the Spring 2013 issue release party, The Idle Class teamed up with BADDJaxx for the Pageant of Chaos, organized by Jaqueline Manhattan and Chadd Wilson. Melissa Arens, Artamiss fashion director and owner at Mayapple Salon and Boutique, assisted and helped judge the contest along with Kody Ford and Marty Shutter, editor and contributing editor of The Idle Class respectively.
The contest was set up like a game show, where each team was able to play games to win pieces made out of various recycled materials. Each team then had to take these materials and construct them into a wearable out fit on a model.
The four teams consisted of:
Team 1.Cherry/Apple = a few hair stylists from Mayapple Salon (Andi Wise, Amanda Hallam and Daryl Lee) and Leah Lee from Black Cherry Vintage
Team 2. BonnerBell = local fashion designers Wayne BonnerBell and Daniel BonnerBell
Team 3. Baby Rose Flow = local friends of Jaxx Manhattan
Team 4. KGB = Joelle Storet (Spring 2013 issue cover artist) and Kata Mari (local clothing designer)
These teams were judged by the three judges listed above, on these three categories, on a scale of 1-10 for the following:
1. Best use of material
2. Originality
3. Over all design
The winners were "Cherry/Apple". They scored highest on Over-all Wearable Design. Congrats! This event was meant to be fun and free form and that it was.
Click on a photo below to launch the slide show.
[AFG_gallery id='21']