Ozark Small-Press Poetry Festival draws local poetry lovers with national poets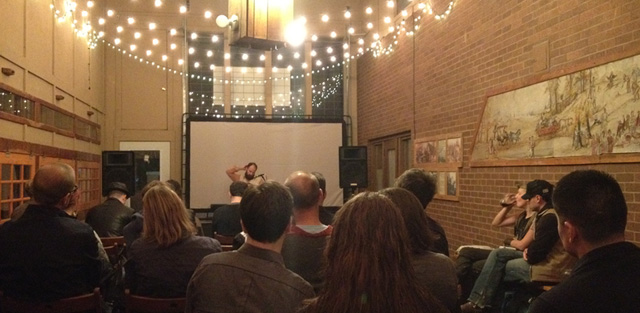 By Kody Ford
Matt and Katy Henriksen seem to stumble into literary events. In 2008, they planned the Frank Stanford Literary Festival, which they'd planned to be just themselves and a few close friends.  It quickly transformed into a huge literary event that brought poets and Frank Stanford scholars from across the country together.
On April 21 and 22, their group, Burning Chair Readings, was at it again with the Ozark Small-Press Poetry Festival, which took place at Nightbird Books. The event coincided with the new issue of their long-running DIY poetry journal Cannibal (see our article in the Spring 2013 issue). They joined up with their friend and Iowa Writer's Workshop alumna C. Violet Eaton, the founder of lit journal Bestoned: The New Metaphysick. Matt invited every poet who appeared in the issue of Cannibal and Art Amiss gave them a grant to fly in some poets. The results didn't disappoint with two nights of readings by phenomenal poets like Graham Foust, Kaveh Bassiri, Phil Cordelli, Sarah Boyer and Katie Nichol.
"The readings themselves were incredible," Katy says. "The line-up was simply phenomenal and I know friends from far away who were crazy jealous to miss this. Beyond that it's just so much fun to host poets and show them around Fayetteville, share meals and drinks and just linger for a short while in their company. Bringing all these amazing poets together for a festival is so much fun and a rare opportunity."
Katy cited money as the primary challenge. With the exception of Art Amiss, the group missed deadlines for funding and grants. However, she said they were lucky to have such devoted poets who were willing (often times) to travel on their own dime for their readings.
"The magic of Burning Chair really is that it's all about celebrating amazing poets who are also amazing people and Matt has a gift for finding those poets and bringing them all together," she says. "He's the one who did all the heavy lifting in getting these poets all down to Fayetteville. It's his dedication and utter enthusiasm that really made this happen. Add the generosity of the poets to the mix and the rest falls together."
In the future, she feels confident that they will hold more literary events, but don't expect a replication of previous endeavors. In the meantime, she says the group is happy with the Ozark Small-Press Poetry Festival, which they consider a success.
"[E]veryone who came and was a part of the festival left having enjoyed an awesome weekend," she says. "There was even one person who I met at the festival who said it was the first poetry reading he'd ever attended! I love bringing non-poets to the mix."
To learn more about Cannibal, visit: FleshEatingPoems.Blogspot.com.