Open Mouth Poetry Festival to bring poetry to multiple venues in Fayetteville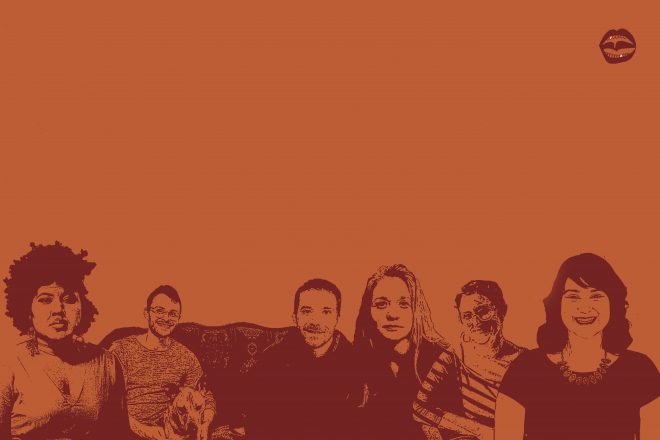 WORDS / MOLLY RECTOR
The Open Mouth Poetry Festival's 5-day, 5-stage event, which runs from October 29 through November 2, brings a celebration of literary art to Fayetteville AR, by showcasing local and visiting poets, haiku-and-costume contests, and a performance the Latinx Youth Theatre Project.
Little Rock poets Bryan Borland and Seth Pennington kick off the festival with a performance at 3p.m. Sunday, Oct. 29, at the Nines (546 W. Center St, Fayetteville). Pennington and Borland live in Little Rock, where they run the independent publishing house Sibling Rivalry Press.
Ashley Roach-Freiman and Caitlin Scarano headline the Monday, Oct. 30 events – 7p.m. at Arsaga's Church & Center location (200 W. Center St, Fayetteville). Roach-Freiman, a librarian and editor, lives and co-curates the Impossible Language reading series in Memphis, TN. Scarano, who was featured in Best New Poets 2016, recently released her first book, Do Not Bring Him Water, from Write Bloody Publishing.
Halloween night, Tues. Oct. 31, begins at 7p.m. at Stage 18 (18 E. Center St, Fayetteville) and will feature live music, performance poetry from the local slam community, and literary-themed costume contests (with categories like "Best Zombie Poet").
Janine Joseph performs Wed. Nov. 1, 7p.m. at The Nines Alley (100 W. Center St, Fayetteville). Assistant Professor of Creative Writing at Oklahoma State University, Joseph was a finalist for the 2017 Oklahoma Book Award and a winner of the Kundiman Poetry Prize for her first book, Driving Without A License (Alice James).
The festival concludes on Thurs. Nov. 2, with a two-part event at the Fayetteville Underground (101 W. Mountain St, Fayetteville). At 7:15, the Latinx Youth Theatre Project will perform a short set of adaptations from the original play, "Follow Me @TíoSam", a creative, complex vision of Latin/x and Hispanic culture, community cohesion, immigration, and family.
Part two begins at 7:45 with Ashley M. Jones, former editor at PANK magazine and winner of a 2015 Rona Jaffe Foundation Writer's Award and a 2015 B-Metro Magazine Fusion Award. Jones is a faculty member in the Creative Writing Department of the Alabama School of Fine Arts. Her debut poetry collection, Magic City Gospel, was published by Hub City Press in January 2017.
The festival is organized by the Open Mouth Reading Series (curated by Molly Bess Rector, J. Bailey Hutchinson, and M. D. Myers), a Fayetteville-based literary arts nonprofit whose mission is to work with the NWA community to create a space for writing, creativity, and expression.
Follow the series on Facebook, Twitter, and Instagram. And find out how to become a patron at openmouthreadings.com.