A night of sonic dreamscapes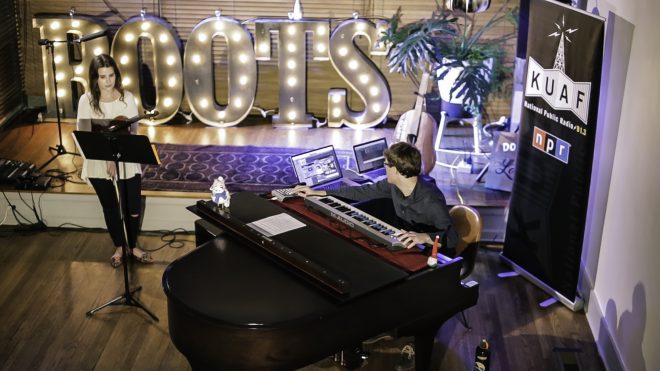 Amos Cochran performed a concert of original songs he'd composed at The Roots Headquarters as a part of the Trillium Salon Series on March 16th. Cochran performed on the piano accompanied by violinist Miranda Baker Burns. He also added in synthesized sounds to enhance the effect of his music.
Cochran said he's been composing film scores since 2011 and continues to grow and expand in his creative process, adding in different sounds to his pieces.
Because he comes from a film scoring background, Cochran said his work can be applied in a variety of ways, taking people's emotions on a rollercoaster of twists and turns.
"I have had many people tell me that hearing my music live has a very emotional effect on them, or makes them think about things differently," Cochran said. "'I didn't know if I should be clapping or crying at the end' has become something I have heard a few times now."
Regarding his creative processes, Cochran said he finds joy in the work of developing his pieces, and specifically in tinkering with different sounds.
"I like making things.  I like the idea that you can spend time at the piano, or computer and after that time you have something new that was not there before and would never be had you not spent that time," Cochran said.  
While some of Cochran's songs were shorter and finite, others went on a musical journey lasting almost 12 minutes. The selection of pieces he chose to showcase were both new and old.
"Most of the time, the song tells you when it is done.  A lot of my music I see as being additive and circular. It starts with something simple and each time it repeats more and more happens," Cochran said.   
Cochran said he loves when a tune is refined enough to perform live, and has recently dedicated more time to writing specific strings parts for other people to play.
The Trillium Series concert ended with a song called "Trapeze" that he wrote several years ago but still regarded as one of his favorite pieces. The piece included a violin accompaniment played by Miranda Baker Burns that Cochran created specifically for the show.
"I took the [last] week to write a violin part and it worked very well.  It was great to take an old tune I had played a million times and give it new life," Cochran said.