New Art Collective Fenix Fayetteville to Hold Pop-Up Art Sale in December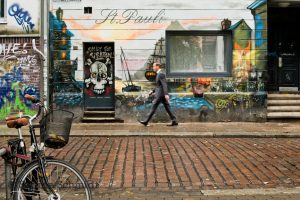 Earlier this month, twenty-three emerging and established artists in Northwest Arkansas founded the new art collective Fenix Fayetteville. The group's debut event will be a ten-day holiday art sale in downtown Fayetteville. The artists are setting up shop in the former Beaver Electric building at 208 North Block Avenue, two blocks from the Fayetteville square.
A ticketed pre-sale party with live music, live painting, door prizes, and drinks will take place on Friday, December 9, between 5 and 9 p.m. Tickets are five dollars at the door.
From Saturday, December 10, until Sunday, December 18, the Fenix pop-up store will be open daily between 11 a.m. and 8 p.m. Free hot cider is available during store hours. The art sale begins and ends with free opening and closing receptions on December 10 and December 18.
The collective's artists are selling original, hand-made, and affordable holiday gifts. Most of the paintings, photographs, textile and glass works, mixed media pieces, sculptures, ceramics, ornaments, and prints are priced under $150.
The Fenix artists come from various parts of Arkansas, the US, Mexico, and Germany. All now call Northwest Arkansas home, and many have been active in the local and regional arts community. The members of the collective are planning more pop-events over the next few months. They are also looking for a long-term space in Fayetteville to house artist studios and a gallery.
Fenix Fayetteville artists:
Dave Bachman, Kate Baer Fossils, Katrinka Booth, Mary Collins, William Mayes Flanagan, Laurie Foster, Alli Woods Frederick, Jan Gosnell, Samuel Gray, Mike Haley, Teresa Hall, Don House, Hank Kaminsky, JoAnn Kaminsky, MM Kent, Octavio Logo, Helen Maringer, Judy Maurer, Martha Molina, Ed Pennebaker, Doug Randall, Sabine Schmidt, and Susy Siegele.
Contact Fenix Fayetteville:  Fenixfayettevilleart@gmail.com
Facebook: @fenixfayetteville or Instagram: @fenixfayetteville