Native American Cultural Celebration Comes to MONAH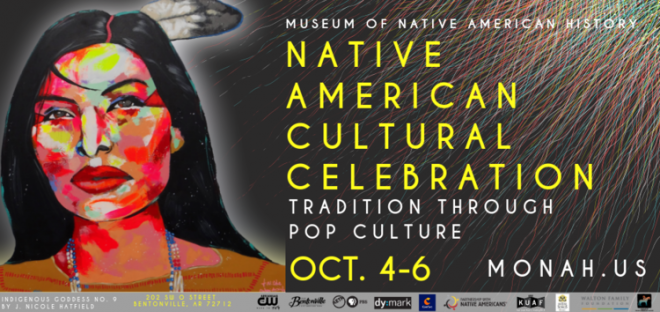 The Museum of Native American History (MONAH) will present its third annual Native American Cultural Celebration on Oct. 4–6 with the theme "Tradition Through Pop Culture."
The weekend will feature presentations and workshops, with actor and filmmaker Wes Studi as the headlining presenter. Studi is the first Native American to receive an Academy Award and is known for his roles in "Dances With Wolves," "Last of the Mohicans," "Avatar," and "Hostiles."
 J.R. Mathews,former chairman of the Quapaw Nation and creator of the American Indian Theater Company, will be moderating "An Evening with Wes Studi" Saturday. The other presenters include Steven Paul Judd, Bobby Bridger, Felicia Ruiz, Sam Scinta, Joseph Bruchac, and the Jones Benally family.
Judd will give workshops on sticker-making, stop-motion animation, and mosaic-making. Bridger will have a listening station for Indigenous Audio Books, which he just founded, and feature the works of Native philosopher Vine Deloria, Jr. with Wes Studi. Ruiz, a.k.a. the "Kitchen Curandera," will give workshops on medicine-making. Scinta, one of the leading publishers of Native American books at Fulcrum Press will host a pop-up book shop. Bruchac, author of Keepers of the Earth: Native American Stories and Environmental Activities for Children will speak, and the traditional hoop-dancing Benally family will perform.
A fundraising brunch on Sunday will benefit Partnership With Native Americans, an organization focused on helping underserved Native American communities, and Cherokee Indian Baptist Choir will be performing during the brunch. The brunch will be the only event to charge admission.
For more information on the Native American Cultural Celebration and the museum's other upcoming events, visit monah.us.