MOTHWIND to play J.R.'s Lightbulb Club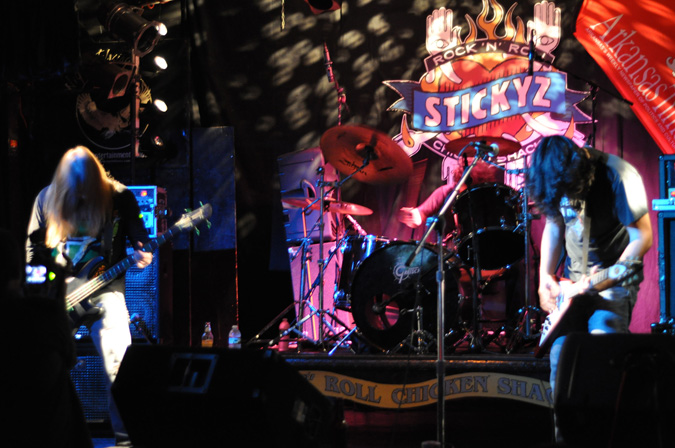 WORDS / KODY FORD
PHOTO / ERIN JESTER

Arkansas metal band Mothwind will take the stage at J.R.'s on Saturday, May 25. ($5 cover. 18+ show) This is their first show on the hill and the band, comprised of Mike Mullins (vocals/guitar), Jeremy Partin (bass) and Kevin Rains (drums) – members of the bands Vore, Underclaire, The Year of the Tiger, Holy Angell, is excited about heading to northwest Arkansas. Their sound is an aggressive blend of riffs, power chords and howling vocals that fans of Tool, Mastodon and Corrosion of Conformity could love.  The Idle Class caught up with Mullins recently to ask him a few questions about the band, their sound and the crazy videos they've been making.
KF: Is this your first time to play Fayetteville? If not, how does it feel to be coming back?
MM:  "It is Mothwind's first Fayetteville show.   We are looking forward to JR's… the last time I was in JR's was with Underclaire in 2004.  Was that even in the same location?  Jeremy's band, Vore, plays Fayetteville frequently I think."
KF:  Do you consider yourself metal, hardcore, or something else?
MM:  "Man, sub-genres irk and confuse me. I'd love if music could be held to like the basic genres: metal, rock, country, pop, or R&B… LOL, I doubt that's possible.  So, I'd just say we are metal When I think about it though, there are two kinds of metal bands:  ones where there is an attempt to provide a vocal melody and then ones that don't.  When we first started jamming I tried to do that screaming-type of vocals but it just felt disingenuous so I told the guys, 'I'm gonna have to try and sing…it's either going to work or sound dumb.'  I feel like it works…even if it doesn't, fuck it, we are having fun."
KF:  Since you guys are made up of members of other bands, how do you balance things?
MM:  "Kevin commented once that, 'This side-project has turned into something more' and I would agree.  Holy Angell has been around and have shows every now and then, Jeremy stays busy with Vore shows a few times a month, and TYOTT only gets together for shows (two of the guys live in Jonesboro and we don't play LR more than once every few months) and everyone's schedule is flexible so we always manage to get together once a week or so. In between these jams we just email riffs and ideas back and forth so that we have something new to try out when we get together."
KF:  Who does your videos?  These are pretty damn good. What's the story behind "Exo-atmospheric Kill Vehicle?"
MM:  "The videos we have on YouTube right now are short films and art-film projects that are on the net and we just used them as a handy packaging to get the audio out there from our demo sessions.  So, we didn't write, shoot, or produce any of those.  Can we call that found-art lol?  The video behind "E.K.V" is the short film Off Season by Jonathan van Tulleken.  It's creepy as hell.  Once we get an album recorded we'll probably try to do a real video. We're going to try to put out an album in the next six months or so."
KF:  What are your plans for the future for the band?
MM:  We just started jamming in August of last year, so we are still trying to find our 'sound' and write songs.   While Jeremy and Kevin are well versed at the metal genre, this is my first attempt at writing and playing songs like this.   However, despite only writing and playing in the vein of rock/pop, I have always been a big metal fan–often in Underclaire and The Year of the Tiger I would even try to incorporate metal-influenced arrangements, riffs, or themes.
KF:  Is there anything you'd like us to discuss?
MM:  We're gonna have brand new tees sat night thanks to Erin Lang at www.arkiestyle.com…they're a short-run so get 'em while they're available!
Visit their ReverbNation page here.