"Miracle," a popular holiday pop-up bar, to deck the halls of Undercroft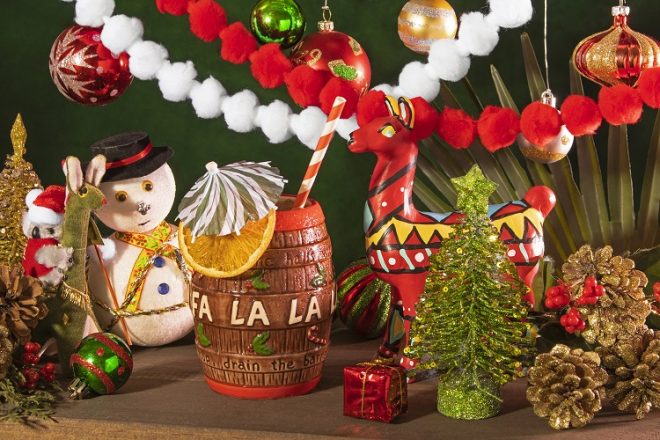 It's the most wonderful time of the year: travelling pop-up bar Miracle on 2nd Street will deck the halls at Undercroft, a speakeasy below The Preacher's Son, on Monday, Nov. 25 and will continue its holiday cheer through Tuesday, Dec. 31.
Miracle, a holiday-themed pop-up, has graced bars in New York City, Los Angeles and Austin. Get those vintage garments and ugly Christmas sweaters ready. Guests will arrive in "A Vintage Christmas," where donated community decor will aid the Christmas kitsch of the space. Undercroft is participating in Miracle's Global Ugly Sweater Party on Dec. 2 to "help create the biggest and merriest ugly sweater party across the globe," according to a press release. 'Miracle' locations worldwide will celebrate the season with their ugliest garb and festive menu of signature cocktails with the goal of having the largest combined ugly sweater gathering the world has ever seen. Join in the fun from 4 p.m. to midnight Dec. 2.
Although the Undercroft signature menu will not be available during the holiday pop-up, guests can order classic cocktails and access The Preacher's Son rooftop bar with cocktails, heaters and blankets throughout the month. The team will also continue their weekly Jazz Night during the pop-up every Monday starting at 6:30 p.m. with a festive twist, according to a press release.
Holiday-themed cocktails created by Miracle are available throughout the pop-up, served in custom Miracle glassware, including kitschy Christmas mugs, coupes and highballs, available for purchase at Undercroft. You'll be dancing down Santa Claus Lane after a few sips. Check out the menu below:
COCKTAILS
Christmopolitan
Vodka, Elderflower, Dry Vermouth, Spiced Cranberry Sauce, Rosemary, Lime, Absinthe Mist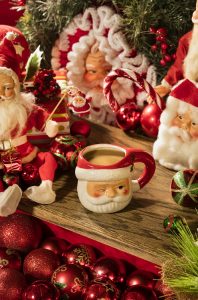 Bad Santa 
(served hot)
Rum, Batavia Arrack, Black Chai Tea, Date-Infused Oat Milk, Vanilla Syrup
Christmas Carol Barrel*
Blanco Tequila, Coffee Liqueur, Cocoa Nib-Infused Orange & Cognac Liqueur, Iced Hot Chocolate, Mexican Spices
*Contains Dairy
Jingle Balls Nog
Brown Butter and Cinnamon Fat-Washed Cognac, Amontillado Sherry, Almond Milk, Cream, Sugar, Egg, Vanilla, Nutmeg
*Contains Dairy, Egg, Nuts
Gingerbread Flip
Rye Whiskey, Gingerbread Syrup, Elemakule Tiki Bitters, Whole Egg, Ginger Snap Cookie Crumbs
*Contains Egg, Gluten
Snowball Old-Fashioned
Caramelized Pecan Bourbon, Spiced Molasses Syrup, Wormwood Bitters, Orange Essence
Run Run Rudolph
Prosecco, London Dry Gin, Mulled Wine Puree, Lemon, Cane Syrup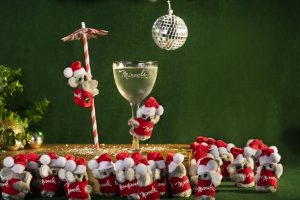 Koala-La La La, La La La La
Gin, Pine Tea Cordial, Grapefruit Oleo, Eucalyptus Bitters
Yippie Ki Yay Mother F****r!
Barbados Rum, Chachaça, Trinidad Overproof Rum, Purple Yam & Coconut Orgeat, Pineapple
SanTaRex
Rye Whiskey, Oloroso Sherry, Spiced Apple Cider Concentrate, Lemon Juice, Hard Cider, Baked Apple Bitters
SHOTS
Nice Shot
Rum, Peppermint Tea, Chocolate
Naughty Shot
Bourbon, Cinnamon
Mistletoe Shot
Rye, Gingerbread Spices
Undercr–er, Miracle on 2nd Street, is located at 201 NW A St. Bentonville, AR. 72712. The pop-up will be merry and bright 4 p.m. to midnight Monday through Thursday, 4 p.m. to 1 a.m. weekends, and closed on Sundays (for private events) through New Year's Eve.
For more information, call 479-445-6065 or visit the Miracle on 2nd Street Facebook event page. Follow Undercroft on Instagram at @undercroftbar and like them on Facebook.
ABOUT MIRACLE
Miracle is a Christmas-themed pop-up cocktail bar that serves holiday cocktails in a festive setting. With kitschy holiday décor, professionally-developed cocktails and the nostalgic energy of the best office party you've ever been to, Miracle is sure to get even the grouchiest grinch in the holiday spirit.
The concept was born in 2014 when upon the advice of his mother, owner Greg Boehm decided to halt construction of what was to be his new East Village cocktail bar called Mace and transformed the unfinished space into a pop-up bar serving holiday-themed drinks among over-the-top Christmas decorations. As crowds swarmed the NYC location, Boehm's friends throughout the bar industry nationwide asked how they could recreate the holiday magic on their own turf and expansion became inevitable. The following year, Miracle expanded to 4 locations and in 2016, it went worldwide with pop-ups in Greece, Montreal and Paris. Currently, Boehm and manager Joann Spiegel are pleased to expand the concept to all corners of the US, plus pop-ups in Canada, Europe, Asia, and Central America.