"Mean Girls" coming to Walton Arts Center this winter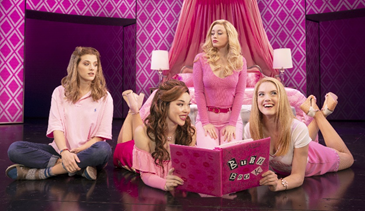 That's so fetch! Walton Arts Center will host the first national tour of the record-breaking new musical comedy, Mean Girls, Dec. 14-19. Based on the hilarious hit film written by Tina Fey, Newsweek calls the show, "Hilarious! A smart, splashy new musical that delivers with immense energy, a wicked sense of humor and joyful inside-jokery."
Based on the iconic film of the same name, Mean Girls follows Cady Heron through the halls of her new high school. Having grown up on the African savannah, nothing could have prepared her for her strange new home: suburban Illinois. She'll encounter a trio of lionized frenemies, led by the charming but ruthless, Regina George. Can Cady rise to the top of the popularity pecking order, or will she learn the hard way that you can't cross a queen bee without getting stung?
Treat yourself to a theater night that's even more fetch with show-themed cocktails that you'll learn to make yourself at the Mean Girls cocktail class 6:30 p.m. on Saturday, Dec. 18. You'll make and enjoy two show-themed cocktails in this hands-on class sponsored by Southern Glazer's Wine and Spirits and Catering Unlimited. Tickets are $35 plus applicable fees, but act fast because just like seats at the cool table – space is limited.
With eight performances running Dec. 14-19, tickets for Mean Girls start at $41 plus applicable fees. Get your seats now because this is some high-school drama you don't want to miss. Tickets to the show and to the cocktail class can be purchased in-person at the Walton Arts Center Box Office weekdays 10 am until 2 pm, by calling 479.443.5600 weekdays 10 a.m. until 5 p.m. or by visiting waltonartscenter.org.
All patrons will be required to wear a mask while inside Walton Arts Center. Information about additional safety protocols can be found at waltonartscenter.org.
Show Times:  
Tuesday, Dec. 14 and Wednesday, Dec. 15 at 7 p.m.
Thursday, Dec. 16 at 1:30 and 7 p.m.
Friday, Dec. 17 at 8 p.m.
Saturday, Dec. 18 at 2 and 8 p.m.
Sunday, Dec. 19 at 2 p.m.