Making a Place a Home: A look at art and the impact of place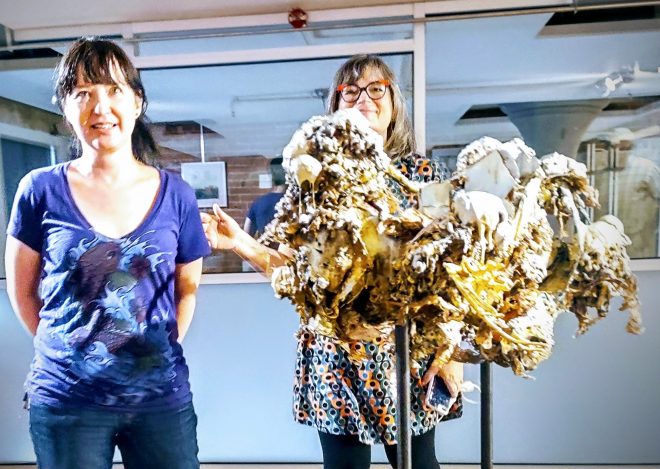 Artist Diane Harper smiled at each person who climbed the stairs to talk with her about her new exhibition, "The Shape of Home," at The Galleries & Bookstore at Library Square in Little Rock.
Earlier, there had been mayhem, she said, because of course, it was Friday the 13th. A sculpture, which was supposed to be suspended from the ceiling, hadn't worked right, so Harper's friend, sculptor Michael Warrick, stepped in to help. Together, the two made a stand, which now held "Unrooted" securely for viewing.
Harper's exhibition, in part, asks about the idea of memory, home and "the emotional imprint of cultural and personal history." Meanwhile, down the street at Hearne Fine Art, artist Dean Mitchell explained his thoughts about truth and place for artwork in his exhibition, "The Return." Some of his painting spotlight the realities of life in the West, on reservations and rural areas. Place affects all people, he said, including us in the rural South.
"I recognize the psychological impact of poverty in those places," he said. Place impacts the people who live there, it makes an imprint, he said. Place contributes to toxic cycles, like drug addiction, depression, poor health, violence and alcoholism. Just as Mitchell finished talking, a musician sitting at a black piano struck up a spontaneous rendition of "Summertime."
Both Harper's and Mitchell's exhibitions looked at truth, memory, perception and the impact of place. These issues also are central to what economists often call "creative placemaking." Creative placemaking contributes to how our tourism dollars grow, whether companies move, whether artists and college grads move out, and whether we create a better general economy and quality of life overall.
Artists and creative have known for years that "place" holds emotions, memories and history that impact how we live, who lives here, how we think, what we eat, how we build our identity. Afterall, home is more than a house. It's taken years for some leaders to catch up and understand the importance of public art, gardens, parks, spaces and community engagement.
In the past few years, murals and other public artworks started popping up all over Arkansas – a testament to the recent effort to create spaces where people want to come together and just be.
Arkansas has more grants for public art than just a few years ago, too. This year, the Arkansas Arts Council teamed with two other nonprofit organizations to create a "concept to completion" workshop and mural build at Main and Eighth streets in Little Rock. The in-person community painting day with Cutwell 4 Kids, Downtown Little Rock Partnership and the Arkansas Arts Council starts at 9 a.m. June 25. The idea is to create dialog, bring people together, beautify and, yes, contribute to creative placemaking. Everyone is welcome.
Creative placemaking isn't new. Across town, along Seventh Street in Little Rock, a community of artists have been working on murals for the past few years. Visitors stop their cars to take photos beside different murals – a patchwork of bright, creative minds that have come together to call for peace, justice and change.
Up in Northwest Arkansas, from Fort Smith to Siloam Springs, public art is also on the rise – work that shows place, history, moments in time, or history. Murals are becoming more connected with community, more intricate and personal.
Back in Little Rock, a new nonprofit organization, Center for Cultural Community, kicked off networking events at White Water Tavern, a known music landmark. Sarah Stricklin, founder and director, wants to help creatives succeed by offering new programs and networking opportunities. Young creatives, from heavy metal musicians to children's book illustrators, gather to talk about needs, wishes and challenges related to creating art in Arkansas. Recently, one of the hot topics at the event was about "place" – how to use art to create a place that boosts local talent and keeps them in Arkansas. The arts community is "ripe" for success, one artist told me.
Artists across Arkansas and in all genres are asking the same questions. How does place reflect who we are and where we are going? How can we make Arkansas better for creatives? How do we develop our art to make social change that supports people?
What is the shape of home?
During a mural-making workshop this past Monday, artist Anthony Tidwell, of Hot Springs, asked young artists, some as young as 8 years old, the same thing. Think about space, he said. Think about the people who live here and what's important to them before you design the mural.
"The (mural) design will reflect the community it is placed in," Tidwell said.