Local artists discuss various processes at Art Ventures Sunday Salon Artist Talk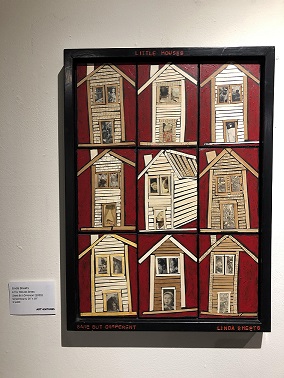 WORDS // SUMMER EL-SHAHAWY
Art Ventures, a local art gallery in Fayetteville, hosted a Sunday Salon Artist Talk last Sunday, Jan. 20, where participating artists could talk to guests about their artwork and creative processes. The salon featured the work of five artists: Karen Ahuja, Jeffry Cantu, Zachary Cleve, Adriana Patrucco, and the late Linda Sheets. The five artists come from various backgrounds and places and each has a style that reflects their unique personality and specific inspirations.
Karen Ahuja's art ranges from large-scale abstract pieces that incorporate geometric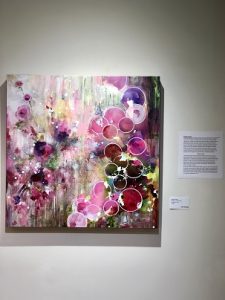 shapes and 3D elements to colorful and electrifying pineapples that are a part of her Welcome Pineapple Project that aids and supports families in the challenges of international adoption. Ahuja emphasized that her artwork is about three fundamental things: fun, therapy, and income. She loves her craft and finds joy creating, but said the process is also therapeutic for her. As a mother of three, Ahuja knows the challenges of raising children and the lack of control a parent can feel. "But the more you try to control and throw your net, the more random it becomes," Ahuja said. Her artwork is a way of coming to terms with her lack of control. Income, Ahuja's third component to her work, is of vital importance to her. She explained that she felt she couldn't remain a mere hobbyist. Instead, she needed to make her fun and therapeutic process her life's occupation, and encouraged artists to market themselves and take the leap to make creating not only a passion, but a profession.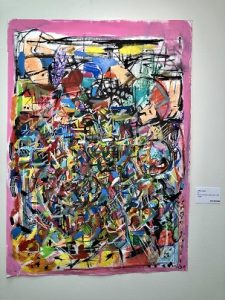 Jeffry Cantu describes himself and his artwork as erratic, spontaneous, and ambitious. His artwork is characterized by bright, bold colors and falls under the category of non-pictorial art. Cantu is a veteran of the U.S. Military and uses his art as a way to combat PTSD as well as to express and overcome life events like the period of time he was homeless.
One of Cantu's works, Home, featured a whimsical, 3D, kinetic piece made from corn husks, metal wire, colored yarn, and other collected materials. Another work, displayed in a triptych highlighted a large, textured, colorful piece flanked by two smaller pieces titled Fake News. "I want to do things radical and different as a contemporary artist," Cantu said, "and this is only the beginning to something I want to be."
Zachary Cleve's works are meant to exhibit a sense of listlessness and confusion.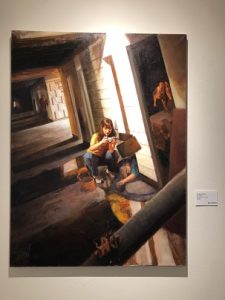 As a person who is on the autism spectrum, Cleve said his art is motivated by the lack of ability to express emotions and interpret nonverbal communication and that "his art is indebted to this deficit."
 His style takes a naturalist approach and he paints his subjects to have a deep sense of disconnect and uses muted neutrals to reflect this mood. Cleve's piece, Atrophy, depicts a woman on the ground with her back to the viewer, and the lines in the painting are diagonal and off-center, giving the viewer that sense of separation. "My intent is to create a haunting atmosphere and elegiac quality," Cleve said.
Adriana Patrucco, born and raised in Lima, Peru, paints portraits of lost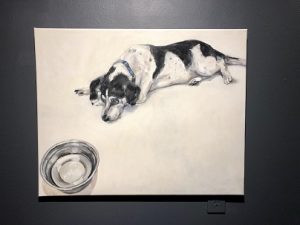 and found dogs in her latest series. Patrucco said her objective in this series is to take these beautiful animals and turn their situations of rejection into new and hopeful experiences. Patrucco's realistic style depicts the dogs to be worn to the point of exhaustion and their eyes are the only source of energy left in their bodies. Patrucco said her main inspiration for this series was the extreme poverty and terrorism in Lima during the '80s. "Our cities were lonely, dark, and grey, and people were terrified," Patrucco said. "There were groups of children in the streets and there was no compassion for them." Patrucco describes her paintings as the aesthetic of solitude, but her second part of the series is dedicated to the possibility of joy for these forsaken dogs. Patrucco said this joy series is a natural step in her artistic career and a way to convert the sad memories in Peru into possibilities of hope.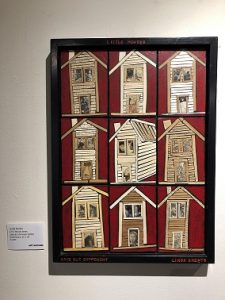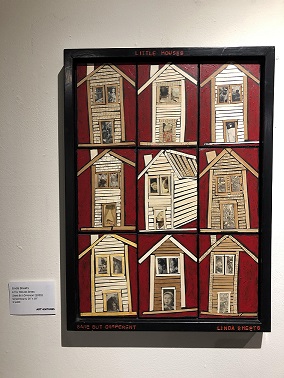 The late Linda Sheets (1955-2018) was also featured at the salon on Sunday. 
According to a press release, Sheets died of cancer on Dec. 3, 2018 at Willard Walker Hospice Home in Fayetteville. A portion of Sheets' work was engraved on scratchboard, setting her artwork apart from the traditional medium of  paint on a canvas. According to exhibition flyers, Sheets left art school and worked as a plumber and contractor for 25 years before returning to the art field in 2003. In 2011, Sheets made six of her scratchboard designs available with Ampersand Art Supply. Sheets also created and illustrated two books, "Dog Scratchin'" and "Cat Scratchin.'"
"Her most recent project, and illustrated children's book with her adopted Ethiopian niece as inspiration for the main character was left to be completed by Art Ventures as a part of her legacy gift," according to an Art Ventures profile on Sheets.