LIVING PROOF: New bakery in downtown Rogers serves up high quality treats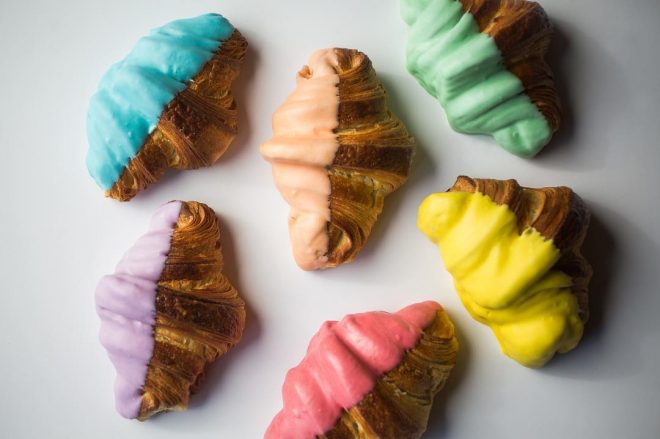 WORDS / SUMMER EL-SHAHAWY
PHOTOS COURTESY / DOUGHP GOODS
Doughp Goods is a wholesale bakery serving up flaky layers of gourmet pastries. The bakery's name pays homage to their awesome products, and they're located in the heart of downtown Rogers at the Onyx Coffee Lab HQ building. 
The idea for Doughp Goods was conceived by Jon and Andrea Allen, owners of Onyx Coffee Lab. The couple wanted to offer food and pastries that measured up to the high standards set by their coffee.They approached Sam Townsend, now the head chef of Doughp Goods,and Justin Calvert, now head pastry chef, with their idea to produce high-quality treats in-house.
At the time, Townsend and his partner, Calvert, were the owners of two restaurants in Fayetteville: Bouchée Bistro and Bouchée Kitchen. After four years of operating the businesses, the pair closed the restaurants in hopes of pursuing other opportunities. Shortly after, the Allens approached the two chefs in hopes of developing a culinary reputation for Onyx.
"Doughp officially started in the beginning of 2017 with just two bakers in a makeshift kitchen that we built in the back of the original Onyx roastery," Townsend said. "We were there for almost two years while the construction of our headquarters was underway."
By the end of 2018, Doughp Goods moved into their current kitchen in the Onyx HQ and have flourished in the new space. The next phase for Doughp Goods is the completion of a bread bakery that will also be located within the Onyx HQ.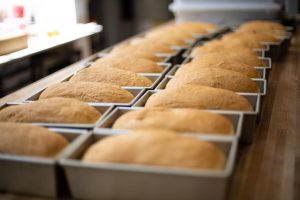 "We've been growing ever since," Townsend said. "We now have a full staff with two crews that bake beautiful and thoughtfully crafted pastries seven days a week." 
Of all their goods, the most popular item on the menu is the croissant, which the Doughp Goods staff makes by hand every day. Townsend said his favorite pastry on the menu is currently the Apple Cider Donut. Despite having a favorite to eat, Townsend said he doesn't have one thing in particular that is his favorite thing to make. Instead, his favorite foods to prepare are based on what people like to eat. 
"Cooking and serving food to a customer or a guest in your home is a very intimate thing. Food can conjure memories, provide happiness and comfort, as well as adventure when trying new things."
Townsend said Doughp Goods is dedicated to consistently serving high-quality products. They source their ingredients carefully, with New Zealand butter, Guatemalan vanilla beans, ham from Bansley's Berkshire Ridge Farm in Harrison, and greens from Table Top Greens out of Decatur. Once the products are made, any that don't meet the taste-tested, high quality Doughp standard are not served. 
The process behind curating recipes and menu items is through a compilation of customer feedback and staff input. 
"I think the biggest thing that sets Doughp apart from most other kitchens is that we don't follow the traditional kitchen hierarchy. Everyone's voice, from the dishwasher to the head chef, is taken seriously and is heard," Townsend said. "We believe this allows our staff to thrive creatively and have a feeling of ownership of the pastries they create, and this feeling permeates into everything we do and contributes to the high quality of our pastries."