Lisa Krannichfeld premieres new collection "Glass Menagerie" at M2 Gallery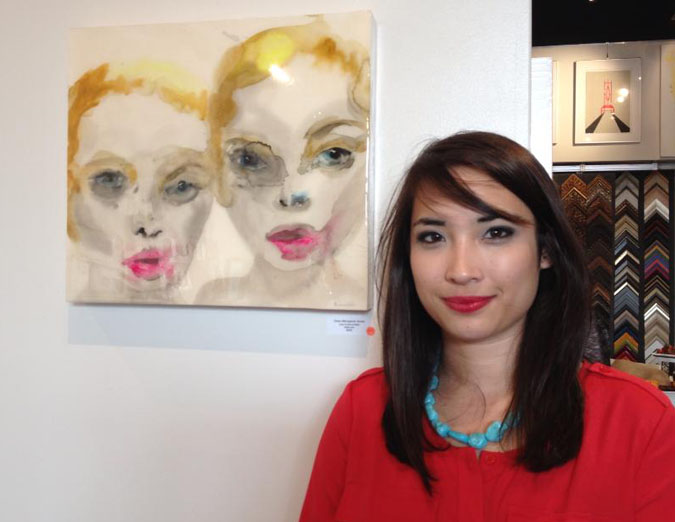 WORDS / KODY FORD
Lisa Krannichfeld has an eye for the human body. While she has focused on nudes for several years, her new show "Glass Menagerie," showing at M2 Gallery in Little Rock, sees the artist narrow her focus to the human face.
"I feel that the purpose of art is to show the viewer something they can relate to in a way they've never seen before," Lisa says. "The human face is relatable to all people but the way I paint it turns it into something new.  I'm not as much concerned with if they look like someone in particular, but rather if they evoke an emotional response in the viewer. Something that you've never seen before is always more interesting than something you have."
Her artist statement for the show reads:
During my undergraduate years as a biology major I took a course in entomology. For an assignment I had to create an insect collection, carefully collecting specimens, killing them in a way as to not damage their bodies, posing them to best display their anatomy and containing them in a pristine wooden box.  Beautiful, numbered and preserved for all time.  In this series I wanted to explore capturing human emotion in a similar way. The problem with that is emotions are fleeting, inexact, and often blended with other feelings. The free, impulsive nature of watercolor offered a perfect medium.  The colors bleed and crash into each other; thin in places, intense in others, as the complexity of the emotions unfold.  The pieces are finished in a high gloss, indestructible resin, readying the specimens for observation.  Together, a Glass Menagerie.
Her nudes relied on a free-flowing gestural technique of dripping black paint on white canvas to loosely draw the human figure, which she considers to be paintings, but also drawings simultaneously.
Lisa finds herself influenced by figurative artists such as Egon Schiele, Jenny Saville, Lucian Freud, and Marlene Dumas. Chinese calligraphy and brush painting have also influenced her with its gestural and simplistic aesthetic.
"I feel that when I take my art too seriously I don't evolve," she says. "A lot of my work begins as just playing around with different materials or common materials used in different ways.  I create my best work usually when I've completely let go of all expectations."
A Little Rock native, Lisa took a drawing class in high school and got hooked. She won an art scholarship from Winsor & Newton art supplies company, and decided to continue on as an art/biology major at Colorado College in Colorado Springs, CO. She hasn't used her biology background since.  Currently, Lisa teaches art in a secondary private school.  She holds a master's degree in secondary education from the University of Arkansas at Little Rock.
Lisa has been showcasing her work at M2 Gallery since 2008 and says it is one of her favorite galleries.  Besides community patronage and support, Lisa cites some the highlights of her career as being voted one of the best artists in Arkansas in local publications, an "Artist to Watch" in Arkansas Life and a "Woman to Watch" in Little Rock Soiree Magazine.  Her artwork has been a part of several live auctions benefiting various local charities, which she finds rewarding.
For Lisa, art is more than just a hobby or a profession.  It affects her on a deeper, physiological level.
She says, "Art is the only thing that makes me both miserable and ecstatically happy. That kind of emotional response to something just can't be overlooked."
Click a picture below to launch the slideshow.
[AFG_gallery id='23']