Larger Than Life: Big Bot's Chad Maupin creates work that is out of this world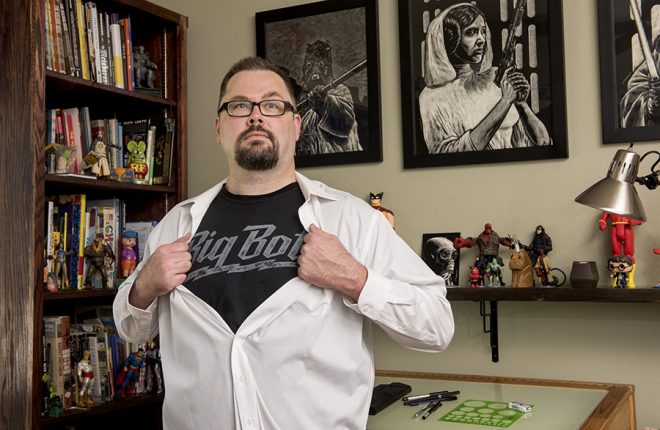 WORDS / TERRAH GRAVES
PHOTO / MEREDITH MASHBURN
Great artists put out a lot of bad art. It's inevitable. And it's necessary if you want to reach your full potential as an artist, says Chad Maupin, graphic designer, art director, independent artist, businessman, and comic book fan and creator hopeful.
But Maupin hasn't put out a bad drawing in a long time. His many recent works have made huge impressions in Arkansas and beyond.
"Artists don't realize you have a thousand bad drawings you have to get out of your system…It's really overwhelming to think about how much of your life you've spent drawing and still have to worry if you're any good," he said.
People who work with him say his skill is only outdone by his professionalism—he produces near flawless work, capturing the style and genre of whatever project he takes on, and all in a timely fashion.
"Even if I didn't have a job I'd still wake up and work hard because that's my personality. Most artists I know who are struggling and ask my advice, if I get into how they approach it, sometimes it's ability but most of the time it's work ethic," he explained.
Maupin has maintained a drawing regiment since his youth in the 80's when the internet wasn't "a thing" and a boy from rural Arkansas who wanted to be a comic artist had little to no outlet for his talents. He sent his drawings to large comic book producers with hopes someone might see potential—naïve dreams, he recalls, that didn't pan out. But he kept drawing, year after year, never sure if he was any good.
When he started as a graphic designer at a small t-shirt design company he had dropped out of college and was told to get a job, any job, by family and friends. The low pressure and great variety of his first graphic design gig allowed him to practice drawing, screen printing and customized design using the skills he had developed over years of drawing his favorite characters and scenes.
"I've worked as a designer and illustrator for years now. I've dealt with thousands of clients. You just start to get a good intuition about it and can think 'OK, this is probably what they want.' You just learn to ask the right questions."
By time he was asked to design for Fayettechill—an international clothing company started in Northwest Arkansas—he was able to produce designs as trendy and outdoorsy as the brand, despite his personal interests being drawing FrankeNauts, Star Wars, sci-fi and comic book characters. But sometimes his interests and work meet, like when he was asked to design a Wonder Woman tribute silkscreen for the Bentonville Film Festival. His talents also led him to his current position as art director for Houndstooth Clothing Company—a t-shirt design company with locations throughout Arkansas.
While he's mastered the art of graphic design, he has used his spare time to pursue his love of comic books and character design. His personal company, Big Bot Design, creates prints, pins and posters with original characters and images styled after old-world comic characters and new-world nerdism. It also helps, he said, that comic books have become more mainstream, making his products approachable to the general public.
Maupin has also been focusing on bringing together local artists to create a cooperative that will hold events where member artists can showcase and sell their work. They call the project the Catty Wampus Indie Craft Show and promise it will be like no other when it is held this year, most likely in December. The first year the show brought in twice as many people as they had expected—an estimated 4,500—and they expect even more this time around.
In the meantime, Maupin is always working to perfect his art. The key to success, Maupin says, is finding the balance between self-criticism and self-doubt. He's obviously found his balance—the community and state can't get enough of his flawless and striking designs.