Kathryn B Phillips' Exhibit, "Contraption Series", Opens at SAAC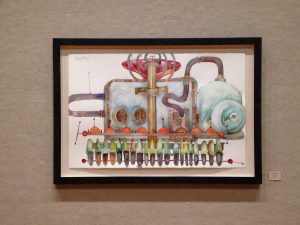 The visual arts committee of the South Arkansas Arts Center invites the public to view a fun and light hearted watercolor exhibit from Ashville, North Carolina, artist and former Arkansas resident Kathryn B. Phillips.  You will feel your spirits lift and a smile will come to your face as you walk through the door of the Price and Merkle Galleries.
Mrs. Phillips' watercolor collection includes 23 large-scale paintings of machinery parts reconfigured to create a contraption full of personality.  "I find a real freedom in redesigning a perfectly fine tuned machine with specific function into an expression of humor that hopefully delights the viewer as much it does me to create it. I choose for the most part agricultural equipment to launch my ideas, simply because that subject speaks of my home and familiarity.  My contraption series embodies this concept," Phillips added.
According to Phillips, firsthand observation of the equipment initially informs a mixed media drawing, determining the main form that will anchor the composition. She then exaggerates, combines, or omits elements during the design process. As the piece develops, it begins to take on its own identity, telling her exactly what it needs. The resulting work is the possibility of the impossible: the playfulness of unyielding steel.
This collection, Phillips said, was inspired by her father and his love of farming in the Arkansas Delta – Chicot County, to be exact.  After he passed away, she noticed some farming equipment in a field and was struck by the thought of painting something to honor his memory.  She knew it would not be traditional nor typical in any way, because that is not the way she works.  She began painting the implements and rearranging them and that is how the "Contraption Series" emerged.  She says they begin to take on a life of their own and she just "goes with it"!
"From an early age I drew, painted and created with my hands.  My family sometimes had family outings that led us to the woods for a nature walk or to the sand bars on the Mississippi River to explore and picnic. Finding beauty and interest in small and seemingly insignificant objects was what we did!  Inspiration comes to me from all kinds of places. Whether I am sitting under olive trees or across from an intriguing face in a cafe, I am open to spontaneous moments of creativity." She continued, "This concept translates into the compositions; I am attracted to what is different about a subject and exaggerate that to suit my vision. I add or subtract as needed, having a grand time during this part of the process. Various measures of freedom flow when the painting process begins.  I allow the watercolor to behave as it will as it covers, texturizes, blends and colors, etc. until I deem it is time for me to step in with my brush."
Phillips received a BFA from Louisiana Tech University, and painted for many years between Cub Scouting, watching baseball, piano competitions, soccer, children's choir, etc.  Now with all children grown, married and with children of their own, she is working from a studio in the River Arts District in Asheville, NC.
"Contraption Series" will hang through September 30, culminating with a reception honoring Kathryn Phillips on that night from 6-8pm, with the artist in attendance.  For more information on this exhibit, please call the SAAC office at 870-862-5474 or visit the website at www.saac-arts.org.   SAAC is located at 110 East Fifth Street, El Dorado, Arkansas.