Justus Fine Art Gallery to open "Fourteener" anniversary exhibit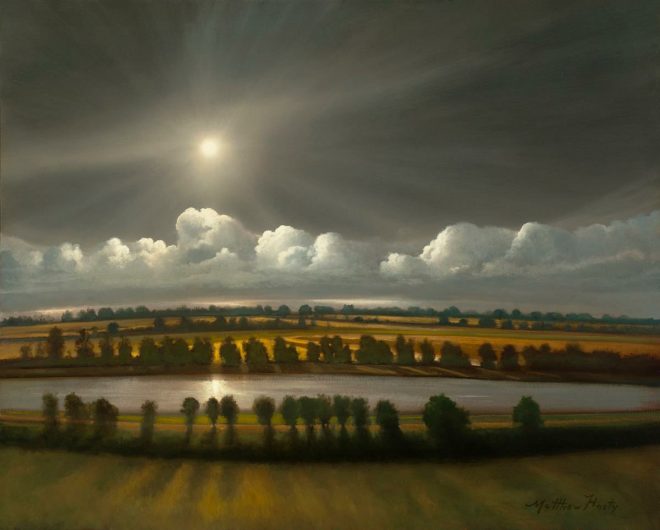 The August exhibit at Justus Fine Art Gallery will mark the fourteenth year of business for the Hot Springs gallery. The exhibit will feature work by Dustyn Bork, Taimur Cleary, Matthew Hasty, Robyn Horn, Dolores Justus, Jill Kyong, Charles Peer, Sandra Sell, Gene Sparling, Dan Thornhill, and others. The anniversary show will open with a reception from 
5-9 p.m.
 on  
Friday, August 3
, in conjunction with the monthly Gallery Walk in downtown Hot Springs. A booksigning for Hot Springs' author Chap Harper's latest book, 
Shortcut
 will also be held during the opening. The exhibit will be on display 
August 3-31, 2018
.
According to Justus, the celebration is a bit non-traditional, but one worth highlighting.
"Though the fourteenth year isn't one of the traditional milestone anniversaries, I couldn't resist drawing the comparison of gallery ownership (along with the path as an artist) with hiking a "Fourteener" – those mountains that are 14,000 ft. or higher in elevation," she said. "You begin to climb, not knowing exactly where you'll end up or what you will meet in the process. As you take each next step, new beauties and views are revealed. There are also steep inclines, icy patches, and boulder-strewn paths, coupled with the thinning air. Those challenges in terrain are necessary to produce the dramatic waterfalls or expansive vistas you may find further along. The arts don't always provide the safe footing that other disciplines offer. It is often a solitary road as an artist and galleries have challenges of their own evidenced by the rash of closings in recent years.
"In drawing the analogy wider, we all have our own mountains to climb. All experience setbacks and hardships, but for those who are able to find the treasures along the way, the result is a life filled with joy and gratitude. This is where I stand–in appreciation of all the artists, friends, collectors, and supporters who have walked with me over the past fourteen years."
Justus Fine Art Gallery offers a wide range of original art including sculpture, paintings, ceramics, photography, and more by recognized artists. Opening receptions are held in conjunction with the Hot Springs Gallery Walk held from 5-9 p.m. the first Friday of every month in downtown Hot Springs. Hours are 10 a.m. – 5 p.m., Wednesday through Saturday or by appointment. Justus Fine Art Gallery is located at 827 A Central Avenue in Hot Springs, Arkansas. For more information, call 501-321-2335 or visit online at justusfineart.com.
Featured image:  "Delta Moon" by Matthew Hasty