Iron Tongue Doesn't Disappoint on Debut LP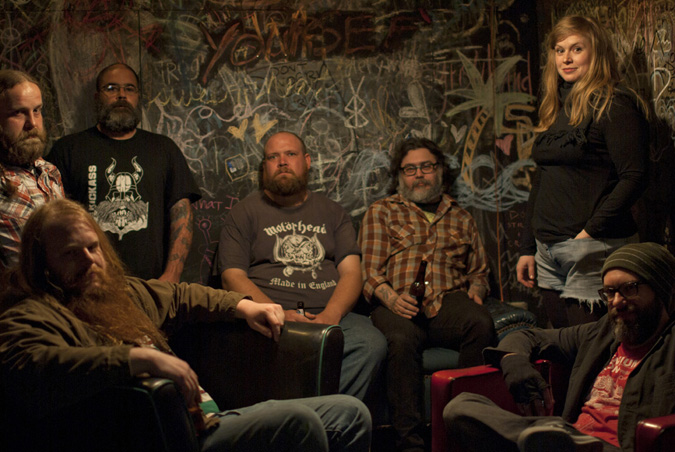 WORDS / SCHULER BENSON
Bands playing heavy music in central Arkansas seem to end up with one of two fates: kneel humbly before the gods of radio butt-rock, or take the path to something darker. Something more organic. Little Rock's Iron Tongue embraces the latter with a blues-based, sludgy style that fits in the Southern heavy music canon like a body in a coffin. Too crunchy to snort and too thick for a needle, the seven tracks that comprise the group's Neurot Recordings debut, The Dogs Have Barked, The Birds Have Flown pull from a variety of styles. Clear on the band's sleeves like tire tracks in mud is the swank of '70's bands like Mountain and Blue Cheer, the murky drear of post-metal powerhouse Neurosis, the production of NOLA sludge legends Acid Bath and Eyehategod, and the riffs of the titanic Black Sabbath.
As vocalist CT puts it, the band's 2009 inception came about from "wanting to start a loud, heavy band."
"It's about having fun," he says. "Having fun and creating some decent hard rock."
Decent is modest. The proven formula of their influences' steadiness, muscle and bile craft a solid skeleton for each song, but it's when Iron Tongue's members, rounded out by guitarists Jason Tedford and Mark Chiaro, drummer Stan James, bassist Andy Warr, keyboardist JR Top and vocalist Stephanie Smittle, step outside of expectations that they distinguish themselves and become truly formidable.
"When we put the new Iron Tongue album together, my biggest focus was just making it a solid slab of classic hard rock done in a new way," says CT. "Personally, I just wanted to recreate an amazing classic sound with new heavy gear, like painting a picture you've already painted in the past, but with totally new insight."
In addition to crunch and static, the band to combines riff-heavy melody and pacing that shifts from amble to gallop on a whim with keyboard accents and sultry female vocals.
"I only aim to lay it down thick so the guys can do their thing," says drummer Stan James, referring to guitarists Jason Tedford and Mark Chiaro. "They're amazing musicians."
"Stephanie is great. She's humble and so fun to sing with," says CT. "None of us make any money at this, so to have someone as badass as her playing in the band means a lot."
In spite of Smittle's prominence in the album mix, the band continues to perform as a five piece, according to CT, "just to mix things up."
Iron Tongue becomes its own animal in how the band throws their influences together in a way that just works. It's daring, actually, and in the hands of less seasoned musicians, it would probably just fall flat. Punk crescendos collide with Doors-esque Hammond work, courtesy of keyboardist JR Top, on "Skeleton," "Moon Unit" opens with a jangling desert riff, and the hammer comes down with full force on thundering album closer "Said N Done." The musical soundscapes are well complemented by album art from Little Rock graphic novel artist and former Soophie Nun Squad singer, Nate Powell. Styles spread across the board, but the band's reach never exceeds its grasp.
All the while, each song is wrapped up in the soulful wail of co-vocalist CT, also known from Arkansas doom-sludge kingpins Rwake. Given the nature of Rwake's music, fans may be surprised to hear this side of CT's range.
"The two are definitely very different," he says. "Iron Tongue is very 'simple man' style. Basic rock & roll lyrics. Rwake lyrics are very… avant garde. New ideas, new dimensions and levels of feelings and consciousness. I feel like Jim Jones with the power of god behind me when I'm with Rwake. With Iron Tongue I just really wanna have a good time and get a little drunk. Rwake is not feel good music."
Another point of pride for Iron Tongue is their signing with legendary indie label Neurot Recordings, run by Neurosis' Steve Von Till.
"Just being on Neurot gives us musical clout," CT says. "We are very lucky and honored to be a part of this label. I know Scott Kelly of Neurosis, just from Rwake stuff, and I sent him Iron Tongue's first 7 inch about 3 years ago. He sent the songs to Steve, who dug it right away."
While the band's plans touring plans are still up in the air, those frequenting the Little Rock scene shouldn't miss out on a chance to catch them live around town.
"Playing with Iron Tongue is an art form I've wanted to get back to for a long time," CT says. "It's real, it's not planned. No dress rehearsals, no wearing suits on stage, we just go up and kill it. It's best to wear earplugs."
The Dogs Have Barked, The Birds Have Flown is available now from Neurot Recordings.  Follow them on Facebook.