International Artist Ana Maria teams up with 64.6 Downtown to Launch New Art School in Fort Smith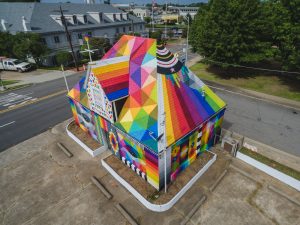 64.6 Downtown in partnership with world-renowned artist Ana Maria, is opening an art school called La Colmena (the Beehive) in downtown Fort Smith. The classes will be held in the building at the intersection of Rogers and Garrison Avenue presently known as Okuda's Universal Chapel.

La Colmena will provide classes for all ages and skill-sets, creating an atmosphere where students will learn in a collaborative environment. Students will follow a teaching plan developed by Ana Maria that will inspire them to develop their own artistic style.
Ana Maria says, "The name La Colmena (the Beehive) is the living place of a bee's colony, where they live and produce their honey. La Colmena at Universal Chapel will be a living place for artists where they can create and produce works, while contributing to the local art scene as both a group and individual artists."
The classes can be taught in both English and Spanish, and Ana Maria is excited to welcome the Fort Smith Latin community.
"We are thrilled to have an international and world-class artist such as Ana Maria living in Fort Smith", says Steve Clark, founder of 64.6 Downtown. "Even more exciting is that she is willing to share her talents with our community on a personal level."
Classes begin February 7 and cycle every 6 weeks. Class days are Tuesdays, Wednesdays and Thursdays and space is limited.  A list of available classes is attached, and private classes are available by appointment. For more information and to sign up email LaColmenaFS@gmail.com.
Follow La Colmena on Facebook at http://facebook.com/lacolmenafs.