HOW TO START A COMEDY SCENE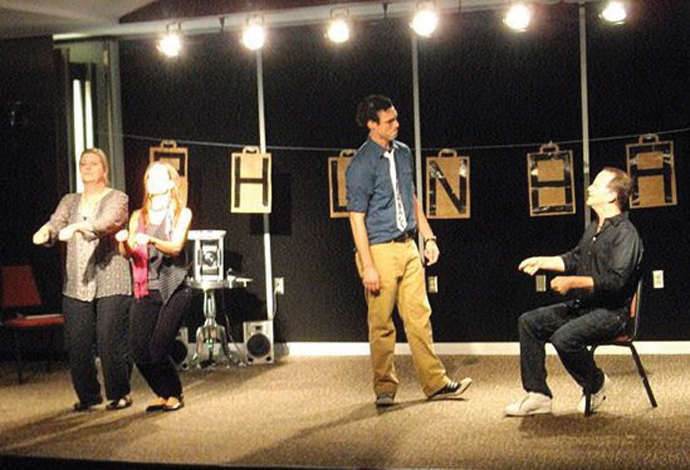 WORDS / MARTY SHUTTER
Improv and stand-up are strange bedfellows. They both take practice, dedication and preparedness. When an improviser takes the stage, they abandon the preparedness for the exploration of the moment. The stand-up comedian hones all of that preparation into a routine.
Regardless of the end product, the open mic has been a fixture of any comedy scene since the dawn of the hand-buzzer. Established comedy scenes thrive in cities where venues and people are plenty, but what about the rest of us beyond the bright lights? What can we do in our own communities to establish appreciation for comedy while providing an outlet for talent to grow?
The Idle Class spoke with three members of Fayetteville's comedy scene to glean what they have learned about creating a scene. Mark Landon Smith is a founding member of the popular short-form improv troupe Phun Bags. Whitney Wasson regularly performs stand-up comedy and is a driving force behind the Comedians of NWA's weekly open mic. Nick Brothers is editor of the University of Arkansas' newspaper, The Traveler, and an alumnus of The Portable Zoo, an improv group in Northwest Arkansas.
Define your format.
Are you hosting? How many performers? How much time are you giving them?  Is this show only happening once, or do you want to have a run?
Develop the brand and be consistent.
Nick Brothers says, "Branding yourself like a business, this is a thing you can expect, that we can provide a service. It starts with good content, but then making people aware that there is good content."  Have a logo. Have an image, build up the necessary websites for linking your show and hosting the times and locations.
Find a venue.
Mark notes, "The great thing about producing in this part of the country is that you have such an enormous amount of support for space. It allows us to produce. If we had to pay market value for space, we wouldn't be able to do it."
Explaining to property owners the benefit of hosting a show is key as well, of the UARK Bowl, a venue in Fayetteville, Mark says, "90% of our audience had no idea that place existed, that just creates awareness for that space as a venue for weddings and private parties and corporate functions that otherwise people wouldn't be aware of." It's not always feasible to begin your show in an established theater, but don't let that stop you. Smith says, "Looking for alternative venues like restaurants is just a win-win situation because what you're saying is we'll come into do a show, we'll keep the ticket price or give you a percentage of that, you keep all the bar and food (sales), it's a win-win situation. No one's losing in this at all."
Ask for whoever usually schedules bands or acts and work with them.
Tell them your goals for the show, your background and what a show might look like.
Talk money. How does the door work, do they provide someone to take money?
Talk sound and lights. Do they have a board, and a soundman, or is it up to you?
Once you've come up with the format you'd like to start with, have developed a brand and built the infrastructure for social networking and have secured a theater. Begin the promotion and build your audience. Wasson says, "The biggest thing is consistency. You have to have a show every week, and you have to have a show in the same place. It takes a while for them to be aware of it. You can put on one great show once, but as far as getting people involved, and getting more people, and having a group of people to pull from, you have to consistently do something and you have to band together in a communal way to do it." She continues, "Encourage your fellow performers, you shouldn't be in any kind of competition."
 Promotion.
Everyone agrees that social media is an effective and mostly free method of promoting your show, what's not obvious however? Smith says, "I post something about a Phun Bags event, a person who is one of our friends on our page shares it on their page, they've got 800 friends, 800 friends who are not our friends who may not be of the area, who may be in the area, but we got 800 more points of awareness, and if four people do that because our stuff is shared all the time, you're creating 3,200 points of awareness, with absolutely no cost and no effort whatsoever with just a click, which is pretty incredible."
Highlight the unique elements of your show.
Use clear, non-cluttered posters that either point to a website, or artfully give all relevant information to the show (ie. time, location, price, format, drink specials, age limits etc.)
Distribute posters and activate the social media machine.
Run the show.
The showman develops the nuances that make him great or mediocre over the course of his shows. Brothers offers, "The most infectious thing is an energy," and what takes time is, "finding how to get that."
But here are a few tips.
Take care of your performers. Let them know when they are performing, let them know where they can relax, buy them a drink if you can. You want to create in the them the sense you want in the room that night. If you want a nervous, flighty crowd, let on to the performers how nervous you are, or rushed.  Be fun, available and kind to your performers and they will perform in their comfort zones, which is best for everyone.
Deal with the theater. Be forthcoming about any glitches or needs of the owners. Be respectful of the space you are performing in and be upfront and on time regarding any monetary compensation or transactions.
Go have a drink.  
As Chicago Improv guru Mick Napier says, don't talk about the show. Sit with the people who helped you later and go over what you like sure, but don't overthink it.  (When Mick says this, he is talking more about improvisors, who shouldn't ever give each other a note, and should not analyze the show.)
Building a show in a burgeoning scene is work. "My friends and I keep complaining that doing stand-up is like a full time job that you do for free." says Wasson.  But it is beautiful work, it is passion in action, comedy is a medicine, and it brings people together. By laughing at the truths we are exposed to in a comedic way, we are gaining a greater understanding of our own humanity. Perhaps the most noble aspect of performing comedy is that it comes, often, from a desire to lighten the world with what has lightened us.
Brothers speaks to this most basic aspect. He says, "Everything [performers] do is cause we like to do it, and that's what it takes."
Photo courtesy of Mark Landon Smith