JUST FOR LAUGHS: Comedians of NWA bring comedy to the Ozarks, one laugh at a time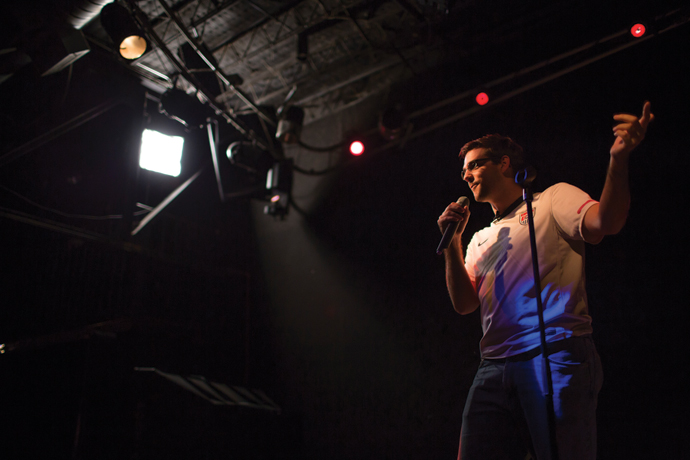 WORDS / ANDREW MCCLAIN
PHOTOS / COLLEY BAILEY
Comedy, as a form of expression, is an ancient institution dating back to medieval court jesters, who were permitted to say anything they wanted about royalty without fear of punishment. Older than that, even, were traveling bards and comic characters who would do things like ride horses backwards; a literal public demonstration of what not to do.
Stand-up comedy, as a modern art form, is still relatively young, only going back to the 1950s, and a distinctly American one at that. The 1980s saw stand-up comedy blossom into an institution, and very quickly we saw comedy clubs spring up in every American city of a certain size, many of which were franchises. This is now referred to as the "Comedy Boom," because every boom has a corresponding bust.
Comedy clubs typically have a very strict structure. This usually involves bringing in a touring comedian for Thursday, Friday, Saturday and sometimes Sunday, (give or take) and put them up in a condo that the club owns. When people come to clubs, there's often a two-drink minimum. One comic opens, one is a "middle" and one is a headliner (give or take). When you run comedy as a business, the goal for comics becomes to get laughs at all costs so that they can return, and it's easy to see the tension between those who view comedy as an art form and those who enjoy the structured business aspect. A good number of professional comics are still able to make a living without necessarily being famous by traveling in this circuit, affectionately called "the road."
Some people like this model, some think that it stifles growth. Whatever the case, interest in comedy clubs began to wane after a while on the part of audiences and performers. For the past 15 years or so, comics all over the country have been taking their shows into their own hands, breathing new life into comedy.
It's a hard task that calls for a certain level of organization, and Comedians of NWA have stepped up. Formed three years ago, Comedians of NWA is a loosely-organized group of comedians who perform and promote comedy in the region.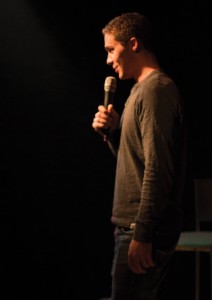 Troy Gittings, Zach Slusher, Brian Spence and Brett Robinson formed Comedians of NWA three years ago at a general (not specifically comedy) open mic at Drifters, a Fayetteville bar on Highway 62. Regarding the general open mic experience, comedian Sam Letchworth says, "Those were tough crowds. So you've got four guys who are all playing their own rendition of 'Peaceful Easy Feeling' on the acoustic guitar and then, 'Ladies and gentlemen, give it up for the next act, a stand-up comedian!' It became apparent that we needed our own stage, our own crowd, a crowd that was there for a comedy show."
In 2011, Gittings secured a spot at the West End, a Fayetteville bar. The crowd began to grow at the location. In January 2012, comedian and manager of the UARK Bowl Roger Haak brought the open mic to the UARK Bowll, and Haak began working to bring comedy headliners to that venue and grow a scene out of there.
After Haak, Letchworth also managed the UARK Bowl, and between the two of them, they brought in several well-known headliners for comedy shows there, including Doug Stanhope, Tom Green, Ralphie May, Carlos Mencia and Rory Scovel. When the UARK Bowl was no longer a viable option for comedians, the open mic moved to Dickson Street Theater. The open mic has produced a number of excellent comics, several of whom have been able to go on the road while based out of Fayetteville.
As for what makes the comedy scene in Fayetteville unique, there's a spirit of inclusion that comes along with comedy. "I have never viewed art as a competition," says Gittings. "That said, the scene itself is unique because of the diversity of our performers. We all have worked together in some capacity and there is a mutual respect for each other. And anyone is allowed to perform at the open mic. Hell, I even let my ex-wife perform. How's that for inclusion?"
The difficulty of getting onstage and commanding a small crowd is something that creates a strong bond of mutual respect among comedians, regardless of how much they may or may not enjoy one another's work, and this seems to be true throughout the comedy world at large.
The primary challenge the group faces working outside of comedy clubs is obviously the issue of not having their own venue, so the story of Comedians of NWA is one of constant relocation from venue to venue. The open mic they put on has had many homes in the past three years as the comedians search for a perfect room for comedy – not just any old bar will work well for comedy, depending on where people tend to congregate to chat or how many televisions are mounted on the wall – comedy doesn't thrive in noisy areas with distractions, which is what most bars specialize in. Even a room like Dickson Street Theater with no televisions is a little too dark and cavernous for a smaller crowd to really engage with a comedian.
After a series of open mics at Dickson Street Theater this fall, the open mic has moved to Speakeasy in Fayetteville. Upon this fourth move in three years, it seems apparent that this group of comics will become a Fayetteville fixture no matter where they're housed.
Comedians of NWA hold their open mic night at Speakeasy, behind the Wine Cellar off West Street, every Thursday at 8 P.M.