Hollywood-based dynamic duo to debut film in Eureka Springs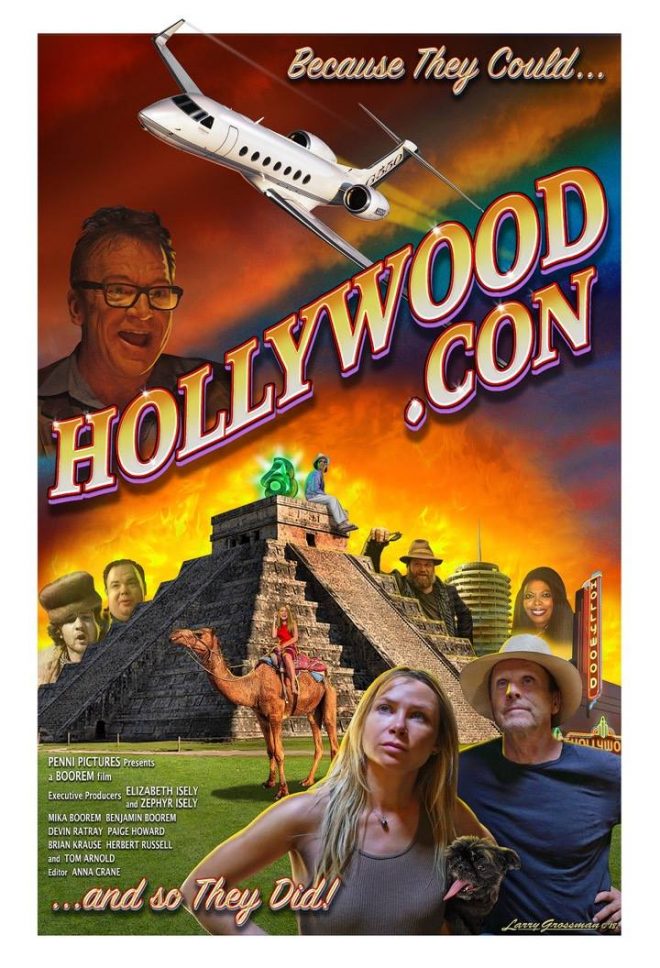 A piece of Hollywood is coming to Eureka Springs this weekend, complete with zombies, slapstick laughs, and an all-star cast. And it's all thanks to a father-daughter duo that came together after a trip to sell enchanted jade (in a way).
After acting in more than 40 films, including "The Patriot," "Blue Crush," "Riding in Cars with Boys," and "Jack Frost," Mika Boorem decided to get out of the limelight and go behind the scenes, making her feature-film directorial debut with "Hollywood.con."
Her father Benjamin, a gemologist and pilot by trade, was working in Madagascar when Mika told him her next idea in her new behind-the-scenes world after a trip they shared a few weeks before to buy and sell jade inspired her. She wanted to make a feature film. He decided to come back to Los Angeles as a producer on the film and they got to work.
"It was a fun experience for us," Mika Boorem said. "We filmed all over in Texas, Arizona, Arkansas, Louisiana, New Mexico. It was a really awesome collaborative experience."
The film, described by Benjamin and Mika as "'Romancing the Stone' meets 'Get Shorty," will debut at The Auditorium in Eureka Springs for the May Festival of the Arts.
But why did they come to Arkansas to debut this film before going back to Hollywoodland?
"When I was a kid, I lived in Marshall (Arkansas)," Benjamin Boorem said. I learned how to swim in the Buffalo, my mom, dad and sister are buried in Marshall… Lindell Black just won an Emmy, and he went to high school in Harrison, Billy Bob Thornton jumped in, another kid in the film is from Searcy. I thought this would be the ideal place."
The Boorems have stayed in Arkansas for about a month and during that time, they have traveled to different schools around the state to talk with students about working in film, even inviting them to this premiere so they could get a real hands-on approach they may not experience otherwise.
And that's not the only Southern networking the West Coast-based family team has encountered. The hosts of The Wendy Love Edge Show with Topher Kogen will interview the dynamic duo about their film and the upcoming red carpet event this Wednesday on 97.3 FM in Fayetteville, Arkansas.
"Topher Kogen and I are thrilled to interview Mika and Benjamin Boorem about the film this talented and accomplished father- daughter duo collaborated on," Wendy Love Edge said. "The fact that Benjamin wanted to bring it to debut in Arkansas where he is from, really warmed our hearts. It's exciting that they are bringing a slice of Hollywood to Eureka Springs, complete with celebrities and the red carpet. We can't wait to meet them and discuss it, and of course to see the film on Saturday."
Hollywood.con is an old-school action comedy that relies on its cast for "big genuine slapstick laughs without the cheap shock or gross-out factors that many modern comedies lean heavily upon, giving the film a distinctively refreshing original tone," according to the film's red carpet premiere page.
Mika Boorem not only directed the film, but she stars in it as well. Alongside her are famed actors, Tom Arnold, Robert Amico (8mm, The Last Godfather), Preston Acuff (Jonah Hex), Cody Kasch (Desperate Housewives), Devin Ratray (Home Alone, Master Minds, Nebraska, Mosaic, The Tick), Nino de Marco, Mika Boorem (The Patriot, Blue Crush, Along Came a Spider, Riding in Cars with Boys), Jackie Pucci ( All Worked Up), Gaby De Luna, Andy Ristau (famed hockey player), Paige Howard (Adventureland), according to the event page.
The state film commissioner is bringing a top-of-the-line projector and a 27-foot screen to the historic theater in Eureka Springs. "So we get the coolest theater and are having some awesome people there to introduce our people to that special town, and with the high tech, too? We are really lucky," Mika Boorem said.
 Eight actors from the film will be at the red carpet event on Saturday, signing posters, pictures, and participating in a Q&A session where locals can find out about the filmmaking experience in a more intimate way than other festivals. There are even more surprises in store, but movie-goers will have to trek to The Auditorium to find out just what they have planned. You're in for a treat.
Check out the trailer: