GUILTY PLEASURES: Matt and Amy Bell | South on Main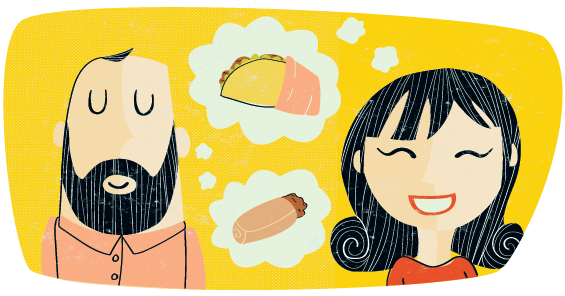 Favorite Guilty Pleasure Food?
Matt Bell: Hands down, a gas station burrito. The deep fried one that has been in the warming case all day. We had an open campus at my Junior High and I would walk to the grocery store and grab one for 79 cents and use the rest of my money for, you know, other things.
Amy Bell: This is tough. I don't have guilt about much that I eat. Let's say Taco Bell crunchy "beef" tacos. In college, I had an allergy to beef and when I would crave beef I would go get Taco Bell tacos. I'm not sure what that mystery meat is actually made from – maybe soy? But I could house a pack of those tacos and have zero allergic reaction, so they'll always have a special place in my heart. 
Guilty Pleasure Song?
MB: "Since U Been Gone" by Kelly Clarkson. I mean, it just rocks. If you truly ask yourself about it you will agree.
AB: "Broccoli" by DRAM. Nothing makes me happier, and the music video is all flute and booty. 
Guilty Pleasure TV Show?

MB: "Burn Notice" but "Law and Order: SVU" is also a go-to. "Burn Notice" is cheesy, action-filled nothing. It's perfect when you don't want to pay attention.
AB: I could watch "Gilmore Girls" a million times over. As a headstrong kid and adult with a mother who doesn't quite understand my personality, I very much relate to Lorelei, and you could say Matt is the Luke to my Lorelei. 
Guilty Pleasure Bad Movie?
MB: All-time favorite bad movie is "Big Trouble in Little China," runner up is "Bring It On." BTLC is just classic for my age. I grew up with it and we all watched it a lot. "Bring It On" is just so damn quotable.
AB: "Princess Bride" is my favorite- but it's not bad, I would argue it's one of the best movies ever. Bad would be "Clueless."