GUILTY PLEASURES: Crescent Dragonwagon | Dairy Hollow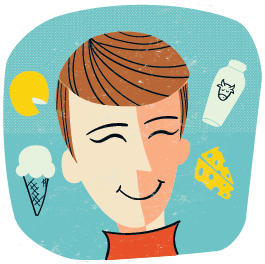 Favorite Guilty Pleasure Food?
Truffles. Fresh truffles, truffle oil, truffle salt, truffle honey. A student of mine just introduced me to Truffle Zest Seasoning, and I feel sure that'll be another there-goes-the-neighborhood item. I feel guilt on this score because I am a lifelong self-employed freelance writer, and as such I have no business having such high-end tastes. 
I also feel some guilt at how much I still enjoy full-fat dairy products… creme fraiche, whipped cream, and good cheeses. I'm 85% or so vegan/ plantcentric, haven't eaten meat since I was 22. But dairy is another matter. I have yet to eat a vegan cheese I actually like (with the exception of Kite Hill almond-based cultured cream cheese), though there are now a few that are at least tolerable. 
You want specifics? I'll give you specifics. Once in a while I have to have a small Andy's Frozen Custard. I do not keep Ben & Jerry's Coffee Heath Bar Crunch in the house because I know no moderation where it is concerned. 
And cheese… well, there is a truffled gouda carried by Whole Foods that – you can just imagine, hits all my high spots. 
Guilty Pleasure Song?
"Sexual Healing" by Marvin Gaye. There, I said it. Not gonna say anything more. 
Guilty Pleasure TV Show?
Since I am not violent at all by nature and shut my eyes if something bad is going to happen, it's surprising that I liked "The Sopranos" so much. And "Hill Street Blues," and "NYPD Blue." 
Guilty Pleasure Bad Movie?
I can't call "Outrageous Fortune" (Bette Midler, Shelley Long, Peter Coyote) bad — it is very good. But it is certainly ridiculous and lightweight. I have watched it many times and it always makes me laugh.