THINGS LEFT UNSAID: Grace Mikell Ramsey believes in storytelling. She paints the picture. The rest is up to you.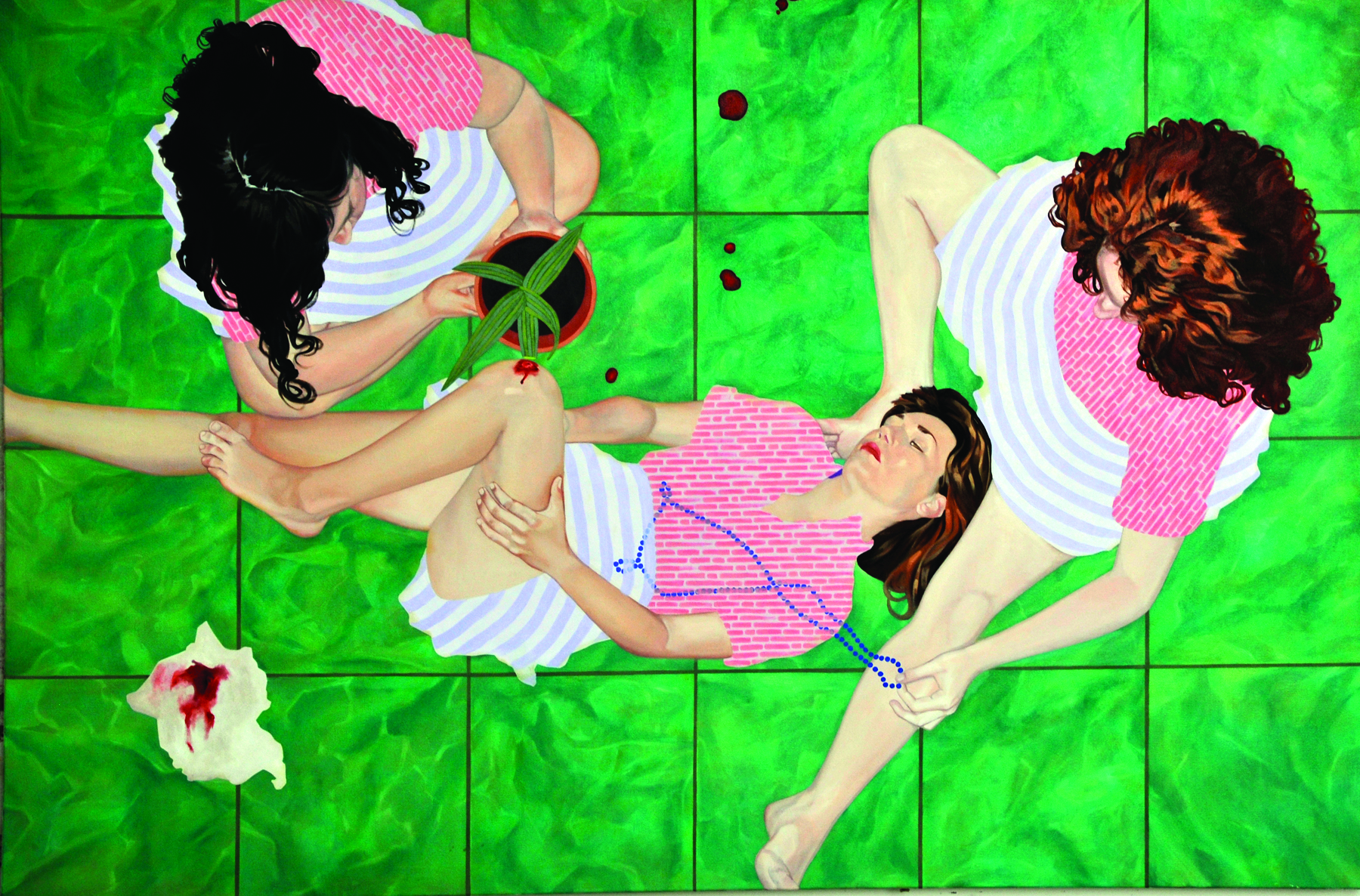 WORDS / KODY FORD
PHOTO / KAT WILSON
Past the aging houses decorated in various religious and Razorback iconography and through the pines, glints of sunlight pop on the surface of Greer's Ferry Lake. It's a Saturday, partly cloudy, and photographer Kat Wilson and I have pulled over to the side of the road. "Hang on, let me get a good signal," I say. Once the phone gets a couple of bars, I call Grace Mikell Ramsey, the artist we have come to see. She answers after a few rings and gives us another round of directions.
We load up in my car, crank the engine and seconds later, arrive at our destination and lug the gear inside. "This is it," Grace says. She waves a hand, giving us the grand tour of living room and kitchen. The lakehouse belongs to a friend's family and she has been staying here with her husband, writer David Ramsey, since last October.
Fishing paraphernalia hangs from wooden paneled walls along with faded art prints. It looks like a time capsule preserving a slice of middle-class Americana circa the 60s or maybe the 80s. It's hard to tell. But like their neighbors, they have a gorgeous view of the lake from their screen porch. They have two bedrooms – one having been converted into a makeshift studio – and a place for David's desk. They have spotty cell phone service and no Internet.
It's the perfect place to get away. The perfect place to get some work done.
***
Grace's current residence is not that far removed culturally from her childhood in the town of Archer  – population 1,100 – in north central Florida. It's an agricultural region, heavy on peanuts, watermelon and cattle. She attended school in Williston, the next town over, which she describes as "friendly, gossipy, big trucks, big hair." She attended church devoutly, every Wednesday night and twice on Sunday. While her family wasn't artistic, her mother was supportive and enrolled Grace in private lessons, which Grace took until she graduated high school.  "[W]here I'm from, [art] was kind of a strange thing. I told my friends, but they thought I was weird," Grace says.
Early on, she knew that she wanted to paint people and she focused on this. Her teacher was heavy on the fundamentals – an emphasis on realism and accuracy, learning to observe, measuring and comparing proportions and how to translate 3D to 2D. During this time, she often found painting still lifes and landscapes boring, but feels grateful for developing such a strong foundation at a young age. While this education would shape Grace's talents, her teacher didn't necessarily provide encouragement for pursuing art as a career.
"I think she had a bad experience and kind of felt like I should pursue something more practical and be an artist on the side."
So Grace entered college at Stetson University in Deland, Florida, and put art behind her for the time being to major in religious studies. During her junior year, she felt something was missing and decided to take an art class. Her professor was an Arkansan and Hendrix College alumnus named Gary Bolding. He focused on narrative paintings rather than abstract or landscapes. Narrative paintings can be traced back to the stone walls of caves, but haven't been as en vogue in recent decades as galleries and collectors looked for more modern styles.
"To me, a narrative painting is a painting that tells a story. It's a painting that you might easily guess what the story is, or there might be some elements missing where you have to figure it out on your own. And that's the kind of story I like to tell," Grace says.
The last two years of undergrad were a renaissance for Grace. Even though she had only taken two years off, it seemed like an eternity. She explored new styles and techniques. Her passion for art was back. Bolding's influence stayed with Grace for years to come, although she did not pursue narrative work until grad school.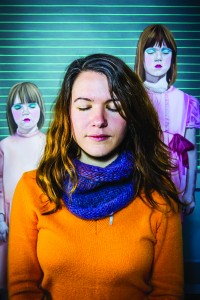 During the interim, Grace taught art in New Orleans as part of the Teach NOLA program, where she met her husband, who was teaching English at a high school. While in the Big Easy, she came to realize that she didn't want to teach forever. As an artist, she felt her options were limited pretty much to teaching or graphic design. Still this wasn't about her career, but her work and Grace knew that she had room to grow. For a semester, she developed her portfolio, the first time she had worked without the watchful eye of an instructor, and applied and was accepted into Tulane University's Studio Art Graduate Program.
At first, she found herself feeling pressured to churn out new work every week instead of taking her time to perfect each piece. This process brought her much grief and it wasn't until she met a different professor the next semester that she found her groove.
"She kind of gave me this permission that I should have given myself, and then it just clicked. I was at a place mentally where I was ready. I knew what kind of stories I wanted to tell," Grace says.
Grace's process involves using live models, which she photographs. Oil paint is her medium of choice and her larger works can typically take a few months since she focuses so much on the details.
One of the major lessons she learned while at Tulane was balance. "I really started to learn balancing subtlety with something striking and powerful in grad school," she says. "I think that is a very delicate balance, and at first I was having all of these ideas that were very hard to describe with just words. And the best way to go about that visually is with a big punch, but it's easy to have way too much going on be over the top. I learned how to pull back a little and really narrow the idea down to its purest form so that I was keeping it subtle, but also maintaining a sense of mystery and truth in a powerful image without going crazy…If it's way too over the top, it just becomes a joke or it's hard to take seriously or it's like 'oh, this is shock value.' But I think subtlety can be really powerful."
For Grace, painting provides therapeutic value on multiple levels by allowing her to control a part of her life and exercise her own zone of power and decision making.
"Honestly, painting helps my anxiety about being a human and it calms me down. If I go for a while without painting, I start to feel not well. It really helps me, it's like a meditative thing for me. Especially the kind of detail work that I do, that kind of detail work can be very meditative and healing. I think I really enjoy creating another world, and it allows me to say things that I'm not allowed to say otherwise. I think a lot of people feel similarly about creating. Especially if you feel like this is the thing I want to do with my life, if you're not doing it then you're like, 'what am I doing?'"
One of the highlights of Grace's career so far came when she received a grant from the Joan Mitchell Foundation, which only awards the prize to 15 artists nationwide. She was nominated by one of her professors. As a recipient of the grant, Grace is able to apply for continued support throughout her career.
Her post-grad school life was spent in Little Rock. She taught art at the Arkansas Arts Center. During this time, she attained representation by Boswell-Mourot Fine Art in the Heights, where she will hold a show this spring with the opening reception on May 2.
***
While she is grateful for her experiences in Little Rock, she felt that her schedule had become fractured and she was unable to devote the proper amount of time to her artwork. After receiving another grant from the Joan Mitchell Foundation to supplement her income, she and David decided to make the move to Greer's Ferry.
Now in her bedroom-turned-studio she has been able to return to creating larger works. Grace prefers painting women, although she has painted men. Recently, she has explored her experiences as a woman, her thoughts on becoming a mother, and her memories of being a girl, such as her piece "The Game," which was chosen for our cover. Sometimes images come to her as she is falling asleep or when she is viewing artwork by others for inspiration. She often bounces her ideas off of her husband before beginning a piece. While her themes and images may change, one thing remains constant – her love for the story.
"I like to leave room for the viewer to bring their own story so that it can have different meanings for different people. A painting, because it's still, can provide a frozen moment of a story, which can be exciting because you don't know what happened before or after that moment."
Her time in Greer's Ferry will be coming to a close later this Spring. Afterwards, she and David plan to move to Nashville for a while to be close to his parents. What's next – a new city? Perhaps. The location doesn't matter for Grace.  Her world is on the canvas and she will always find solace there.
VISIT: GRACEMIKELLRAMSEY.COM