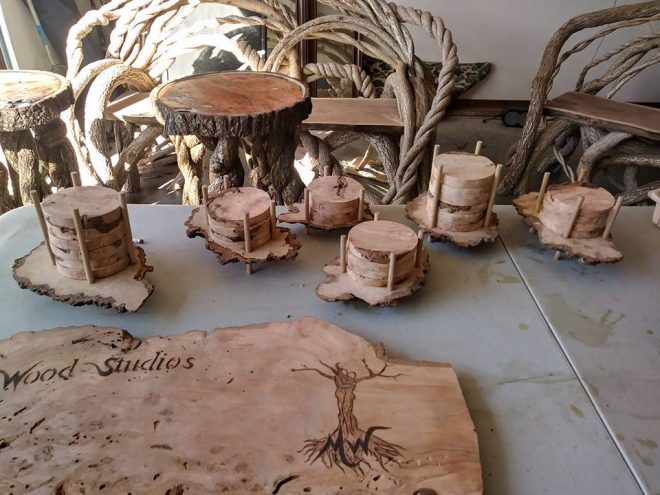 WORDS + PHOTOS // ELLEN GIBSON
Tom Diliberti, a retired marine and talented carpenter, was having difficulty finding work in 2016. On a morning walk, he and his wife, Sandra, noticed invasive Oriental Bittersweet vines had been taking over the local forest growth. As a way to help the environment and create artistic products, the couple decided to use the vines to their advantage. From there, Mornin' Wood Studios was born out of their Bella Vista home.
Tom and Sandra Diliberti are the owners of Mornin' Wood Studios. Started in 2016, the studio is based out of their home in Bella Vista.
Hacking their way through the woods to harvest the Oriental Bittersweet quickly became a morning ritual for them. Using their individual artistic talents, Tom and Sandra began collaborating on their first piece, a small coffee table. Tom built the table and Sandra created a mosaic top to it.
As time passed, they continued to use their love of nature as inspiration for their work.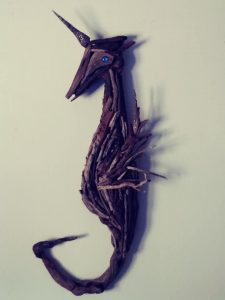 Moving on from the beginning of Tom's tables and furniture, Sandra began to create her own special pieces, which earned her the nickname "The Driftwood Whisperer" from her husband. Collecting pieces of driftwood and allowing them to speak to her, Sandra has created majestic pieces, including an owl, crane, and dragon.
Hard work and passion are two qualities this couple knows well. Most days are spent in their home studio creating magical works to grace the homes of others.
If you want to support local artists and decorate your home or office space with specially made art, Mornin' Wood Studios is the place to go. Furniture, driftwood sculptures, and other works can be commissioned from them.
Visit Mornin' Wood Studios website to order a custom piece or learn more about their work at their Facebook page.