CALS Presents "A Universe of Stories" 2019 Summer Reading Club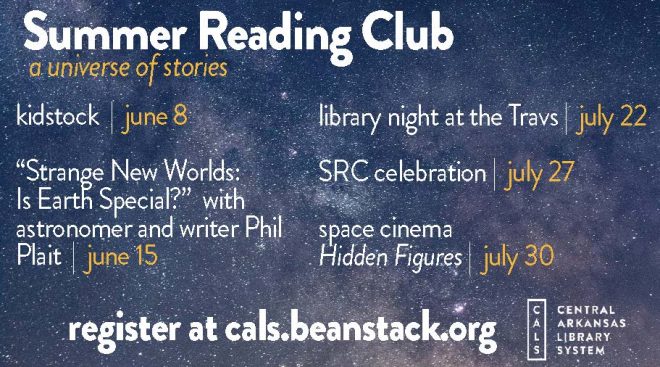 Book lovers usually find themselves lost in the pages of their current reads, and this summer, they may enter a black hole of imagination with Central Arkansas Library System's (CALS) Summer Reading Club.  Readers of all ages can register to participate in the free seven-week program designed to explore a "universe of stories."
Summer Reading Club features weekly programs for a variety of ages across all CALS locations, as seen in the calendar below. The CALS website allows users to log reading progress and other library activities, earn badges, and compete for weekly prizes. Everyone who registers for the club is eligible to receive a free tote bag–while supplies last–and a free general admission ticket to the Arkansas Travelers game at Dickey-Stephens park on July 22. Participants may visit a library branch after July 1 to pick up a ticket, according to a press release.
Other special programs include appearances by Tommy Terrific, The Kinders, Craig O'Neill, and astronomer Dr. Phil Plait. All library programs are free, but a library card is required to check out books and other resources.
"A Universe of Movies," a special space-themed film series to accompany the book club, will take place July 11 through Aug. 15 at CALS Ron Robinson Theater. Tickets are $5 a movie. More information, as well as the complete calendar of Summer Reading Club activities and events can be found at cals.org.
Date(s)
Event
Location(s)
Tuesday, May 28
Registration opens
cals.beanstack.org
Saturday, June 8
Kidstock Family Music Festival
Hillary Rodham Clinton Children's Library & Learning Center
Monday, June 10
Weekly programs begin
All CALS branches
Saturday, June 15
"Strange New Worlds: Is Earth Special" with Dr. Phil Plait
CALS Ron Robinson Theater
Wednesday, July 4
CALS Closed – July 4th observed
All CALS branches
Monday, July 22
Library Night at the Arkansas Travelers
Dickey-Stephens Park
Friday, July 22
Chesley Bonestell: A Brush with the Future (NR)
CALS Ron Robinson Theater
Saturday, July 27
SRC End of Summer Celebration
Hillary Rodham Clinton Children's Library & Learning Center
Thursday, July 11-Thursday, Aug 15
A Universe of Movies