Fenix Gallery reopens with new pandemic exhibit "Chaos, Confusion, Creativity"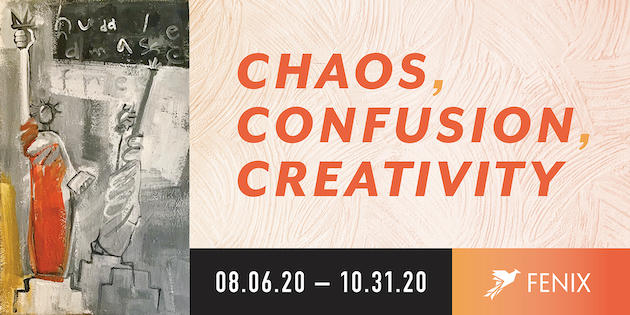 Before COVID-19 took over, Fenix Gallery hosted a successful opening reception of the Contemporary Fiber Arts Exhibition, Sewn In. The gallery has regained momentum and are set to officially reopen with a new exhibit curated by Laurie Foster, Pat Hennon and Octavio Logo: Chaos, Confusion, Creativity.
"With themes reflecting pandemic coping mechanisms – creativity overcomes chaos and confusion – just as it did in previous periods of Art History. The pandemic era of 2020 will likely be viewed by future generations as an outpouring of fertile minds, and Fenix of Fayetteville is a vital interpreter of history in the making," according to a press release.
Chaos, Confusion, Creativity highlights the pandemic response, awakening dialogue on human boundaries and resilience, which is evident in these diverse works by Fenix members.
GENERAL INFORMATION

Title: Chaos, Confusion, Creativity
Dates: Aug. 6 to Oct. 31
Location: Fenix Fayetteville, 16 West Center Street, Fayetteville, AR 72701
New Hours: Thur-Fri 11 a.m.-2 p.m., Sat 10 a.m. -1 p.m.
Cost: Free
Follow Fenix on Facebook and Instagram @fenixfayetteville and @fenixfayettevilleart
as well as YouTube at Fenix Fayetteville. The gallery welcomes the community to engage virtually. Questions regarding the exhibit may also be directed to fenixfayettevilleart@gmail.com or 479-651-1852. Fenix Fayetteville is located just off the square at 16 West Center Street in Fayetteville.
ABOUT FENIX FAYETTEVILLE
A self-governing group of emerging and established visual artists working in all disciplines, Fenix Fayetteville was founded in 2016. The collective is committed to a culture of mutual support, a diverse and inclusive community, and collaboration. Members add their own vibrant voices to the creative culture growing in Northwest Arkansas, contribute to the active arts scene, and serve the community through their creative and educational work. 501(c)(3) non-profit status was achieved in 2020. Within the gallery we will be following the health and safety guidelines established by the Arkansas Department of Health and City of Fayetteville ordinance. Face coverings and social distancing will be required.