Fayetteville Underground hosts "A Sense of Place" exhibit for Black history month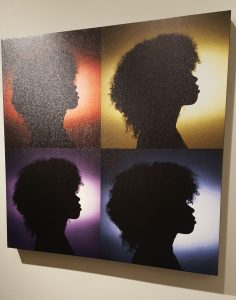 WORDS / JULIA TRUPP
Flashes of bright primary colors and images of elegant ebony figures surrounded the gallery on Groundhog Day at the Fayetteville Underground. But the audience didn't gather to welcome a change of season, but rather to celebrate the African-American culture for the start of Black History Month with a special First Thursday exhibit.
"A Sense of Place," a presentation of local artwork, video-recorded interviews and music to highlight the Northwest Arkansas African-American community, welcomed a diverse group into the art gallery for its premiere of the month-long exhibit.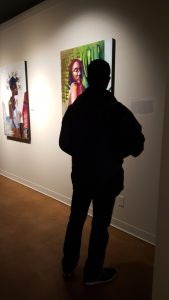 To get the exhibit up and running, the Northwest Arkansas African-American Heritage Association received a grant from the Arkansas Arts Council and the Fayetteville Art Alliance received funding from the Walmart Foundation to support the exhibit, said Joëlle Storët, Fayetteville Underground gallery manager and curator.

Storët acted as a Black practicing artist for the exhibit after she was encouraged by the gallery board to do so. The Underground already promotes visual arts, community collaboration, and public engagement in the arts, so with "A Sense of Place," the gallery mission was taken to the next level and included "artists from the African-American micro-communities that usually do not get the opportunity, until now, to share their work," she said.
Along with showcasing local artists' paintings, printmaking, digital design, photographs and video segments to engage exhibit visitors, the Underground also hosted a fashion show to honor the African-American tradition.
Brandon Watts submitted photos that featured Afro-sporting women specifically for this First Thursday and took one at a hair salon and one at a Little Rock-based dance studio. The rest were taken at his home studio. His inspiration for his series "The Black Woman Crown" came from all of the black women in his life — his grandmother, mother, wife, sister and daughter.
"I believe black women is what holds the black culture together," Watts said. Because of his love for his heritage and for photography, he was able to express the understanding of his cultural history in a way for the audience to enjoy it.
"The reason I focus on afros is because it's more than just a hairstyle," he said. "…When slavery was abolished black people straightened their hair to blend in with society. Basically to look more white. In the 1960s with the Civil Rights Movement the Afro came back as a sign of rebellion, pride, strength and encouragement, basically saying we won't be molded or form into something we're not and should be accepted for who we are."
While attendees walked around eating hors d'oeuvres and drinking wine, Gelynda Johnson serenaded them with her saxophone and guitar. She accepted this solo performance after Storët asked her if she wanted to, and by doing so, she was able to show that multiracial female musicians "exist in the NWA music scene and we have our stories to tell through song," she said.
"The exhibition and the fashion show were extremely important to our community because you get to hear their stories through their works," she said. "This event brought the learning at a closer, more personal level. When I think about it, seeing my family and friends there, I truly felt like it was a big family reunion that involved both the artists and attendees… We are truly one," Johnson said.
"African-American culture is poorly represented in our history books and media. We are beyond being slaves, gangster, thugs, girls twerking in music videos… Those are negative media portrayals that further oppress us. We are creators, designers, artists, innovators,  but you rarely see that in history books or the media," Johnson said. "We are much more than that and I hope the community could see that as well as understand that this is part of their history too, as we are all part of the human race."
"A Sense of Place" will be up at the Fayetteville Underground until the end of the month.