The Collectors: Steven Kay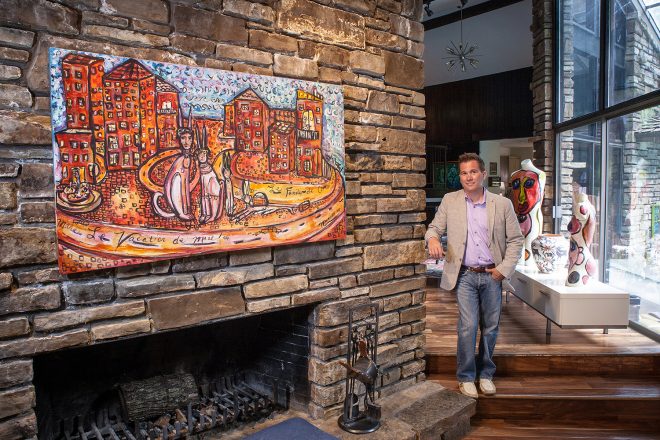 INTERVIEW / SUZANNAH SCHREKHISE
PHOTO / MARSHA LANE FOSTER
Steven Kay is an art collector and attorney who lives in an art-filled home in Fayetteville. Kay's love of art started as a child and he has carried that love full-force into adulthood. His first piece of art was "City Cat" by local artist Christina Marrioti. Kay attends art shows regularly scouting Northwest Arkansas for new and inventive works to add to his international antique, mid-century and modern art collection of eclectic sculptures and paintings. He chooses art based on the emotional experience it arouses and has carefully crafted an interior living environment that supplies a get away from the stresses of being an attorney.
Why did you start collecting art?
I have loved art since I was a child. I started collecting art because of the emotional experience I had with the paintings. Having original art throughout my home brings joy to my heart. Each piece invokes a memory and allows new emotional experiences based upon the mood of the day.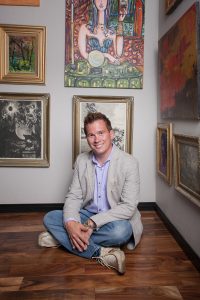 Did you start collecting by mistake or was it intentional?
I have always been a collector (aka packrat). I never imagined that my art collection would grow the way that it has. From my first original piece, "City Cat " by Christina Marrioti, to 300 year old Asian wooden sculptures, everything that I have collected was based upon the joy that it brought me and not the intention of forming a collection.
Do you own pieces from NWA artists?
I own several pieces from local artists like Kathy Thompson, Emily Smith and Julie Brents. I find that there is great talent in the local art scene. I often wonder why more people do not fill their homes with great original art.
Are there any works of art you would like to purchase in the future?
There are always great pieces of art from local artists. I have been interested in finding some cool blown glass sculptures as well as purchasing a sculpture from a good friend who has recently started expressing herself in art. 
What is your advice to other collectors who are interested in the local art scene or market?
Go to gallery openings and art shows and buy what you love. Never worry about other people's opinions regarding art. Art is personal to the collector and it is one area of life you are free to be selfish. Buy what you like and what speaks to you.
How many artworks do you own?
I own well over 75 beautiful pieces of original art. From antique sculptures to mid-century art, to modern day paintings.
What is the main motivation behind your collecting? My collecting art is very selfish. It's based solely on how the pieces make me feel. It has nothing to do with the value only the emotion that they bring.  Working as an attorney keeps me in a pretty narrow box during the day, and it is wonderful to come home to art that is beautiful and interesting…brightly colored and sometimes just odd.
Do you have an immediate connection to a work of art or does it develop over time? I usually have an immediate connection. Either I feel it or I do not.
How important is it for you to meet up or even build relationships with the artists you collect? I always love meeting the artist, but it doesn't impact my desire to collect art. Often times I worry that if the artist encounter isn't good, then I would cease enjoyment of their work…so I am happy to allow the art to speak for the artist.
I would love to hear about your experience of working with artists, can you tell me more about your relationships with artists? I have commissioned paintings from Christina Marrioti. She is fabulous. She listened to my vision that I wanted and then took that and turned it into something more than I could have imagined. Working with an artist can be a great experience for both people. The artist may be forced to go down a road they have never considered just as much as the person commissioning the art.
Would you give any advice to artist in NWA on fostering relationships with collectors? The more art shows the better. Also, give art to charities for art auction items. I really enjoy knowing that an artist cares about a nonprofit charity that is important to me… I think it also gets there art out in front of new people who may develop a desire to start collecting.
How and where do you enjoy displaying your art collection at home?
I enjoy displaying my collection in my home and office.
Do you arrange your interiors around your art or buy art to match your interiors?
I buy art and make it work in my interior.
Does your art collection extend to your work environment.
It does, but to a lesser degree. I have a few original pieces of art and several lithographs. 
What is your art routine? How do you regularly involve in art and how much time do you spend on art-related activities?
I love going to art shows. I also enjoy painting as a tool to relax, though I am not art show worthy , yet.
Has your job as an attorney influenced the way you collect art?
I think it really draws me to art that causes a positive emotional reaction. The day to day stress of being an attorney is made easier simply be looking at the art I have collected and the positive feelings that it brings forth.